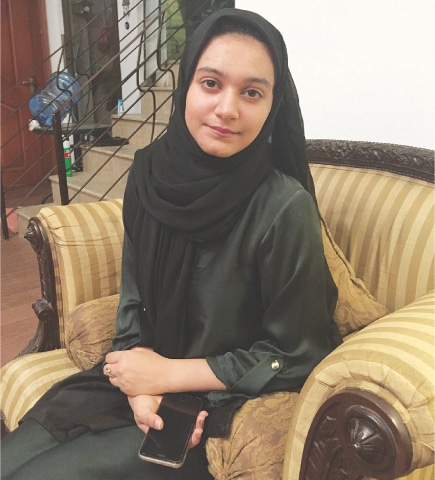 ON Tuesday evening, an hour before sunset, 23-year-old Khadija Siddiqui is torn between giving post-Iftar interviews to the broadcast media and studying for her final year LLB exam, which falls this Friday.
Ms Siddiqui's life has not been the same since May 3, 2016, when she was mercilessly stabbed — 23 blows — on Lahore's busy Davis Road as she picked up her younger sister, then six years old, from school. Two years later, she is fighting to bring her attacker, Shah Hussain, to justice as the Lahore High Court on Monday acquitted him after a trial court conviction of attempted murder.
Ms Siddiqui recalls that fateful morning vividly. "It was a very hot day. I remember I filled up my black Nike water bottle with lots of ice and then got into the car to pick up Sophie."
Their car was parked in front of Ambassador Hotel, with Sophie inside and Ms Siddiqui settling into the backseat, when the attacker struck.
"My one leg was in the car and I was suddenly pushed on the seat and stabbed in the back repeatedly. My little sister intervened — she screamed and got out of the car from the other side, towards the oncoming traffic, and tried to help me. She was also stabbed," Ms Siddiqui says, her voice clear and steady.
"I don't have the words to tell you what state I was in. I was covered in blood, and my eyes closed as I was struck with a knife, one blow after another."
Victim of brutal attack says family support, response from public gives her courage to fight
The family driver leapt out of the driving seat and first pulled Sophie out of harm's way and then pushed the attacker, removing his helmet in the process so his face was visible.
"Even in my state, at the time I knew it could be no one but him [Hussain]." Ms Siddiqui describes Hussain, whom she was once friends with, as "manipulative and oppressive".
"When I stopped talking to him at the end of 2015, I had had enough. He was too overpowering. During my elder sister's wedding he would call me and insist on meeting and would threaten me if I said I was busy. He would get so angry."
Ms Siddiqui believes her social media and email accounts were hacked by Hussain, who used the platforms to message her friends and pressure her into contacting him.
Did she see the violence coming? "No," says Ms Siddiqui. "He would give me criminal stares in class and I would get scared, but we hadn't talked in 10 months."
The attack changed everything. With grievous injuries, Ms Siddiqui was hospitalised and treated for nearly three weeks. Trauma, the anguish of missed exams and a wasted academic year coupled with the pain of what happened tormented her.
A case was registered, but there was pressure on her not to pursue it. Attempts were made to shame her family into silence. A CD with pictures of Ms Siddiqui and other male friends was sent to the home with a note saying "this is just the beginning".
Her mother Raazia Ahmed explains her ordeal. "That night I was shattered. The only thing that I could think of was that we should drop this. I was fearful of what would come. He stabbed her and then indulged in mudslinging and character assassination to discredit my daughter. As a mother, it was too much to bear."
But in a country where victims are often blamed by relatives for somehow being responsible for bringing cruelty upon themselves, Mr Siddiqui's mother has been clear on her stance from the first day. "How could I blame my own daughter for this? She was stabbed 23 times. She was in so much pain. I couldn't even think of asking her why or how."
Ms Ahmed's questions are all directed at the accused. "How dare he do this to my daughter? He has no right to even touch or say anything to my daughter."
It is easy to see where Ms Siddiqui's strength comes from. Her immediate and extended family, who live in the same Gulberg neighbourhood as the Siddiquis, have lent immense support. Aside from moral support, the Siddiquis have paid nearly Rs2 million to lawyers fighting the case and are ready to pay more.
"My mother is my role model. She does not let me back off or be scared. My parents said everybody makes mistakes and it [being involved with someone] is not the end of the world. No one has the right to hurt you."
It is Ms Siddiqui's support system, and the confidence she has gained from the media and public's response to her story, which give her hope. Tehmina Durrani has personally paid one lawyer's fees, she says, and several activists and journalists are giving her the strength to fight this to the end.
Chief Justice of Pakistan Saqib Nisar late on Tuesday took notice of the acquittal of Ms Siddiqui's attacker and summoned the records of the case at the Supreme Court's registry in Lahore for Sunday.
Ms Siddiqui has high hopes from the apex court.
"Standing by the truth gives you confidence," she says. "He [Hussain] is not just a threat to me, he is a threat to society at large. I am not scared. He should be scared that society has stood up against him and that they will not let a criminal roam free."
Published in Dawn, June 6th, 2018