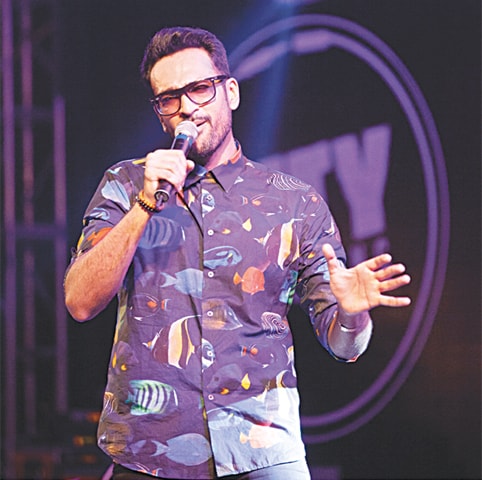 KARACHI: With much hype around the release of the film 7 Din Mohabbat In on Eidul Fitr, a musical showcase was arranged at the Alliance Française de Karachi on Wednesday to mark the first look of the film's song titled Yunhi Rastay Mei sung by Ali Sethi and Aima Baig.
Yunhi Rastay Mei is a romantic duet that features vocals by Sethi and Baig and is picturised on the love story between the two main protagonists — Neeli (Mahira Khan) and Tipu (Sheheryar Munawar). The song is about longing and yearning and the heartfelt composition is by Shuja Haider with lyrics by Piyush Mishra. 7 Din Mohabbat In is directed by Meenu Gaur and Farjad Nabi.
Sethi has made a mark with his classical singing prowess and his vocals in Yunhi Rastay Mei only further showcased his musical range. The song, a ballad, was much loved by the crowd as they swayed along to the lyrics when the music video was shown at the start of the concert.
Sethi spoke to Dawn about his experience with the song. "The first time the song came to me I found it very interesting. It was old school and reminded me of a Hemant Kumar or an early Mehdi Hasan movie song. And I thought they don't make this kind of music anymore. I struggled a little bit in trying to figure out how to sing it as I am accustomed to singing a very classical kind of song or a very upbeat song. But this was another genre. The song has a mellow, sweet and dreamy feel to it."
Baig too spoke at length about how the song resonated with her on a personal level. "It is a beautiful love song that makes one fall in love. In life love is important, and that is why this song will resonate with everybody. The vibe, the melody and the lyrics all are very special."
She also hummed her favourite parts from the song while explaining how the industry does not have many romantic songs. "That is why to a large extent this song will be a benchmark; it is beautifully picturised on Mahira and Sheheryar."
The concert began with Sethi performing other songs from his oeuvre. A particular favourite performance among the audience was 'Aaqa' which he had performed alongside the legend Abida Parveen on Coke Studio. He spoke to the audience about the collaboration and recalled the time he got the call. Other performances by him included 'Tinak Din', 'Umran langiyaan', and a rendition of Mehdi Hassan ghazal 'Ranjish hi sahi'.
Right at the end the crowd was rewarded — after a long time — with the live performance of the song. The moment was made particularly memorable when the cast of 7 Din Mohabbat In came on stage and were part of the performance. In particular Mahira and Sheheryar's chemistry onstage was the perfect backdrop to showcase the song, Yunhi Rastay Mei.
Published in Dawn, May 11th, 2018