How does it feel to see Ireland as a full (Test) member of the International Cricket Council (ICC)? Are you ready for this?
Graham Ford: The feeling is truly special. It is almost 18 years since a cricketing nation has made their Test debut [Bangladesh in October 2000]. Are we ready? In a way, Ireland has been getting ready for a decade. Since the 2007 Cricket World Cup, Irish cricket has really believed it deserved to be on the world stage, and Test cricket status became a realistic possibility. When the ICC announced in June 2017 that Ireland had achieved full membership it was an enormous vindication for the players and the administrators of the game in Ireland who set themselves that ambition. When I joined the set-up in December 2017, the historic first Test opponent had been announced, and it was certainly one of the reasons why I wanted to join the Ireland camp. So, when you ask are we ready, yes, certainly! But at the same time we are well aware of the huge challenge that comes with playing against such fine opposition. The public in Ireland is extremely excited about this special occasion and I am sure that the high quality opposition has added to the interest. Unfortunately, the spring weather hasn't been kind to our preparations and up until now we have not been able to get any work done outdoors. Hopefully, we will get some good outdoor work done in the final build-up to the Test.
You were appointed as coach for the Ireland team a few months ago. How is it different from coaching Sri Lanka?
On May 11, Ireland will be making history when their cricketers step into the Malahide Cricket Club ground in Dublin for their first-ever Test, against Pakistan.In an exclusive interview with Eos, Ireland's cricket team coach Graham Ford shares his thoughts on the forthcoming Test, their performance in the World Cup qualifiers and Bob Woolmer
GF: Every job within the game is different. Every national, county or provincial team I've coached has its own unique circumstances and challenges. In Sri Lanka, there is a much bigger cricket-playing population and they have 24 first class teams, as opposed to just three first class teams in Ireland. Although the cricket population is small in Ireland, the players are extremely committed. There are some quality senior players and a very enthusiastic younger group coming through the system.
Currently, Cricket Ireland is hard at work trying to develop facilities, whereas Sri Lanka have plenty of established facilities.
I thoroughly enjoyed working with some exceptionally talented players in Sri Lanka. There are some wonderful people amongst their playing group and, of course, I learnt a lot about cricket in the subcontinent and was privileged to have the opportunity of gaining cricketing knowledge from legends like Sangakkara, Jayawardene, Malinga and Herath.
Any new players in contention for the historic Test?
GF: There's a solid core of players who have done good things for the team over a fairly lengthy period and there is a good amount of English County experience in the squad. Saying that, we are currently playing a series of intra-squad matches and giving quite a number of fringe and up-and-coming players a chance to show their wares. We are at a point where we have to put a lot of energy, and resources into the emerging talent. There is exciting potential amongst the youth and it is imperative that every effort is made to turn this potential into quality. This may take a bit of time but I am certain the senior players will be doing all they can to assist the younger lads. The selectors will monitor the internal games and the first class match that follows. This gives the younger lads a real chance of playing their way into contention.
Do you fancy your chances playing a Test match in home conditions in May against an Asian side, which usually struggle in 'overcast' conditions?
GF: Of course, cricket is a very funny game and history shows many a great win for the underdogs. The big thing for Cricket Ireland right now is progress and this Test will surely help the players to develop individually and as a group. 
In your opinion, what will be the strongest point of your team in the longer format of the game?
GF: The records at associate cricket level show that we have a dedicated and disciplined team who play with great character. At that level, the batsmen have shown that they have the temperament to bat long and the bowlers have worked as a unit to build pressure. I am very hopeful the lads can do similar at the higher level.
You have assisted Bob Woolmer in the past, how did you find him as a coach?
GF: Bob was a real gentleman and a very innovative and knowledgeable coach. It was a privilege and great experience for me to work alongside him as a young coach.
Over the years Ireland have been the most improved 'associate' team in the world cups. It must be disappointing to see the team not featuring in the 2019 World Cup, though they have the ODI status now...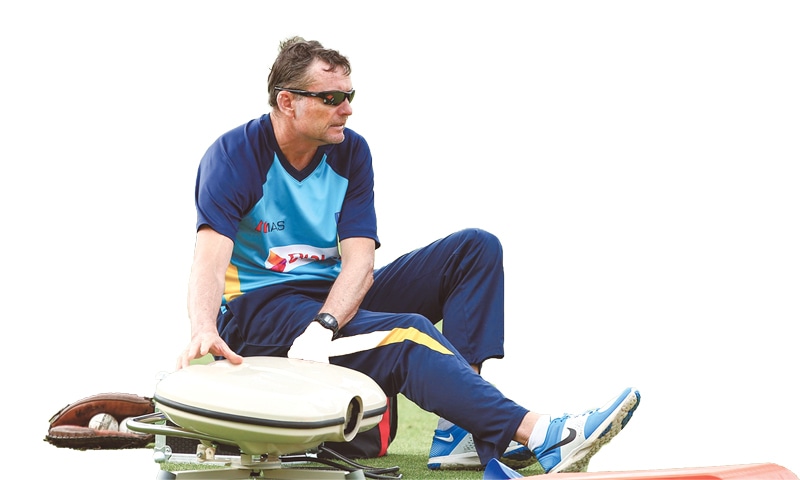 GF: Yes, to say we were disappointed at the announcement of a 10-team World Cup would be an understatement. However, we have litigated this, both publicly and privately, as best as we can. There is a train of thought that, while certainly disappointing, it is not as detrimental to the Irish game as it may have been in the past. Being a full member gives us many more options for top-level international cricket every year — not just every four years when we compete at a world cup. So, while we would obviously prefer to have qualified, our attention has moved quickly to our next great challenge, and that is the historic first Test match.
Paul Stirling was the backbone of the Ireland batting line-up in the World Cup Qualifiers. But his name is not in the squad for the warm-up matches. Is there any particular reason for that? If selected, do you think he'll be able to carry his good form into the longer format of the game? 
GF: Paul was certainly in great form, and clearly showed what he is capable of — or more accurately, he demonstrated once again what he is capable of. But he, along with five other centrally-contracted players, have commitments playing for their county sides in England and won't be appearing in our warm-up games. I almost see this as a bonus, as the six UK-based players will get some competitive game time on grass at county level, and their places over in Dublin have been filled by six up-and-coming talented players.
If the Pakistan Cricket Board and Cricket Ireland agree on playing a Test series in Pakistan, would you and your boys be happy to travel to Pakistan? Don't you think the experience will be invaluable for Ireland's Test team?   
GF: It is very difficult for me to comment on this. I have never toured Pakistan and don't have an understanding of the current situation. I have seen that some teams have visited recently without a problem. I guess it would be a decision made jointly by the ICC Security committee and the hierarchy of Cricket Ireland. If all is in order, we would love to have such a special opportunity.
The interviewer tweets @CaughtAtPoint
Published in Dawn, EOS, May 6th, 2018