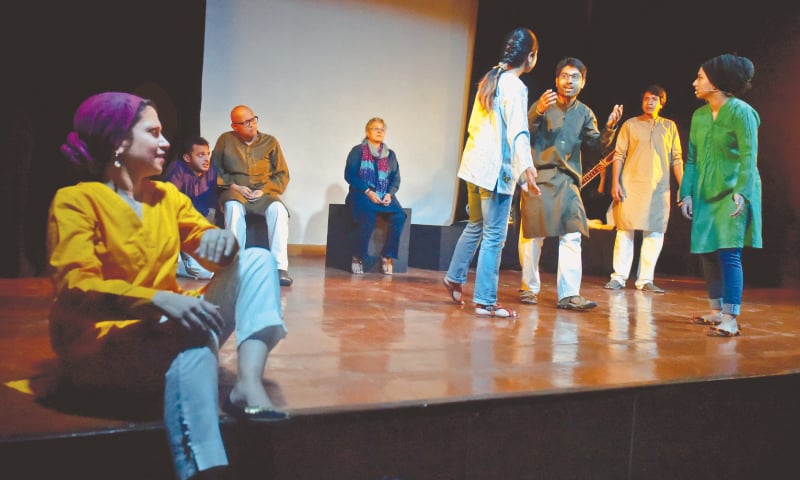 KARACHI: In art, especially in creative writing, anything that seems to be done in a journalistic way or influenced by the incessant supply of bad news is not taken as serious art. It's effectiveness and artistic worth are deemed transient.
There is some truth to this. But a stage production titled Zard Patton Ka Bann put up by an Islamabad-based group called Theatre Wallay on Saturday evening at the Pak-American Cultural Centre (PACC) worked well in terms of engaging the audience for more than an hour despite conveying a message that could have sounded like a series of sermons if the actors or the script had gone even a wee bit off the mark. They didn't go off the mark for one simple reason: the group knows the significance of not losing sight of the artistic and aesthetic requirements for a play. Therefore despite touching upon grave issues that Pakistan has been grappling with for the past many years, they peppered their performance with humour, music and nice little gestures, creating a likable mix of happy and sad moments.
Now there are two things to understand here: the main theme of the play, public spaces and doing art-related activities in them; and the sensitive sub-themes of terrorism, bigotry and politics that don't allow a healthy environment to flourish. This may sound that the sub-themes are heavier than the main theme, but that's where the writers (a whole bunch of them) and the director, Fizza Hasan, need to be commended. For them the sensitive issues are almost everyday occurrences. And they are not intimidated by them.
The characters are stage artists themselves. Through dialogue with each other and mostly through little monologues (performing which they face the audience), they discuss the problems of shortage of public spaces, of land mafia grabbing chunks of land, terrorists wreaking havoc on innocent lives and society not allowing girls to lead their lives the way they want to. These are all heavy-duty subjects and yet in the one-hour performance they are given equal time and importance, without screaming from the pulpit.
The songs interspersed in the story are done nicely. However, one felt that the sitar and tabla sangat, which was beautiful by the way, before the beginning of the play could have been done away with. It only appeared to be there to lengthen the duration of the play. Still, the two young musicians were superb and institutions such as the All Pakistan Music Conference and Tehzeeb Foundation should have a look at them.
The cast included: Ammar Khalid, Fizza Hasan, Imran Iftikhar, Irfan Masih, Ikram, Rabia Pasha, Razia Abrar, Shahzaib Wahlah, Zainab Hasan and sitar player Wajih Nizami.
Published in Dawn, April 9th, 2018