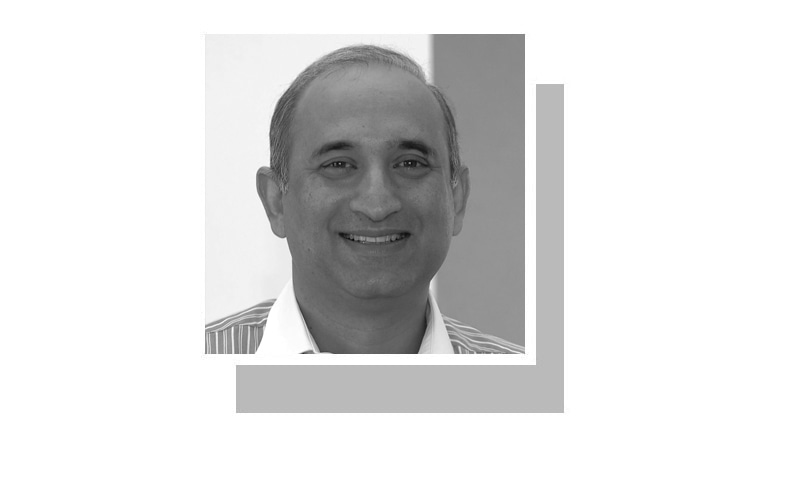 THE contours of a new economic and political geography within South Asia are clearly emerging on the map with enhanced connectivity among China, Pakistan, Russia, Iran, Afghanistan and Central Asia.
This transition is already having a remarkable influence on the thinking patterns, politics, cultures and economic developments in this region.
While the traditional South Asian political elite remains in a perpetual denial captured by populist internal dynamics, the subcontinent has already disintegrated once again.
For the two South Asian nuclear powers, it is perhaps the right time to get out of their historical baggage and start working on dealing with the new realities and models of engagement with multiple players in the next many years to come. There are fundamental foreign, economic, security and overall public policy shifts which are bound to emerge as a result of the new regional alliances.
Also read: Talking about the economy
For the first time, this new geography is primarily driven by the dynamics of economic proximity rather than a security-led paradigm which dominated the region for many decades.
China's flagship Belt and Road Initiative (BRI) and the strategic China Pakistan Economic Corridor have laid solid foundations.
The success of CPEC as a transformational investment is critical for both China and Pakistan to demonstrate their ability to steer this region towards a shared prosperity.
For Pakistan, three areas of structural reforms need urgent attention for managing an extraordinary transition.
Pakistan is struggling to design and implement structural reforms to increase its institutional capacity for maximising the CPEC outcomes for the benefit of its over 100 million young labour force. CPEC should not be seen as merely an infrastructure investment, it must reflect President Xi's vision of tackling corruption, cleaner environment and uplifting the quality of life for the marginalised.
For Pakistan, three areas of structural reforms need urgent attention for managing this extraordinary transition.
Firstly, Pakistan will have to strengthen the structure and orientation of its foreign service and economic ministries. The existing system has little understanding of the already changed and continuously evolving global economic landscape.
Several countries have taken progressive steps by merging trade and foreign policy objectives. Pakistan needs to act on the same lines and develop a consensus on medium-term strategic economic growth goals to be owned and delivered by the highest office.
The diplomats must be equipped with adequate skills to articulate the country's economic value proposition to the region and the rest of the world.
Secondly, there is a need to mainstream the role of private sector in the new economic growth strategy where proximity will have a central role.
The country should be willing to let go the sectors which have flourished on patronage and state protection. Pakistan's competiveness has nose-dived over the past couple of decades when compared with its peers.
The old school of import substitution by protecting local industrial base has led to the creation of a classic model of crony capitalism where such firms will never be able to compete with emerging Asia.
If a level-playing policy environment is created, the private sector can enhance productivity and ensure job creation by being part of the global value chains.
Thirdly, investment in regional knowledge networks will be crucial to sustain Pakistan's key position in the new regional markets.
Pakistan must benefit from China's phenomenal research and development expertise in all spheres and link up its universities and think tanks with south and west Asian neigbours.
It is the exchange of skilled youth which will generate ideas and strengthen the regional integration for shared growth and stability.
Unfortunately, India and Pakistan have missed the boat on leveraging their phenomenal economic potential of ideal proximity and a combined market of over one billion people.
According to some informed modelling and estimates, the two markets could have reached $20 billion volume of trade and investment.
Both countries have themselves to blame as the pace of change does not wait for players who fail to demonstrate their ability to resolve conflicts and continue to defy adherence to values of a responsible neighbourhood.
Having consistently failed to engage constructively, both countries will have to settle with two separate economic groupings in the emerging Asian century.
While India has already started investing in Nepal, Bhutan, Bangladesh and Sri Lanka, Pakistan will now be looking to integrate more with the markets of Iran, western China and Central Asia through Afghanistan in the coming years.
This new economic geography will not only test overall foreign relations but will perhaps also set parameters for a new model of responsible engagement between India and Pakistan in the long term.
The fundamental point in question for Pakistan is its ability to come up with an institutional response to these rather challenging developments which will put pressure on Pakistan to open up borders with Afghanistan and Iran in the coming years. The security lens will have to be widened to economic, cyber and intercultural spheres.
Perhaps the weakest link is the economic policy structure which is marred with lack of capacity, coordination, leadership, exposure and imagination. A cosy and non-inclusive relationship between the finance ministry and international financial institutions has only resulted in unproductive debt burden and lucrative jobs for retired bureaucrats.
The global financial institutions are becoming irrelevant in terms of providing quality advice in a rapidly changing geopolitical environment. Long-term multilateral loans should be utilised for financially viable projects rather than the so-called policy-based budget support.
Pakistan needs to quickly initiate a progressive model of economic reforms in line with the changing regional and global dynamics. This will not only ensure sustainability of economic growth but will also put Pakistan in a leadership position in the new South Asian economic geography.
The political fragmentation and flux is the new normal and leadership must find ways to insulate key economic reforms from political volatility and elite capture.
It is the economic repositioning of Pakistan in the new Asian century which will attract capital and innovation from around the world.
The writer is a former regional adviser to the World Bank and the UK's Department for International Development.
Published in Dawn, March 26th, 2018