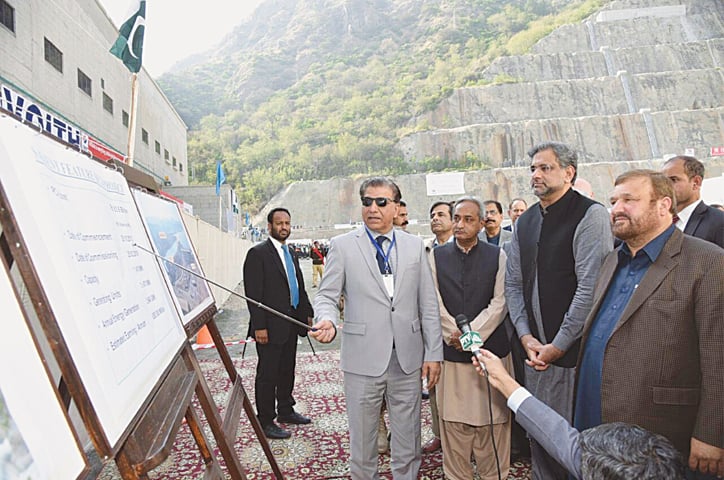 SWABI: Prime Minister Shahid Khaqan Abbasi has said that the federal government has fulfilled its pledge and met the country's electricity needs and is continuing efforts to provide affordable energy to people.
He was speaking on Saturday at the inaugural ceremony of one of the three units of fourth extension hydropower projects, Tarbela Dam.
Azad Jammu and Kash­mir President Sardar Ma­sood Khan, Khyber Pakht­un­k­hwa Governor Iqbal Zafar Jhagra, Minis­ter for Water Resources Syed Javed Ali Shah, Minister of State for Infor­mation Marryium Auran­g­zeb, Chinese Ambas­sador Yao Jing, Wapda chairman retired Lt Gen Muzammil Hussain and MPA Shiraz Khan attended the ceremony.
The same unit was inaugurated by Wapda chairman Muzammil Hussain on Feb 26 and at the time he had said that the prime minister would formally inaugurate the project in March.
Says efforts are continuing to provide affordable and clean energy to people
The first unit of 470 megawatts has been commissioned with this inauguration as well.
PM Abbasi said the federal government had expressed its commitment to provide relief to the masses and meet the electricity requirements of the people and industry. The government, he added, continued its efforts to provide affordable and clean energy to the people.
He said loadshedding would not be carried out in areas where people did not indulge in power theft.
The premier vowed that Bhasha and Munda dams would also be constructed. He said the government had strived for getting financial help from donor agencies for these projects but if they could not come forward then they would be initiated and completed with the country's own resources.
He lauded the role played by Wapda in the completion of the Tarbela project. "Wapda has played a significant role in solution of the electricity problem," he said.
He pointed out that electricity projects of 1,000MW had already been completed. He said the second unit was scheduled to be commissioned by the end of the next month, while the third was scheduled to start electricity generation by end of May.
Tarbela Dam general manager Sher Afzal said that with the project's completion the generation capacity of Tarbela hydel power station would increase to 4,888MW from the existing 3,478MW.
The Tarbela fourth extension hydropower project would provide 3.84 billion units of electricity to the national grid per annum, he said, adding that the annual benefits of the project were estimated at Rs30bn. The project, he added, would pay back its cost in just three years.
The project was built by Chinese company Sino­hydro.
The World Bank provided $840 million and Wapda $74m for the project's completion. Total 1,410MW low-cost electricity would be produced by the dam, said the manager.
Published in Dawn, March 11th, 2018