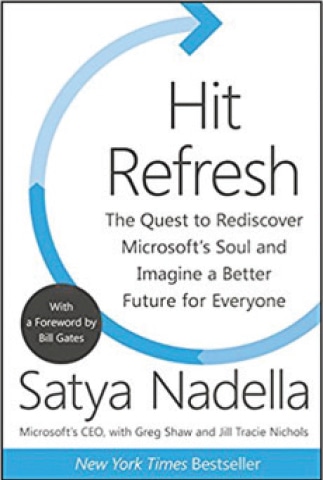 When Satya Nadella was made chief executive officer of Microsoft Corpor­ation, not only did he have to fill the shoes of the richest man on earth, but he also had to steer one of the biggest corporations of our age in a new direction: in his words, "we needed renewal, a renaissance." Microsoft had dominated the era of the personal computer, but was struggling in the new, unfamiliar age of mobile computing and smartphones. For quite some time, brand Microsoft was not considered cool or hip among the young crowd; that crown had passed to Apple, its arch nemesis.
But under Nadella in the last few years, Microsoft has been energised and emboldened and seems all ready to reclaim the place it had lost in technology. Its latest operating system iteration, Windows 10, is considered the best in the series so far. A whole slew of innovative products, such as the HoloLens — the first self-contained, holographic computer that enables users to engage with digital content and interact with holograms — and the Surface line of laptops have pushed the limits of what can be achieved with technology. Nadella also made all of Microsoft's apps available for free which came as a shock for many, but in retrospect it was a smart move since Microsoft, despite its best efforts, has virtually zero share in the mobile market. Making its popular apps available for free on Android and iOS gives Microsoft brand presence on all platforms. It has also teamed up with Amazon, pairing its voice assistant, Cortana, with Amazon's Alexa in a bid to challenge Google's domination in search engines.
In his book, Hit Refresh: The Quest to Rediscover Microsoft's Soul and Imagine a Better Future for Everyone, co-authored with Greg Shaw (senior director at Microsoft) and Jill Tracie Nichols (then chief of staff and general manager at Microsoft), Nadella narrates his journey from humble beginnings as an engineering graduate in India, to becoming the CEO of the most influential company of our time. Aside from his own personal transformation, he also details the radical new vision he has for Microsoft: "I thought of this book as a collection of meditations from a CEO in the midst of a transformation."
The global software giant's India-born chief executive shares his vision of the future
However, in the opening chapters there are only brief disclosures about his life in India; he mentions very little of his formative years in the land of his birth. Had he given more space to his early years there, it might have made the reader empathise with him more, since empathy is a theme he keeps coming back to time and again in the book.
Nadella follows up his succinct personal history with his visions for Microsoft that he hopes will become reality in the coming years. Artificial intelligence, quantum computing and mixed reality (virtual and augmented) are the big bets on which he stakes the future of the tech giant. These are not the airy-fairy visions of a distant future; these technologies are just around the corner and some working prototypes of quantum computers have already been available in the market for a while. Google Glass, developed in 2013, is a device specifically geared towards augmented reality and IBM's supercomputer Watson beat human contestants at Jeopardy — a popular television game show in the United States — way back in 2011. Nadella aims for Microsoft to be the market leader in all of these emerging technologies in the coming times.
Nadella makes several predictions in his book, and some of them can be quite unsettling. For example, he claims that "in 10 years, artificial intelligence and visual recognition will be better than a [human's]." Smart robots taking over the planet has been a recurring theme in dystopian science fiction book and film plots, but Nadella stresses that smart robots and artificial intelligence will complement humanity rather than compete with it. He predicts that the huge displacement of jobs lost to automation and robotics will create new occupations and demands in the labour markets. All this sounds very utopian, but then for a CEO, it is good to be brimming with optimism.
The final chapters of the book deal with Microsoft's role in safeguarding privacy and consumer rights in an era of mass surveillance and Big Data. Nadella proposes the implementation of "Digital Geneva Conventions[,] a broad multi-lateral agreement that affirms cyber security norms as global rules. Just as the world's governments came together in 1949 to adopt the Fourth Geneva Convention to protect civilians in times of war." In this rapidly digitising world, he reaffirms Microsoft's values of free speech, privacy, security, sovereignty and above all, empathy. He aims to lead an industry-wide coalition in seeking more transparency and detail in government requests on civilian data stored on technology companies' servers as these are legal and ethical wrangles that will intensify in the coming years. All this corporate do-goodery chimes in with Google's "Do the right thing" mantra, but in this day and age, data is power. As the adage goes, power corrupts and absolute power corrupts absolutely. Only time will tell if the elite of Silicon Valley will act as the bulwark of resistance in an age of mass surveillance and prying governments, although recent developments haven't been too promising.
It is good to know Nadella's thoughts on such important issues, but how does he present them? In style of writing, Hit Refresh reads like an extended memorandum and the prose does get a bit dull. There are no flourishes of rhetoric or allegories. This could be the book's biggest weakness — or strength, depending on the type of reader one is. Nevertheless, it is a rare peek into the mind of one of the titans of tech and should he be able to successfully give Microsoft the renaissance he is aiming for, his predictions may well become reality in the coming years.
The reviewer has worked as a producer in news media and an analyst in the NGO sector
Hit Refresh: The Quest to Rediscover
Microsoft's Soul and Imagine a Better
Future for Everyone
By Satya Nadella
HarperBusiness, US
ISBN: 978-0062652508
288pp.
Published in Dawn, Books & Authors, February 18th, 2018