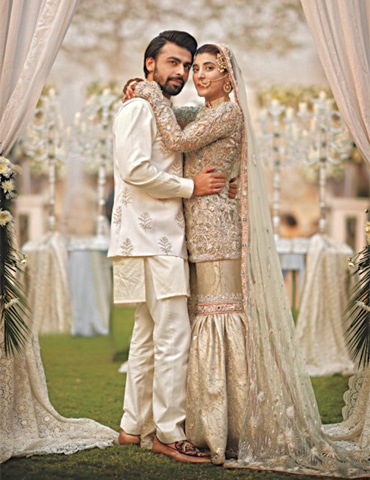 The Instagram wedding has to be one of the fastest spreading trends of our times, gaining extreme popularity in a short span of years. Even the most moderate social media user will find it hard to ignore these all-pervasive wedding pictures that many delight in despite, or because of their tackiness. It is also an apt reflection of the time that we live in where sophistication has been overridden by one-upmanship; where exclusivity has lost worth and replaced by a persistent unfathomable urge to 'trend'.
Following the usual format, such weddings tend to allot a certain budget to buying space on Instagram. They may do so by paying bloggers with huge Instagram followings to post a certain number of images from their wedding, assisted with the enticing hashtag, '#happeningnow'. They may have, as an alternative, simply invited said bloggers to the wedding and showered them with freebies to ensure suitable social media coverage. Or the bride and groom may just belong to the city's 'it' set, friends with the bloggers and journalists and thereby becoming Instagram-worthy all on their own.
As a result, pictures of their wedding bombard the internet: the expensive imported floral décor, the umpteen wedding guests with details on the ateliers who have designed their clothes, the bride's close-ups and the groom's close-ups. The main wedding function tends to be preceded by smaller affairs that are also floated out on the net at large — grandiose themed mehndis, balls with dress codes or ladies' teas. It's all part of the grand Instagram wedding extravaganza.
In this world obsessed with Internet hits and Kardashians, one could say that the Instagram wedding is an inevitable consequence
Invariably, there are also videos and photographs from the happening dance floor: the fumbles and foibles, the Bollywood-inspired moves, the light-footed front row of dancers and the muddle-headed overweight bunch at the back. There was a time when dances at weddings formed intimate family moments but the Instagram generation would rather put up a show for the world to watch and guffaw over.
A trend-worthy hashtag is also identified, formed by a combination of the bride and groom's names. Case in point: #virushka for the recent, much publicised union of cricketer Virat Kohli and Bollywood actress Anushka Sharma.
There's more. If the bride and groom's families truly have to prove their salt, they do so by staging a musical concert at the wedding. Rahat Fateh Ali Khan and Atif Aslam are wedding favourites while the more ambitious seek to import talent from India. Sukhbir comes to mind — the turbaned singer frequently crosses the border to yodel bhangra hits at our high-flying shaadis. It's all very exciting — wedding guests are known to often go 'live' on their social media feeds in order to inform the world about the very hip wedding-cum-concert that they're attending.
Humans are intrinsically nosy and the Instagram wedding gives us a chance to snoop into wedding festivities. The fashionably inclined amongst us also enjoy seeing what the guests are wearing.
In all honesty, it's fun. Humans are intrinsically nosy and the Instagram wedding gives us a chance to snoop into wedding festivities. The fashionably inclined amongst us also enjoy seeing what the guests, usually from amongst the country's most rich and famous, are wearing.
But beyond fun, the continued quest for trending on Instagram hints at a more sordid underlying message. The weddings that trend on social media tend to be exorbitant affairs hosted by the very affluent. The colossal budgets invested into the events are evident and while the hosts may spend as much as they like on their family functions, why do they consider it necessary to show it by announcing it on Instagram? Why doesn't the bride, resplendent in a coveted Bunto Kazmi design, simply take pleasure in looking beautiful instead of telling the world about the designer she is wearing? Why does every nuance of the wedding have to be made fodder for public viewing?
It still makes sense for a celebrity wedding to be publicised rampantly on the internet. Celebrities, after all, are famous faces and their wedding guests tend to be equally renowned. The Anushka Sharma-Virat Kohli wedding reception in Mumbai, for instance, was positively littered with Bollywood royalty in their wedding best. Closer to home, the recent wedding of actors Asad Siddiqui and Zara Noor Abbas made for riveting Instagram viewing with the dance floor featuring stars galore. Model Saheefa Jabbar Khattak's daytime wedding was equally glitzy, with fashion scions in attendance. Urwa Hocane and Farhan Saeed's wedding in 2016 may have had been a bit overwhelming with its in-your-face social media coverage that lasted for days but it was, nonetheless, a celebrity wedding.
But when the not-very-famous choose to follow suit and choose to go viral on social media simply by virtue of the finances that they have, it highlights the economic discrepancies within Pakistan. The girl who cannot afford the elaborate wedding may feel insecure about her own down-to-earth wedding celebrations. Not everyone can afford top-tier designerwear but parading it out rampantly on Instagram inevitably builds a sense of deprivation amongst others.
What is particularly jarring is that this trend has been corroborated by supposedly the country's most educated and the very illustrious. In this world obsessed with internet hits and Kardashians, one could say that the Instagram wedding is an inevitable consequence. But in a country like Pakistan, where the gap between the haves and the have-nots continues to widen, it is irritating, sad and ultimately, noxious.
Published in Dawn, EOS, January 14th, 2018
For more live updates, follow Dawn.com's official news Instagram account @dawn.today