"The truth does not change when a government does. Like freedom, truth is open to misuse, but, again like freedom, it can't be withheld on that count," wrote the late Razia Bhatti in one of her searing editorials. These were not merely fine words: Ms Bhatti, editor of the Herald and later of Newsline – not to mention the women journalists who worked with her – stood by those words throughout her career, speaking truth to power no matter how ruthless her adversaries, be they despots, 'democrats' or drug barons.
Women journalists like them were never more in need of courage than during the repressive Ziaul Haq years, when they fought not only for the freedom of the press but also against state-sponsored misogyny that impacted their personal and professional lives. By that time, more women had begun to enter the field, especially in the English-language media, and this sisterhood found a collective voice.
That steady trickle of women journalists was to become a flood some decades later as scores of private television news channels began to crowd the airwaves. But it all began with an intrepid few who had the self-belief to break into the male domain that was journalism at the time.
A list of these accomplished women would have to include, among others, names like Najma Babar, Ameneh Azam Ali, Najma Sadeque, Rehana Hakim, Nargis Khanum, Zohra Karim, Maisoon Hussein, Saneeya Hussain and Jugnu Mohsin. A couple of them – Sherry Rehman, one time editor of Herald, and Maleeha Lodhi, the first woman editor of a daily newspaper in Pakistan – have moved on to distinguished diplomatic and political careers.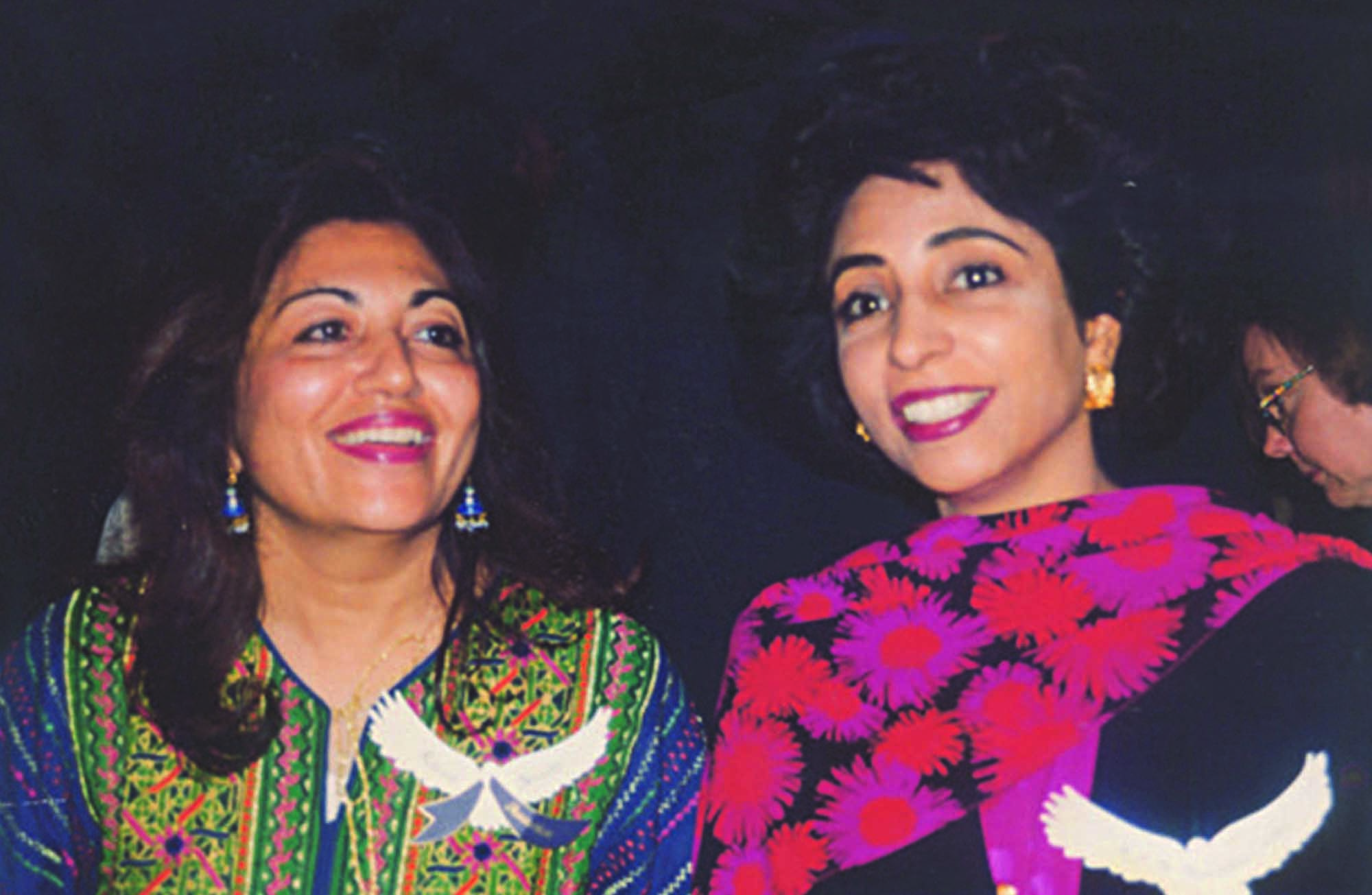 Among the pioneers was Zaibunnisa Hamidullah who wrote for Indian newspapers before independence. Post-1947, she began writing a column for Dawn, which made her Pakistan's first female political commentator. She was also founder and editor of Mirror, a unique combination of a glossy society magazine with hard-hitting editorials – the proverbial iron fist in a velvet glove – that repeatedly took Ayub Khan's government to task. The magazine was banned twice for its temerity.
However, women like Ms Hamidullah were outliers. With its odd hours and somewhat seedy reputation, it was some time before families began to consider journalism a suitable career for their daughters. When Mahnaz Rehman, resident director of the women's rights organisation Aurat, told her father she wanted to work at a newspaper, he was horrified, even more so because she wanted to join an Urdu newspaper. "English journalism was considered a little more respectable at the time. But I stood my ground, and joined Musawat [the PPP mouthpiece]."
Not only that, but Ms Rehman later became secretary-general of the Pakistan Federal Union of Journalists (PFUJ), the lone woman holding her own among a sea of men at the noisy union meetings.
Women's periodicals, among them Aanchal, Bedari and Akhbar-e-Khawateen – the latter being the first women's weekly in Pakistan – were comparative oases of calm. However, besides offering the standard 'feminine' fare catering to the Urdu-speaking public, some of them also carried content on social issues and women's rights. Shamim Akhtar, editor of Akhbar-e-Khawateen for 22 years, says: "We even did stories based on undercover reporting such as one on a fake pir in North Nazimabad. One story of ours [about David Lean's relationship with a married Indian woman] even got us into trouble with Dr Israr Ahmed."
For many women, Dawn, the largest English-language newspaper in Pakistan, was where they cut their teeth in the profession. In fact, editors at the paper actively looked to hire female journalists. Nargis Khanum, who passed away just recently, started off back in 1966 as a reporter covering art and culture.
Shahida Kazi, fresh out of journalism school, joined the same year as a reporter. Although, like Ms Khanum, she had a 'safe' beat — health, education and women's issues — a female reporter was unheard of at the time. "As a feminist and a Marxist, my job was to prove that anything a man can do, I can do as well," she says. Some of her male colleagues, however, used to call her a 'meena bazaar' reporter because they thought she couldn't cover 'important' stories. Ms Kazi forayed into politics in 1968 when she joined PTV, from where she retired 18 years later as senior news editor.
In this era of many 'firsts', Zubeida Mustafa joined Dawn as features editor in 1975. The men, an old-school bunch, did not quite know how to react to this young woman. "They would stand up every time I entered the room," she chuckles. Within a few months, Ms Mustafa was promoted to assistant editor; before her, no woman had been in a position senior enough to have a say in matters of policy or articulate the paper's stance on various issues through the editorials.
In this brave new world, at least for women, a very mundane problem presented itself – the location, or even the existence, of a ladies' toilet on the premises. "If I'd asked my colleagues, I think they'd have fainted," says Ms. Mustafa. "So I'd zip across to the Pakistan Institute of International Affairs, where I'd worked earlier." Only an accidental encounter one day with the women at the Herald magazine in one of the many corridors in Haroon House solved that mystery.
If journalism was generally a boys' club back then, the parliament beat was particularly so. But that didn't deter the feisty Anis Mirza, whose wit and eye for detail livened up her column – 'From the Press Gallery' – that she penned for Dawn. In one column she wrote: "Outside the National Assembly … rain washed away the stifling dust, heat and haze of the Punjab. But in the National Assembly, octogenarian Maulana Hazarvi was asking stifling questions on whether or not government provided separate compartments for ladies in rail cars."
Challenging gender stereotypes – typified by the quaint term 'lady reporter' – required dogged determination and, sometimes, the capacity to turn liability into an opportunity. Nafisa Hoodbhoy, who joined Dawn in 1984, got the coveted political beat after she dug into the health beat that she'd been assigned, and started reporting on gunshot victims piling up in hospitals as a result of ethnic warfare raging in Karachi at the time. "After seeing me at every incident, a crime reporter from an Urdu newspaper finally cried out in exasperation 'Doesn't Dawn have any male reporters left'?"
Political reporting from the 1980s onwards, especially in Karachi, with newly emerging centres of armed street power and an unaccountable law-enforcement apparatus, meant that journalists – regardless of gender – risked life and limb at the hands of one quarter or the other. Late one evening in 1991, ironically after attending a protest demanding an end to brutality against journalists, Ms Hoodbhoy narrowly escaped falling victim to an attack herself. It was only presence of mind that saved her from two would-be assailants lurking in the shadows near her house. The foiled attack made headlines across Pakistan.
Mariana Baabar, during her 38 years as a journalist at The Muslim, Frontier Post, Nation and The News, knows a thing or two about violence against journalists. Sometime during Nawaz Sharif's second tenure as PM, the Jang Group was locked in a battle with the government. When the FIA stole the publication's newsprint, a group of Jang employees, including Mariana, descended upon the law-enforcement agency's Rawalpindi office to protest.
There they were set upon by FIA personnel, who thrashed them with steel batons. "If I wasn't wearing my winter coat at that time of year, my injuries would have been far worse," she says. To this day, she remembers her blood running cold at a remark made by one of the men raining blows upon her. "We killed the wrong bitch," he hissed. A few weeks earlier, Ms Baabar's German Shepherd had been poisoned.
These trailblazing female journalists didn't see their gender as a handicap in their profession (except perhaps for the lack of ladies' toilets at almost every newspaper in the earlier days!). They simply shrugged and got on with their work.
Sometimes though, they encountered reminders – if inadvertent – of their gender. Afia Salam, the first female cricket journalist in Pakistan, entered journalism with articles she contributed on the sport to the Urdu daily Jasarat. "I was attending a cricket tournament reception where I was introduced to a very senior journalist," recalls Ms Salam. "He greeted me by saying, 'Oh, so you're Afia Salam. But you write very well!'"
Later in her career, Ms Salam became editor of The Cricketer, the only woman editor the publication has ever had. One day, the magazine received a letter from a reader in India saying, 'I think your editor is a woman, but surely that can't be. Please clarify.' Nevertheless, there were some drawbacks to being a female sports journalist; she couldn't, for instance, visit the players' dressing rooms or socialise with them, which made it difficult to get the inside news.
For women journalists, Gen Zia's years in power were among the most challenging, when they were in the forefront of the resistance to the regressive and discriminatory laws being enacted at the time. Zohra Yusuf, editor of Star Weekend, was also a founder member of the Women's Action Forum, and the paper was a vocal advocate of women's rights. "In fact, I was accused of turning it into a feminist paper," says Ms Yusuf. "But it gave me enormous satisfaction that we gave so much space to women's issues and violence against women. The paper was a pioneer in that respect while Dawn's women's page was still offering recipes."
There were also other ways of resisting the military regime. Ms Mustafa recalls Gen Zia's government refusing to include her in a press contingent accompanying him on a trip to Southeast Asia, even though she had been nominated by the then Dawn editor, Ahmad Ali Khan. When Begum Zia decided to accompany her husband, Ms Mustafa was extended an invitation, but she turned it down. "I said I wasn't going to entertain her, nor did I need her to be my chaperone."
A few years later, however, when Benazir Bhutto came on the scene, women journalists had a distinct advantage. They enjoyed an access to her that their male colleagues did not. For instance, after being manhandled while leading a procession from Islamabad to Rawalpindi, Ms Bhutto, who was in the opposition and pregnant at the time, confided in Ms Baabar about her fears for the baby's well-being in a late-night chat at her home in Islamabad.
Ms Hoodbhoy for her part says, "Benazir's preoccupation with what people might think about her, an unmarried woman in a male-dominated society, opened up new vistas for me in terms of home visits, exclusive interviews and accompanying her in private vehicles."
Today, women journalists are pushing the envelope further, especially in television. With gender lines becoming more blurred, women are covering election rallies, protests, terrorist attacks, etc. They are now an unstoppable force.
---
The writer is a member of staff.
---
This story is part of a series of 16 special reports under the banner of '70 years of Pakistan and Dawn'. Read the report here.