"Thousands of tired, nerve-shaken, over-civilised people are beginning to find out that going to the mountains is going home; that wildness is a necessity."
— Our National Parks, John Muir.
Ever the constant wanderer, photojournalist Danial Shah made his way to Nepal a couple of months ago on a trek to the Mount Everest base camp.
"I wanted to get it off my bucket list," says Shah, mentioning that he had already attempted trekking to the K2 base camp in 2012. He made it as far as Concordia — the confluence of the Baltoro and Godwin-Austen glacier and from where four of Pakistan's five 8,000-metre mountains are visible. But bad weather prevented Shah from going to the K2 base camp, which was just a day's trek away.
Usually described as one of the treks to do in a lifetime, the trek to the Everest base camp in Nepal is usually presented as an alternative to climbing for the regular but fit traveller
Any mountain enthusiast worth his or her salt would make a small pilgrimage to Nepal at least once in their lifetime. From the capital, Kathmandu, there's a 25-minute flight that takes you to Tenzing-Hillary Airport in Lukla, the starting-point of the trek. "The plane was a 14-15 seater," says Shah. "Every seat is a window seat. There are no designated seat numbers; you sit wherever you want." Travel tip: sit on the left side to spot Everest.
"The plane flies very low," says Shah, "So you see more villages than you would on the Islamabad-Gilgit flight." There are no refreshments. Only candies and cotton buds to protect your ears from the noise in the plane! The absence of a barrier between the passengers and the cockpit means that you can see the pilots operate various knobs and buttons, especially during turbulence, and that may not be very comforting! Especially, for Shah, knowing there had been two plane crashes on that very route in a six-month period.
The pilot skilfully touched the plane down on the runway that begins at the very edge of the mountain. "When you leave the plane, there is already a queue of people waiting to board the same plane and go back — like at a bus stop."
Nowang Karsang, Shah's guide, was already waiting for him at the door of the tiny airport. "He came all the way on foot from his village to get me," says Shah. "It took me two days to make that trek, but for him it only took a few hours." Knowing that Shah was both tired and hungry, he was taken straight to a restaurant for a 'Sherpa breakfast': roasted barley porridge called Tsampa. Dividing the weight fifty-fifty between them, they went on their way.
Walking through the Lukla Bazaar, which is famous for its coffee, bakeries and nightlife, they reached the end of Lukla and that's where their trek officially began. "You need a permit to do this trek," says Shah. "Your permit gets stamped. Your guide's credentials are checked and you need to submit a list of valuables, including all of the electronic items you are carrying."
The trek takes you through two major national parks, the first of which is the Sagarmatha National Park. "You transition from a busy marketplace into an open landscape," says Shah. The trail descends before it ascends again. Most importantly, everyone walks. "The roads are not big enough for cars," says Shah. "The only other mode of transportation is plane or helicopters. You don't see cars, motorcycles — maybe a rare bicycle."
Other than the beautiful mountain vista, the trail is peppered with Buddhist stupas and tablets with Tibetan script on them. "My guide showed me how to walk clockwise around the stupa as a show of respect," says Shah.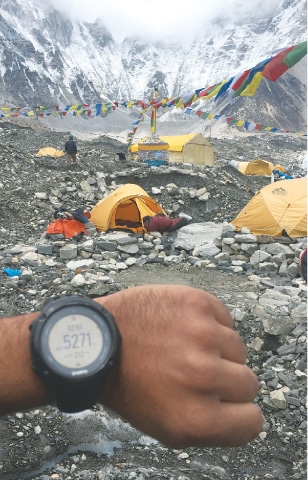 They passed many people carrying large loads on their heads — some were porters, others were just carrying groceries back to their villages. Not all porters work for mountaineers. There are others who transport goods from Lukla down to other villages and from the villages to Lukla. "That's one of the reasons why things get expensive the more altitude you gain," relates Shah. "A one-litre water bottle that would cost around NPR 100 at Lukla will cost NPR 300 at the base camp." One Nepali Rupee (NPR) is equal to 1.01 Pakistani rupees. The women, he noticed, carried as many goods as the men did.
Trekking up and down mountains all day can get tedious. The porters have a solution for that. "They would connect their mobile phones to power banks in their pockets," says Shah. "And listen to Nepali folk [songs] or both classic and modern Bollywood music along the way."
One of the major stops they made was at the famous Namche Bazaar. "You spend around two nights there," says Shah. "One of those nights is to acclimatise to the altitude — 3,440m. It's a very happening place. There are cafes, restaurants, bars, shops and bookstores. I found A Case of Exploding Mangoes by Mohammad Hanif there!"
The main highlight of Namche is the viewpoint at the top of the valley from where you can see all of the major peaks. There is also a Sherpa culture museum there which is open for all and free of cost.
Karsang insisted on taking Shah to his village, Khumjun, nearby. "There's a very old monastery there," says Shah, "It has a preserved skull of a yeti. You have to pay NPR 250 to see it." Shah also got an opportunity to see Karsang's achievements via photos hanging on the walls — his guide had sumitted Everest three times!
On the trek, they passed by Tengboche Monastry. "It's where most foreigners go to see how monks pray," says Shah. They then spent the night to acclimatise at Dingboche (4,410m). After that, the altitude really started getting to Shah.
"We would walk around five hours a day," he says. "I had sore muscles and found it hard to sleep. I wasn't able to acclimatise well. Perhaps I should've spent more time at Dingboche or Namche."
Shah momentarily forgot his troubles when he visited the Pangboche Monastry. "Trekkers usually don't go there," he relates. "Sherpas and climbers go there to seek the blessing of the [chief] Lama." The monastery was closed, so the Lama invited them to his house. "After meeting him, I felt at peace and optimistic about finishing this trek," says Shah. "He tied a thread around my neck giving me his blessings. I felt more comfortable on the trek after that."
The Lama was interested in what's happening in Pakistan and the region. He spoke about the peaceful existence of their valleys. After having chai and breakfast, the trekkers continued on their way.
They reached Lobuche where Shah came across what looked like athletes participating in the annual Everest Marathon. He also came across sick trekkers who found it difficult to acclimatise to the altitude and had decided to turn back or had to be helicoptered out.
At Gorakshep, they dumped all of their luggage and headed onward to the base camp. "There is a small mountain called Kala Patthar (5,545m) close by," says Shah. "Some prefer to climb that mountain because the view of Everest from the summit is supposed to be beautiful. I couldn't do it — the weather wasn't in our favour."
At this point, the tiny tents of the Everest base camp on top of the moraine of the Khumbu glacier is clearly visible. They had to cross the Khumbu Glacier to get to it. Shah got there on May 29, just as the climbing season was finishing. "Mountaineering club teams were cleaning up the camps, rescue teams were out in search of missing or stranded mountaineers.
"Usually when people go, they get to the base camp, take a few selfies and return," he says. "My guide, being a former climber, knew several expedition teams and took me to one of the camps. I met a few Sherpas who had summited. They made us chai and, as we chatted, I noticed that they were all quite tanned. Seeing that there were lots of oxygen cylinders everywhere, I felt very lucky.
"Even at that moment, I knew this trek was going to be a major highlight in my life," concludes Shah. "The K2 base camp trek was done. Everest is done as well. Now all that's left is the Annapurna base camp trek."
The writer is a member of staff.
She tweets @madeehasyed
Published in Dawn, EOS, October 8th, 2017