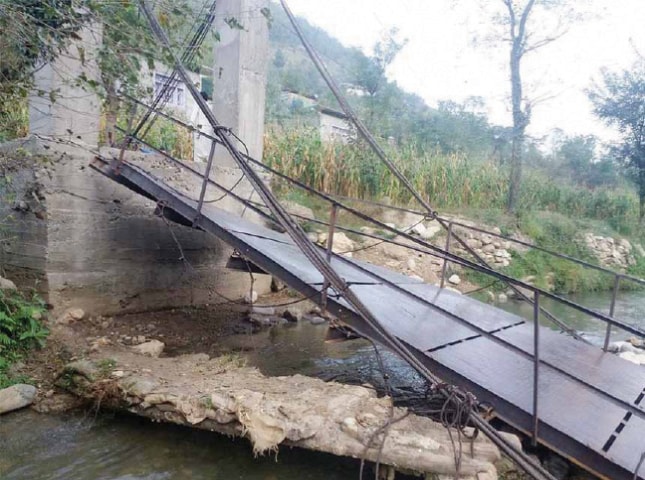 SHANGLA: A recently-built bridge on Kana River collapsed and fell into the river here on Thursday, disconnecting various villages of Koz Kana union council from rest of the district.
According to local people, the bridge was opened to light traffic about a week ago, but it suddenly collapsed. The link bridge was the only source to connect Dunai, Bab and other villages with rest of the district.
"It was completed about a week ago and the local people had repeatedly asked the contractor to use quality material," said Naveed Ahmed, a resident of the area. He said that the authorities concerned should take action against the contractor for use of substandard material in construction of the wooden bridge.
Another local Javed Iqbal said that due to collapse of the bridge traffic to the area was suspended. He said that now they would take a long detour from Ranyal to reach other parts of the district.
The area people have demanded of the government to order immediate restoration of the bridge. When contacted, district nazim Niaz Ahmed said that the bridge was still under construction, but due to use of substandard material it collapsed. He said that he has directed to the contractor to rebuild the bridge immediately.
Meanwhile, a man, identified as Ihsanullah, was injured when a makeshift cable car installed by local people at Marin area of Karora for their personal use fell into deep ravine here Thursday. Residents said that Ihsan was taken to the rural health centre, Karora, where doctors referred him to a hospital in Swat.
Published in Dawn, September 29th, 2017