A state funeral with full national honours was held in Karachi for Dr Ruth Pfau, a symbol of selflessness and devotion who passed away at the age of 87 earlier this month.
Pfau, a German-Pakistani doctor who dedicated her life to helping leprosy patients in Pakistan, was one of the founders of the Marie Adelaide Leprosy Centre (MALC).
Armed forces personnel carried her casket into St Patrick's Cathedral in Karachi's Saddar area on Saturday. The coffin was draped in the Pakistani flag and covered with rose petals.
After her final rites were performed at the church, the 'Pakistani Mother Teresa' was laid to rest in Gora Qabaristan, Karachi's oldest graveyard.
The burial ceremony was attended by many state dignitaries, including President Mamnoon Hussain, Sindh Chief Minister Murad Ali Shah, Sindh Governor Muhammad Zubair, Chief of Army Staff Gen Qamar Javed Bajwa, Air Chief Marshal Sohail Aman and Deputy Chief of Naval Staff (Operations) Vice Admiral Zafar Mahmood Abbasi, each of whom laid floral wreaths on her grave as a mark of respect.
Prime Minister Shahid Khaqan Abbasi had earlier announced a state funeral for Dr Pfau, saying: "The entire nation is indebted to Ruth Pfau for her selflessness and unmatched services for eradication of leprosy."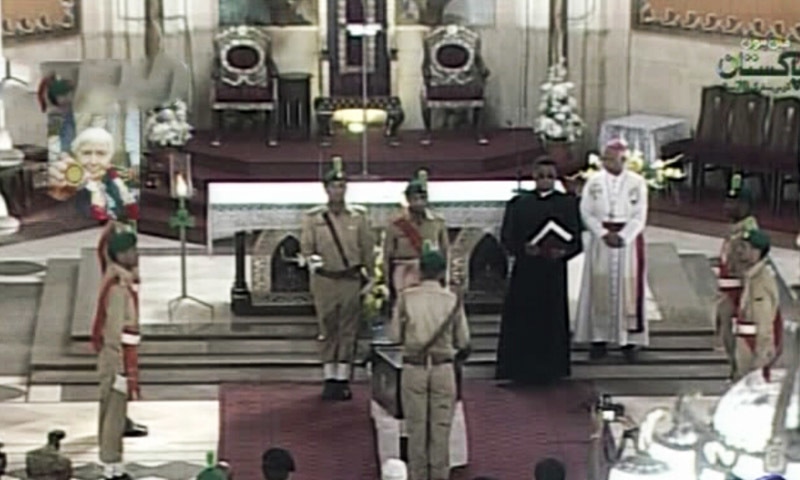 This was the second state funeral to have taken place in Pakistan over the past 29 years, with the last one accorded last year to late philanthropist and renowned humanitarian Abdul Sattar Edhi.
Members of civil society and hundreds of admirers also attended the service and paid tribute to Dr Pfau. After dignitaries departed, the graveyard was thronged by thousands of citizens whose lives she had touched.
Martha Fernando, who worked with Dr Pfau at MALC, said the physician's death was a great loss to humanity.
"There is no one like her and there won't be any replacement to her. We pray to God to send people like her again to this world so that they can continue serving people," she said.
Civil Hospital renamed after Dr Pfau
Following the state funeral, Sindh Chief Minister Syed Murad Ali Shah announced the renaming of Civil Hospital Karachi after Dr Ruth Pfau.
"Dr Pfau was the pride of Sindh and the pride of Pakistan," Shah said.
"In recognition of services in the medical field rendered by Dr Ruth K.M Pfau, the name of Civil Hospital Karachi" is changed as "Dr Ruth K.M. Pfau, Civil Hospital Karachi", a notification issued by the provincial health department on orders of the chief minister read.
A remarkable legacy
Dr Pfau, who was German by birth, had been sent to Pakistan in 1960 by the Daughters of the Heart of Mary — a congregation of nuns that she was a member of — for a medical service for students.
After witnessing the plight of leprosy patients, she decided to settle here. She was granted Pakistani citizenship in 1988.
In 1979, she was awarded the Hilal-i-Imtiaz, the second highest civilian award of the country. In 1989, Dr Pfau was presented the Hilal-i-Pakistan for her services.
Due to Dr Pfau's persistent and selfless efforts, Pakistan was declared 'leprosy-free' in 1996 by the World Health Organization.