Former prime minister Nawaz Sharif's caravan arrived in Lahore from Gujranwala late on Saturday, the fourth and last day of his 'homecoming' rally, which had set off from Islamabad on August 9.
"Have you accepted Nawaz Sharif's disqualification?" he asked supporters while making a brief stop at Shahdara. "Everybody said they did not accept the [Supreme Court's] decision," he told the gathered crowd.
"Nobody has accepted this verdict. I will not sit in peace and accept it, and neither will you. Do you promise me?" he asked, receiving a resounding "yes!" in response. "Let's head to Data Darbar," he had said, putting off the rest of his much-awaited final speech for later. It had been reported earlier that Sharif may not stop at Shahdara, but head to Data Darbar directly; however, he chose to briefly stop and address workers and urge them to head towards the venue of the final speech.
Meanwhile, a large gathering of PML-N loyalists had amassed at Data Darbar, choking the area.
Roads around Lahore remained blocked for the event, with traffic running only one-way. Shops had been directed to remain closed.
Nearly 8,000 police officers were deployed to ensure security at the venue of the speech, while 2,000 traffic wardens had been deputed to control traffic.
"What am I seeing today in Lahore?" Nawaz Sharif said as he started his address to the mammoth crowd at Data Darbar. "I have never seen anything like this before."
"You made me a prime minister, and five people — five people — disqualified me," the deposed prime minister said, stepping into his stump speech for the rally.
"Tell me, is their verdict acceptable to you?" he asked, to loud shouts of dissent.
"I have come to you after four days on the road. Everyone in Pakistan is protesting Nawaz Sharif's disqualification," he told his supporters.
Turning his guns on the Supreme Court judges who deemed him unfit to hold public office, he said: "Those who disqualified Nawaz Sharif, are they themselves qualified [to make that decision]?"
"Nawaz Sharif was not involved in any corruption or any misappropriation. They disqualified me for not taking a salary from my son — what is that to you [the judges]? Whether I take something from my son or not, what is that to you?"
"They have been treating your prime ministers the same way for the past 70 years," he said, addressing the boisterous crowd. "Is this acceptable to you?"
Recalling that he was elected on promises that he would end electricity load-shedding and initiate development projects, Nawaz Sharif asked his supporters if he had not delivered.
"When so many good things are happening in the country, is this how your prime minister should be treated?"
"No! This is unacceptable to us!" he said.
"Three dictators have devoured 30 years of this nation's history. This cannot do! Pakistan has to change!" he roared, ramping up the gears.
"The passion and spirit I'm seeing is a harbinger of a revolution!" he said. "If this revolution does not arrive, nothing will change. If this revolution does not happen, we will become the worst nation in the region."
"No other country has experienced upheavals in its democratic process like we have," he claimed.
"Who are these people who have disrupted our progress? Do you not think that they should be held responsible?
"The people who've played with Pakistan for the last 70 years — don't you all think that they should be held accountable?" he asked his supporters, who responded with a resounding "yes!"
"You will have to take a brave stand against these people!" he urged.
"This country has already been a victim of a grave accident in 1971 — I hope that something similar never happens again," he said, recalling the secession of Bangladesh from Pakistan after a political falling-out over which wing of the country would install a prime minister.
Turning again to his 'achievements' as a leader, he asked: "Is the Pakistan of 2017 not better than the Pakistan of 2013?", which was responded with loud shouts of "yes!"
"Shouldn't Nawaz Sharif have been praised for what he achieved?" he asked.
"Shouldn't the 200 million of this country hold dominion over its affairs?" he continued, again to resounding cheers of "yes!"
"Shouldn't the vote of the 200 million people of this country be held sacrosanct?" he asked.
"Nawaz Sharif will make this happen for you. If you order it, I will offer my life and my power to this cause," he roared.
"Nawaz Sharif has never deceived you," he continued. Despite everything — the dharnas and the conspiracies against our government — we have delivered on our promises, he claimed.
"Think of where we would be if we hadn't been held back [by our opponents]," he said.
"I wish for us to have a better future. To do that, we have to change the system. This system is plagued by a virus, and we have to cure it," he said. "[Right now] we are not fit to stand up to the world. When Pakistan changes, your destiny will change too," he said.
"There's no social, judicial, political or economic justice. We will bring a system that will give justice to whoever has been wronged. We will dispense justice in 90 days," he thundered.
"We will need to make new rules. We will need to change the Constitution. But we will change the system," he promised.
"Do you want this naya Pakistan or not? Where your vote is respected? Where your honour is preserved?" he asked, to resounding assent.
"The sacrifices we gave to create Pakistan have still not borne fruit. For 70 years, we have been meandering around. Look at our neighbours: do any of them suffer from the problems we do?" he asked.
"You will have to support me," he said. "I am no longer a prime minister, but you have to support me."
"I have come out for justice, not for power," he continued. "I have come not for my rule, but for your rule over this country."
"Swear your loyalty to me, but swear truly," he urged. "Tell me, what you swear to, will you fulfill?" he asked, receiving loud cheers in response.
"Will you stand with me as we bring a revolution to Pakistan? It is August 14 day after tomorrow: remember the sacrifices of the people who made Pakistan. We have to honour their sacrifices. They must be rolling in their graves at what we have done with this country," he said.
"I will never forget the love I have received on this trip. I promise to bring forth my [new] programme [manifesto] on August 14, and I have full faith you will back me when I do," he said.
"Tell me, will you remember your promise to me?" he roared, inviting loud shouts of "we will!"
Muridke address
Sharif's motorcade was supposed to leave Gujranwala on Saturday at 11am, but was delayed till 12:30pm due to unknown reasons. He had stayed overnight in the city after delivering a fiery speech on Thursday in which he raged against the judges of the Supreme Court.
Sharif's motorcade had stopped at Muridke, its last stop before Lahore, where a large crowd of supporters had gathered to welcome him. The caravan was joined there by a rally from Sialkot, led by Minister of Foreign Affairs Khawaja Asif. PML-N leader Abid Sher Ali also arrived to welcome the ousted PML-N supremo.
Sharif spoke to his supporters in Muridke, repeating elements of the speech he made at previous stops but also making the startling demand that his loyalists prepare for a 'revolution'.
"Do not be disappointed," he started, "do not worry. This is your victory. This is the defeat of those who have held the nation hostage for 70 years."
"The 200 million people of this country are the real owners of this country. A few cannot over rule them. We will make the 200 million people of Pakistan its real owners again," he said.
"Nawaz Sharif has come to you. Did you not send Nawaz to Islamabad after making him prime minister?" he asked, prompting assent from the crowd.
"But he was thrown out by someone else. Is this decision acceptable to you?" he roared, with the crowd responding with a resounding "no!"
"Pakistan belongs to its 200 million people. The decision [to depose me] is not yours. If Nawaz Sharif would have been involved in corruption, you would have dragged me out of office yourself."
"There are no allegations of corruption against me. Tell me, people of Muridke, do you accept this [the Supreme Court's] decision? Is this insult acceptable to you?" he said, receiving loud responses of "no!"
The deposed prime minister then repeated elements of the same narrative he'd built in Jhelum, Gujrat and Gujranwala: urging his loyalists to seek accountability from those who'd ousted him from power; reminding them of his government's achievements; and taking credit for tackling the country's problems, most prominently to have lowered load-shedding (and promising it would have disappeared by next year had he been in power).
"I was serving the country and its people. I was building roads and motorways. Balochistan was progressing; young people were starting to get employment. If I had been allowed to complete my tenure, there would have been no unemployment in this country," he claimed.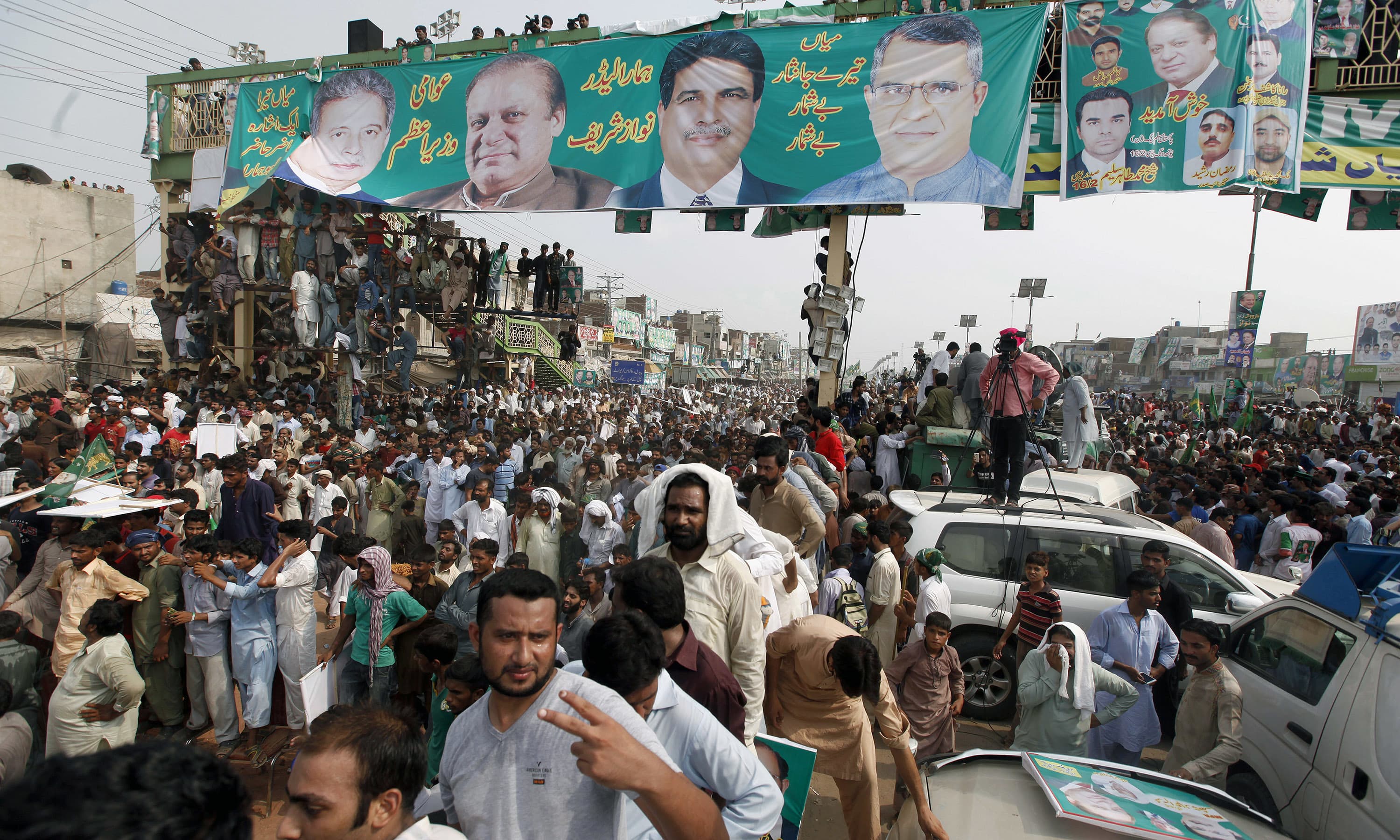 "For 70 years, Pakistan has been played with. No other country in this world is being cheated like this," he said.
He also continued to rile up his followers, telling them that the Supreme Court decision was an insult to their vote and that the apex court had lowered Pakistan's standing in the international community by sending him packing.
"Shouldn't there be a revolution?" he said. "Are you ready for a revolution?" he asked.
"Pakistan is being embarrassed in the world because of this decision. People across the world and Pakistanis are rejecting the decision."
"The world is laughing at Pakistan," he said. "I cannot accept this."
"Will you stand by Nawaz Sharif in the revolution?" he asked, inviting cheers of "yes!"
"I know Muridke will stand by what is right. They will not bow down."
"Stand by me when my message reaches you," he urged. "Do not let your passion die. Do you promise to stand with me?" he asked, prompting cheers of "we will!"
Observers weigh in on 'homecoming' rally
PPP Senator Sherry Rehman
Talking to DawnNews, Rehman rejected PML-N's narrative that Nawaz Sharif's ouster poses a threat to democracy and therefore, PPP has not joined the ruling party's rally.
"We (PPP) have been called friendly opposition in the past because we stood with the government to protect democracy at the time of the [PTI's] sit-ins. But democracy is not related to Nawaz Sharif's personality and it is not under any threat," she said.
Journalist Iftikhar Shirazi
Speaking on Nawaz's rally, Shirazi said that the former premier should have emphasised on reaching a national consensus instead of taking to the roads.
"The narrative Nawaz Sharif is trying to develop [by this power show] is not the best way to tackle this issue. He is trying to take things towards institutional collision," he said. adding that Parliament was the best forum to address this issue, which he [Sharif] did not respect.
Analyst Meher Abbasi
The DawnNews anchor views the rally as a "three-pronged model with Shahid Khaqan Abbasi in the centre, Shahbaz Sharif in Punjab and Nawaz Sharif reaching out to the public", that benefits PML-N.
Abbasi said that the rally is Sharif's "campaign for relevancy".
"All leaders that have been [deposed] have stayed politically active. If Nawaz Sharif leaves quietly, his party and voters will be disappointed," she said, deeming it important for Nawaz to keep himself involved in politics.
"Shahbaz Sharif will continue in Punjab to complete the projects he has started, while Shahid Khaqan Abbasi is in the centre and is a dignified personality that is acceptable to all quarters. Nawaz Sharif had no other option but to come out on roads because sitting in Raiwand would have meant political redundancy," Abbasi added.
However, she disagreed with Sharif's rhetoric and the narrative he is trying to develop through his speeches.
"I am shocked by the talk of revolution, because even if you want peaceful a revolution, it is against a sitting government," she noted.
"But the government is your own. What do you want?" she asked. "This is a [show of] no confidence for the cabinet you have yourself chosen."
Analyst Nusrat Javed
"Inquilaab [revolution] is an over-used term in Pakistan," the veteran analyst said in reaction to the Muridke speech.
"This word is used again and again and I don't think it holds much value. The point of this rally was that the voter and his right has been violated, which he [Nawaz Sharif] has been able to convey well Jhelum onwards," he said.
"The process of 'getting' Nawaz will get quicker and he may have to see jail," Javed feared, "and a petition could be moved to not air his speeches live since he is committing contempt [of court]."