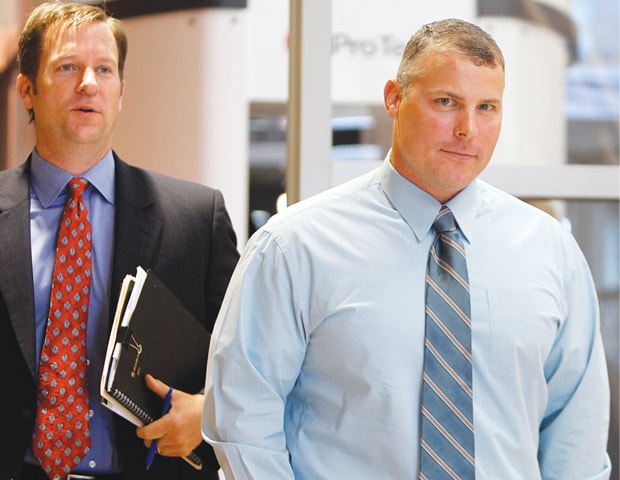 TOBA TEK SINGH: The book by Raymond Davis, the American security agent, who shot dead Faheem Shamshad six years ago in Lahore, has refreshed the wounds of Faheem's family.
Faheem's mother Haleema Bibi told reporters on Friday at her home in Mustafabad locality that every day she remembered her son and this grief had made her bed-ridden.
Faheem and Faizan were killed by Davis in January 2011 in Lahore.
Recently, Davis' book -- The Contractor: How I landed in a Pakistani prison and ignited a diplomatic crisis — was released the world over which presents his own version of the whole incident.
Haleema said her 21-year-old son was an electrician when he was killed by the American agent. She said she could not forget the last morning when she saw off Faheem at their Begum Kot house when he was leaving for work.
Faheem's father Shamshad and elder brother Waseem told reporters that they were unaware of the fact that Faheem was also working for intelligence agencies. In measured words, Waseem said that then top agency chief Gen Pasha had no role in Diyat payments to the heirs of Faheem and Faizan. He said the major role in releasing Raymond through Diyat was of then president Asif Ali Zardari.
Waseem said when they appeared in the court, such arrangements were made in the courtroom that they could not see Davis there. He said his family members had accepted the Diyat decision only in the vast interest of the nation and the country and due to then prevailing international circumstances. He said when his family felt that the people of the country had taken their acceptance of Diyat amount in a bad taste, they remained underground for several weeks. Later, they bought a house in Mustafabad locality in Toba Tek Singh and started living there.
He said the FIR of Faheem's murder against Davis was registered on his complaint but it was strange that sections related to terror, use of prohibited arms by Davis and recovery of sensitive maps from him were not included in the FIR.
Faheem's father Shamshad said the late Faheem was youngest among all five brothers and two sisters so he was very much adored by the family members. He said his son's murder occurred just three months after his marriage and after his murder, his widow also committed suicide.
Published in Dawn, August 12th, 2017
For more live updates, follow Dawn.com's official news Instagram account @dawn.today