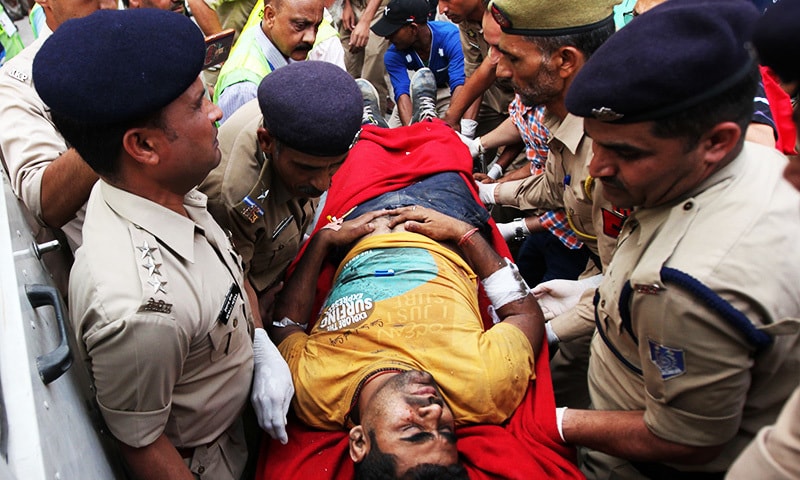 At least 16 Hindu pilgrims were killed and several others injured in a bus crash on Sunday in India-held Kashmir, said police.
The bus carrying pilgrims to a Himalayan cave — revered as the abode of the god Shiva — where hundreds of Hindus make annual pilgrimage plunged into a ravine.
"16 people are now confirmed dead, 19 with serious injuries and eight others with minor injuries," the state's police force said in a statement.
Some of the worst injured were being airlifted to a hospital, whereas others were taken to local clinics for treatment, police said.
Indian Prime Minister Narendra Modi offered his condolences to the pilgrims who died making the journey.
"Extremely pained by the loss of lives of Amarnath Yatris (pilgrims) due to a bus accident in J&K," the Indian prime minister said, referring to the state by its initials.
"My thoughts are with the families of the deceased," he said.
Another Hindu pilgrim died on Sunday from injuries sustained six days ago when unidentified gunmen opened fire on a bus full of worshippers on the same holy visit.
"One lady who was injured in the July 10 attack succumbed to her injuries in a hospital," SP Vaid, the state's director general of police, told AFP.
Her death takes the toll from Monday's attack to eight, with seven women and one man killed in the late-night assault. Most of the victims were from the western state of Gujarat.
Indian leaders and Kashmiri separatists united in their condemnation of this latest attack. No group has yet claimed responsibility.
Authorities said the two-month pilgrimage season would continue despite the attack on the bus, which was not part of the official convoy carrying pilgrims.
Tens of thousands of Hindus from all over India travel to Kashmir every year to visit a phallus-shaped ice formation in the Amarnath caves that is worshipped as a symbol of Shiva, the Hindu god of destruction.
The caves, which lie 12,800 feet high and can only be reached on foot or on horseback, are seen as a symbol of religious unity in the volatile region.
The ice formation is said to have been discovered in 1850 by a Muslim shepherd who became a custodian of the shrine, along with two Hindu priests.