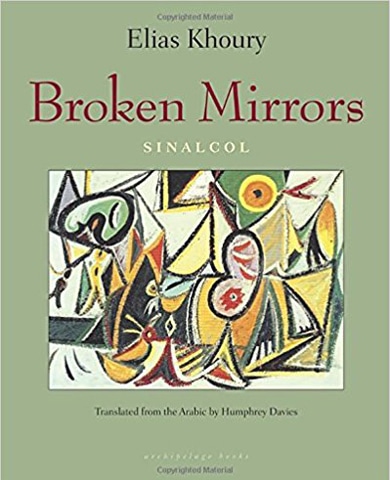 Elias Khoury is a well-known Lebanese novelist, critic, journalist and academic. He is a professor at New York University and has also taught at Columbia University and the American University of Beirut. In his youth he fought in the Lebanese civil war, an experience that gives him unique insight as a novelist and intellectual into the people and politics of the conflict in his country. His latest novel, Broken Mirrors: Sinalcol, was first published in Arabic in 2012 and translated into English in 2015 by Humphrey Davies, an award-winning translator of classical, fictional and historical Arabic works.
In Broken Mirrors, Khoury explores the direct and derivative effects of the Lebanese civil war: "Civil war is superior to all other kinds of war in that it resists any explanation ... It is an assemblage of broken mirrors that run parallel to one another, making of the fragments images that reproduce each other but refuse to form a coherent whole."
The narrative is based around a middle-aged doctor, Karim Shammas, who used to live in Beirut with his brother Nasim and their father Nasri, an eccentric, lecherous man with a penchant for establishing ritualistic family traditions. It is in this motherless environment that Karim comes of age at the whims of Nasri and the civil situation. Amongst glasses of arrack and plates of homemade kibbeh nayeh, we learn of the darkness people live in and how the weight of an entire country's sorrow bears upon its citizens.
Set against the backdrop of Lebanon's civil war, a story of tragedy and self-loathing
When Karim flees Beirut during the war, he takes with him disjointed perceptions and memories of people and events. Though now settled in France with a family, Karim feels incomplete and is in the throes of an identity crisis. He is lost, in a limbo between his Lebanese and French personas, estranged from his father and brother. After 10 years he returns to Beirut in an attempt to revisit his past, himself, and the lives of those he left behind, and his search for closure takes the reader on a jarring trip through the discordant, painful lives of citizens living in Lebanon during the war.
Once in Beirut, Karim is still unable to find focus and purpose. He falls in and out of relationships, in and out of the past. The reader waits for him to find direction in his interactions, in a memory revisited, a story retold, but as he tries to reconnect with his country and his people, it is hard to care about him and the process he is going through. It is as if he operates in a bubble, unaware and distant. Though he does have brief moments of daring and conscience — such as maintaining loyalty to a dead friend despite intimidation to do otherwise — his every decision is dictated by fear or self-interest.
It is unfortunate that in such a rich book I was unable to find a character I liked or one whose story I was invested in. The characters are full of self-loathing, yet invoke no sympathy. Having said this, they feel real and have an air of mystery about them. Most are selfish, egocentric and unmindful of the effects their actions have on others. Has the trauma of war caused them to be so? Are their natures purely shaped by the horror of the circumstances they live amidst?
Each person's story shines from its own shard of a mirror, a mirror that was never really once whole. The shards are scattered across time, geography and hearts, never quite coming together, but each leaves an indelible scar on the characters' psyches. There is continual emphasis on the need to forget in order to carry on, to move past loved ones lost, a city lost, a country lost — the book speaks of the dead as a "surging throng, the newly dead obliterating the dead who had gone before."
Sinalcol is the invisible character who makes his appearance only in Karim's thoughts. Sinalcol is a mirage Karim has been chasing for years, believing that in finding him, he will find his own true self. Sinalcol's presence and the legend behind his identity — hero, criminal, leader — is presented as a foil to the main character and to the strife in Lebanon: "Karim didn't know the man's real name, but Sinalcol had become the phantom that exemplified the Lebanese civil war in the country's northern capital ... after the Syrian army's invasion of the city, no one had seen him and no one knew what had happened to him." However, as a reader, one tends to forget about him and his significance to the book.
Had Karim returned to Lebanon to put a red rose on Khaled's grave or to search for Sinalcol, as he claimed? Or had he concocted the story to justify a return that had no cause other than a mysterious nostalgia for a past which Karim knew in his depths had gone, and which would never come back? Karim had no idea why he'd fashioned a story for himself when there was no story to fashion.— Excerpt from the book
Broken Mirrors is not light, entertaining reading. Karim's perplexing journey takes readers into red light districts, villages, marriages, political and religious strife, damaged relationships, revolutions, capitalism and colonialism. He is a channel that allows one to view the war experience through the eyes of soldiers, revolutionaries, widows, criminals, intellectuals and the city of Beirut itself.
Is this too much for one book? Throughout its 500 pages the narrative twists in convoluted arcs, making one forget what brought one to certain parts of the narrative — much like the people in the book. The reader — along with the characters — has difficulty following events and wonders about their relevance. The multiple story threads make it at times tumultuous and confusing. One struggles through its pages uncomfortably, expecting and needing resolution. In this way, however, the book aptly conveys the sense of being in the midst of a war and the uncertainty of life during the lulls in violence, and it is admirable how Khoury leaves some stories open, without endings, without closure — much like a war.
Though it drags in places, the beauty of the prose holds one in its thrall. In his translation, Davies maintains the cadence and poetry of Khoury's words and many lines read like melancholy verses.
Broken Mirrors stretches across years, detailing events and lives, and even though one may often become lost whilst reading, the insistent press of layers of a collective, yet personal, violent history can still be felt. Because of this, the reader comes away with a sense of bewilderment at the expanse of time and devastation the book covers. With the progression of the story one gets an understanding of the on-going reverberations, not only of the war, but also of the conflicts within people. The book instils an undercurrent of agitation and aggrievement for Lebanon and its people. This is the cumulative effect of the story Khoury tells and the language he uses: the tragedy of Lebanon seeps into you.
The reviewer is a writer, editor and avid reader
Broken Mirrors: Sinalcol
By Elias Khoury, translated by Humphrey
Davies
Archipelago, US
ISBN: 978-0914671299
500pp.
Published in Dawn, Books & Authors, July 16th, 2017