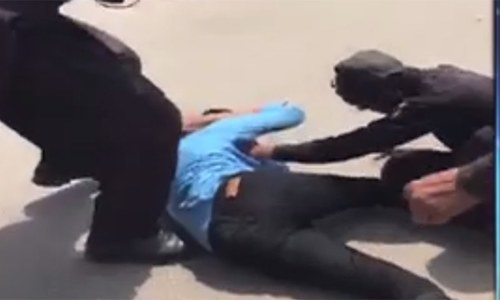 Multiple journalists were injured after guards employed by the University of Agriculture Faisalabad (UAF) attacked them for covering a student-related incident, media outlets reported Tuesday.
SAMAA TV reported that its reporters, cameraman and driver were "severely beaten up by security guards at Faisalabad's Agriculture University".
"As the SAMAA team arrived in the university to report the issue of some students' expulsion, security guards and employees of the institution forcefully stopped the team from coverage," the channel reported.
"The guards and employees tortured the team and damaged [a] SAMAA DSNG van," it added.
Similar reports on Express News said the channel's cameramen, Muhammad Usman, was among the journalists injured when UAF guards pelted stones at them outside the university's premises.
Initial reports suggested that the guards had set on a reporter and cameraman of SAMAA TV outside the main gate when the TV crew tried to line up a shot for a news package.
The team had earlier been denied entry into the university.
They were intercepted by guards, who argued that the media team would have to take permission from the university administration for footage made on the road outside the university as well.
When the media team refused to move, several guards attacked.
A video posted on the SAMAA website showed at least two uniformed guards kicking a man as he lay on the ground.
Another member of the Samaa crew was set on after he attempted to save the downed man. His clothes seemed to have been torn and his face bruised from the beating.
The guards are said to have pelted stones when local reporters reached the point in support of their fellow journalists.
Raheel Asghar of Aaj TV; Javeed, cameraman of Metro TV; Shehroz Ebad, a reporter of Dunya TV and Waqas Shiraz, reporter of Neo TV were among those who sustained injuries in the incident.
A few days ago, the university had expelled four students on charges of criticising the university administration on social media.
Earlier this year, the university had attained notoriety for the rustication of PhD student Kashan Haider on charges of posting comments on Facebook against the Kissan Mela organised by UAF in November 2015.
Din News cameraman injured by mosque admin
A Din News cameraman was injured and his camera was damaged in a scuffle with Haqqania mosque administration in Islamabad, according to police at the Margalla Police Station.
The scuffle took place after the journalists attempted to cover a story in the area, police said.
The cameraman was admitted to a hospital for medical attention and a First Information Report was registered against the mosque administration by the TV channel, police said.
Police arrested the nazim of the mosque and another unidentified individual.