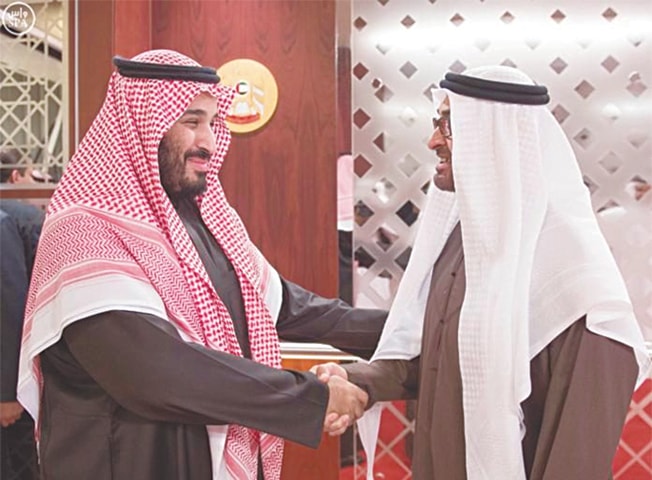 THE choreographed statements by Saudi Arabia and three allies to quarantine Qatar at just after 6am on June 5 were not signed, but there was no mistake about who was behind them.
The move to halt air and sea transport and shut the tiny Gulf nation's only land border carried the fingerprints of two of the Arab world's most powerful leaders: Saudi Arabia's young deputy crown prince Mohammed bin Salman, and Sheikh Mohamed bin Zayed, the de facto head of the United Arab Emirates.
The coordinated action underscores the growing authority of both men, whose countries control vast amounts of oil wealth and buy weapons from the US. They've been using both to mould the Middle East in recent years by supporting leaders and groups they like and opposing those they don't. And now they have the explicit backing of President Donald Trump as he tries to toughen the US stance on Iran.
The stated aim was to crack down on the "Iranian sponsored terrorism" they said Qatar helps finance. Trump said on Twitter on Tuesday that Middle East leaders essentially told him as much during his visit to Saudi Arabia last month.
Turning the screws on the world's richest country per capita thanks to its abundant reserves of natural gas put the Saudis and Emiratis in direct confrontation with a country that remains a key American ally, and which hosts the US Central Command. It also allows bin Salman and bin Zayed to send a clear message to their 37-year-old Qatari counterpart, Sheikh Tamim bin Hamad Al Thani: in this neighbourhood, we run the show.
"The name of the game here is the rise of this duo as architects of regional policy," said Ayham Kamel, Middle East and North Africa director at Eurasia Group. "This is unprecedented. What the Gulf countries have largely lacked is detailed strategic processes. This was much more planned."
The question now is what's in store for a region that's trying to cope with low oil prices and limit the fallout from the perennial battle between the Saudis and their Sunni allies and Shia Iran.
It all circles back to that rivalry and efforts to undermine the Muslim Brotherhood, a group that Saudi Arabia and the UAE have opposed for years, in part because of its stated aim of gaining power through elections. The alliance against Qatar also included Egypt, whose leadership ousted the Brotherhood in a 2013 coup led by UAE-backed army chief Abdel-Fattah al-Sisi, as well as Bahrain.
But the track record of the new assertive policy isn't stellar. The Saudi-led war in Yemen against pro-Iranian rebels is stuck in a bloody stalemate, and in Syria, their allies are on the retreat in the face of forces backed by Russia and Iran. Egypt has been in turmoil even after the UAE and Saudi Arabia poured billions of dollars in aid to support Sisi.
"Mohamed bin Salman and Mohamed bin Zayed essentially have a zero tolerance policy toward any sort of radical political project for the region, whether Sunni or Shia in denomination," said Mokhtar Awad, a research fellow at George Washington University's programme on extremism. The danger is that the two leaders get "locked in to endlessly pursuing a policy that on the face of it seems to be not working," he added.
More known for banking and the Dubai high-life than its foreign policy, the UAE started to engage more in the region a few years ago while the US and other Arab powers were distracted elsewhere. Then came changes to the royal household in Saudi Arabia, followed by the departure of Barack Obama, whose rapprochement with Iran with a nuclear deal has been upended by Trump.
Bin Zayed, 56, known as MBZ among diplomats, was among the first leaders in the region to engage Prince Mohammed, 31, who was appointed deputy crown prince by his father, King Salman, in 2015.
The ambitious prince, known as MBS and who is also Saudi defence minister, emerged as the driving force behind a reform plan unveiled last year that's meant to drag his country, shackled by the strict teachings of an 18th century imam, into the 21st century economy. His model may have been Dubai rather than the more conservative Abu Dhabi of bin Zayed, but the relationship endured.
Sheikh Mohamed keeps a low profile. A graduate of the British military academy at Sandhurst and a lifelong soldier, he's been a key point-person for Washington over the years.
"The Saudi-Emirati assertive foreign policy approach is largely driven by personalities," said David Andrew Weinberg, a senior fellow at the Foundation for Defence of Democracies. Yet that in itself carries a risk if, for example, King Salman is succeeded by a monarch who doesn't share MBS's vision, he said. Failure in Yemen could also "undermine MBS's position in Saudi Arabia," he said.
In shutting off Qatar, they're punishing a country that just didn't play ball. Its independent wealth from a gas field the country shares with Iran enabled it to develop foreign policies that diverged from its neighbours. It financed the Muslim Brotherhood in Egypt, Hamas in the Gaza Strip and armed factions opposed by the Emiratis and Saudis in Libya and Syria.
Tamim bin Hamad Al Thani, another Sandhurst graduate, became emir in 2013 after his father's abdication. The appointment was seen as an attempt to demonstrate that Qatar was adjusting from its "aberrant" ways, said Peter Salisbury, senior research fellow at Chatham House's Middle East & North Africa Program. A sports fan whose father had won the right to host soccer's 2022 World Cup, he sought to enhance Qatar's international reputation by trying to re-brand the country as a regional peacemaker. But when Saudi Arabia and the UAE felt a year later "that Qatar still hadn't fallen in line we saw diplomatic relations being cut off", said Salisbury.
That all escalated this week. The government in Doha dismissed the charges of sponsoring extremism, and said the Saudis are just seeking to dominate the region. For now, Kuwait's ruler stepped in to resolve the showdown between the fellow Gulf Cooperation Council members. But the end-game might be to displace Qatar's leadership.
"Thanks to Trump's recent visit they seem to feel that he has their back because he's taken an anti-Islamist, anti-Iran discourse," said Yezid Sayigh, senior fellow at the Carnegie Middle East Center in Beirut. "They seem to think that this means they can do whatever they want."
—By arrangement with Bloomberg-The Washington Post
Published in Dawn, June 8th, 2017