May 12, 2017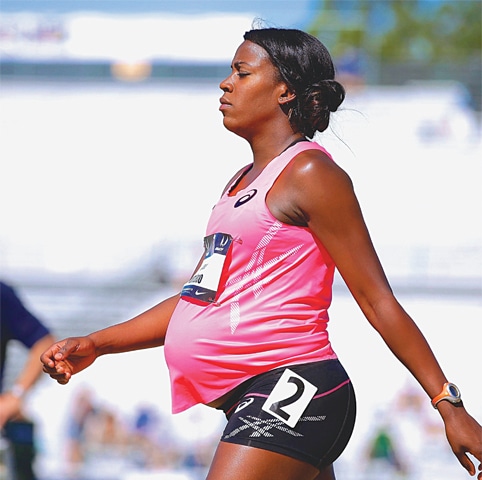 My dearest baby, you gave me the strength I didn't know I had. You taught me the true meaning of serenity and peace. I can't wait to meet you. I can't wait for you to join the players' box next year. But most importantly, I am so happy to share being number one in the world with you ... once again today … Your Mommy."
Serena Williams's selfie showing of her baby bump and sweet letter to her unborn child on Instagram last month, besides other things, pointed to the fact that she was already expecting when she won the Australian Open in late January. Having found out about her pregnancy just two days before the tournament, the 35-year-old tennis champion admits being nervous about playing in her condition. "I was nervous. I wasn't quite sure what to think, but I knew that at that moment, it was really important for me to just focus.
"It wasn't very easy," Williams, who defeated her older sister Venus in the final, added. "You hear all these stories about people when they're pregnant — they get sick, they get really tired, really stressed out … I had to really take all that energy and put it in a paper bag, so to say, and throw it away.
---
Eos celebrates sportswomen who didn't let imminent motherhood feel like a burden
---
"I really felt that I didn't have time to deal with any extra emotions, any extra anything, because, pregnant or not, no one knew, and I was supposed to win that tournament as I am every tournament that I show up [for]. If I don't win, it's actually much bigger news."
Though now she has taken a break from tennis for the time being, Williams intends to return to competition next year. She will be 36 then.
While it remains to be seen whether Serena would return to tennis after giving birth and regain her top slot, Eos looks at the other sportswomen who also became mothers while at the top of their game.
NOT A HANDICAP
There is the example of 34-year-old English golfer Liz Young who never lost her glow as she kept playing golf after finding out that she was pregnant. And five-and-a-half months after giving birth to daughter Isabelle, last year, she returned to golf thanks to support from husband Jonathan who stayed home with the baby while the mother played. About the changes she experienced after motherhood, she said, "It's been a bit of a struggle getting my body back and it's a long process. I was sofa or bed-bound for the last month of pregnancy and then, because I had a caesarean, I was very limited in what I could do for around 12 weeks afterwards. A lot of my muscle has gone and I've been working with a physio to rebuild and get my strength back.
"I'm still not hitting it as far as I did before I was pregnant, but I would say I am one club shorter now, which is an improvement from where I started."
RUNNING AWAY WITH THE BABY
American runner Alysia Montano ran 800m in the US Track and Field Championships while 34 weeks pregnant. Despite finishing at 2min 32.13sec in the qualifying rounds and ending up last in her heat, she received loud applause and a standing ovation when she crossed the finish line.
"What I found out mostly was that exercising during pregnancy is actually much better for the mom and the baby. I did all the things I normally do, I just happened to be pregnant," Montano said.
Six months after giving birth to her daughter Linnea (born August 2014), Alysia won a national title when she competed in the 600m race at the USATF Indoor Championships.
Montano said that she did a lot of strength training — with lunges and squats along with stretch exercises — before and after giving birth, which helped her make a quick recovery.
HAVING A BALL
At five weeks pregnant with her third child, American beach volleyball player Kerri Walsh-Jennings won the Olympics gold in the 2012 London Games. After giving birth to daughter Scout Margery in the spring of 2013, she was back to her normal self quite soon and won more laurels including the bronze medal at the Rio Olympics last year for which she gives credit to exercising continuously, before and after the baby was born.
---
You hear all these stories about people when they're pregnant — they get sick, they get really tired, really stressed out … I had to really take all that energy and put it in a paper bag, so to say, and throw it away."
---
"When you're pregnant, that's the greatest gift I've ever been given from God. I love my body so much. So many dreams have come true because of my body, so I wanted to celebrate that and honour that. Even though I didn't feel perfect, I'm really proud to be a part of that," she said.
ARMED AND PREGNANT
Sharpshooter Nur Suryani Taibi was eight months pregnant while donning Malaysian colours for the 10m air rifle event during her debut at the London Olympics. She blamed her own stubbornness for this. What she was really worried about while aiming at her target was the baby's kicking at the wrong time.
COME ON BABY DANCE WITH ME
Everyone is used to seeing lithe ballerinas but there was also American ballerina Mary Helen Bowers, who was dancing on her due date.
The mother of two young girls has come up with a system of ballet exercises during pregnancy called 'Ballet Beautiful' and even written books about it.
"When you're pregnant it's about strength and femininity, it's about trying to maintain rather than trying to build or lose weight, making sure your body is strong. The workout also helps to alleviate some of the symptoms [of pregnancy] like nausea and swelling," she said. "It makes things a lot easier after you deliver, which is really nice because you're so exhausted when you have a new baby. And so, going into that postnatal period where you have the strength from training throughout pregnancy makes it that much easier," she added.
A baby is a blessing and mothers are the strongest of people. If these sportswomen were champions before they became mothers their strength increased manifold after giving birth. We look forward to seeing Serena back on the circuit and winning again every step of the way with her little bundle of joy.
The writer is a member of staff.
She tweets @HasanShazia
Published in Dawn, EOS, May 14th, 2017