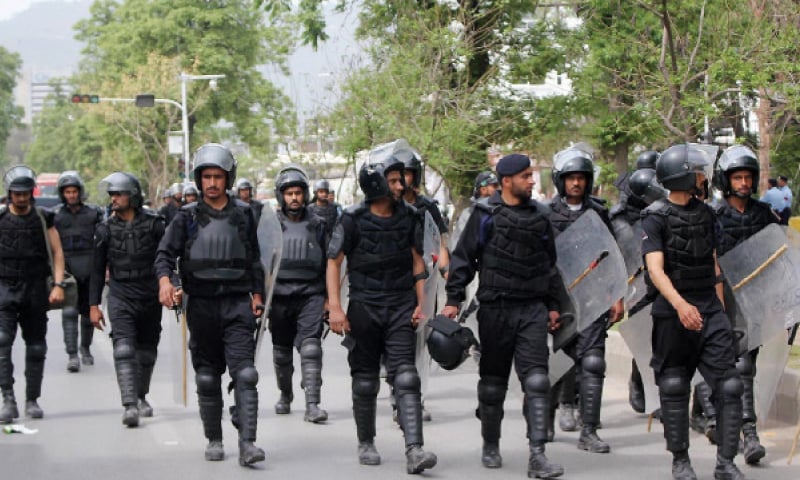 ISLAMABAD: The Islamabad Capital Territory administration on Friday enforced its writ by not allowing Maulana Abdul Aziz to hold a gathering at the Lal Masjid.
A heavy law enforcement presence was visible around Municipal Road in Sector G-6 – where the mosque is located – since 10am. All roads leading towards Lal Masjid from Melody Market, Aabpara and Shaheed-i-Millat Road were cordoned off and no one, not even pedestrians, were allowed to proceed towards the mosque.
As a result, the Friday congregation at Lal Masjid was very thinly attended – mostly by media persons and employees of the National Accountability Bureau, located across the road.
Maulana Aziz had given the call for a conference against blasphemy on social media to be held at Lal Masjid on Friday, but negotiations between his followers and the ICT administration broke down late on Thursday night.
Though no written reply was given, the ICT administration turned down the application for the event and verbally conveyed this to the Lal Masjid administration.
---
Heavy police presence outside Lal Masjid, Jamia Hafsa; cleric criticises govt, parliament in chaotic presser
---
"Permission could not be granted to hold a conference at Lal Masjid because Maulana Abdul Aziz is a 'proscribed person' and [the mosque] is government property – only the government has the right to decide [what] activities [are held] there," an official told Dawn.
Meanwhile, Lal Masjid announced that the conference would be held with the help of the faithful, who were extolled to gather at Lal Masjid "at any cost".
An ICT official told reporters that law enforcement personnel would be deployed around the Lal Masjid to prevent the arrival of outsiders, especially students from other seminaries of the twin cities.
Around 600 police, including personnel from the anti-terror and anti-riot squads, commandoes and women police were deployed at various points, while traffic police helped divert traffic from blocked roads in G-6 and G-7 sectors.
A senior officer of the ICT administration told Dawn they had anticipated that Maulana Abdul Aziz would try to use the Friday prayers to attract a crowd, who would be touted as participants of the conference.
"Therefore, a decision was taken at a high level that no one should be allowed to proceed towards Lal Masjid for Friday prayers," he said.
While the situation there remained under control, tensions simmered at another state-run mosque down the road – the Masjid-i-Rehmania in Aabpara – where a largenumber of seminary students and clerics gathered ahead of Friday prayers.
Delivering the Friday sermon, mosque khateeb Qari Abdul Rehman Muawia made a fiery speech against the government and announced on the loudspeaker that no power could stop them from holding a gathering to condemn blasphemers.
However, when Islamabad Deputy Commissioner retired Capt Mushtaq Ahmed arrived at the mosque compound in his official vehicle, the cleric changed his tone, announcing" "Maulana [Abdul Aziz] has said that we will attend Friday prayers and go back".
Following this announcement, several people were seen heading back towards the Aabpara bus stand without attending the Friday congregation.
Around the same time – just before Friday prayers – Maulana Abdul Aziz was holding forth at the Jamia Hafsa in Sector G-7, which is also his residence. The cleric held a chaotic presser amid high pitched sloganeering by his followers, deploring the unIslamic state of affairs in the country.
He criticised parliamentarians and government functionaries, denouncing even religious leaders who shared benches with women members in the National and provincial assemblies.
He announced that they would hold the conference against blasphemy "next Friday or the one after that" after permission is granted by authorities.
A sizable law enforcement presence also remained alert outside Jamia Hafsa, sealing all roads around the building. A large number of women police officers in riot gear were seen patrolling the narrow lanes, ostensibly to prevent students from the women's seminary from taking to the streets.
Once both mosques were clear after Friday prayers, all road blocks and police presence was withdrawn after 2pm.
Published in Dawn, March 25th, 2017