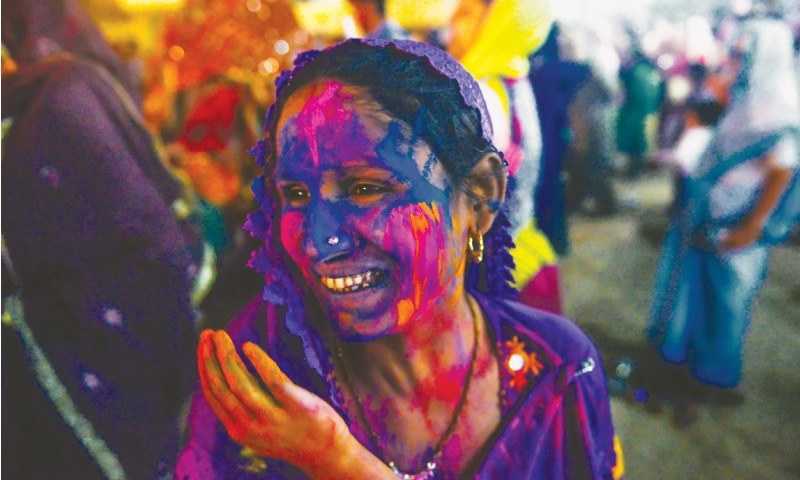 Why are you dressed all in white?" I was asked by an elderly woman at the big ground behind Shri Swaminarayan Mandir where most of the Hindu community of Karachi comes to celebrate Holi, the festival of colour on the first full moon of March.
It was my first time at the festival and trying to look knowledgeable about the custom I had resorted to copying the Holi celebration scenes from Indian movies where everyone is dressed in brilliant white clothes in the beginning and is drenched in colours in the end. On sheepishly admitting what I had done, I was politely informed that white was the colour of mourning, completely wrong for a happy occasion such as Holi. One shouldn't believe everything they show in the movies.
That was four years ago. Although my problem then was quickly fixed by the naughty children chasing each other, with packets of powder in different colours and water pistols, who made sure I looked like a rainbow from head to toe, I have always made sure to wear something bright and cheerful if heading to the ground again to celebrate Holi.
---
In Hindu mythology, the festival of Holi celebrates the power of truth. But most enjoy it, like the Mughals, for its colourful form
---
Right in the middle of the ground is the Holi Mata, resembling a North American teepee. It is set ablaze by the pujari soon after the puja (prayers), and ahead of the throwing and splashing around of the colours though the children don't stop playing Holi even before that. Meanwhile, the women prepare their metal thalis with a coconut, some holy water and packets of colour. Not all who have come to celebrate Holi engage in puja. Chaman Lal, an elderly fellow and an old resident of the flats that surround the ground and temple, says that only those women who recently got married do puja alongside their husbands and those mothers who have had a baby take part in the puja with the child in their arms as she makes four to seven rounds around Holi Mata. "The rest are all here to have fun and enjoy the festival," he laughs as someone aims their water pistol full of gulal, or colour, mixed with water at him.
Some parents have bought their kids water pistols with a tank to be worn as a backpack. Just when you think the pistol is empty, it is refilled and there you are all drenched and looking for payback.
Chaman Lal smiles. "It is really nice to see so many Muslims also coming here to celebrate Holi with us," he says. "I never thought that Muslims would be interested in our customs until I was in class five when I met the first Muslim among my circles who wanted to celebrate Holi with me." In fact, Holi celebration has a long history among Muslims in India, stretching all the way to the 13th century. During Mughal king Shahjehan's time, Holi was known as Eid-i-Gulabi (Pink Eid) and Aab-i-Pashi (Shower of Colourful Flowers).
Chaman Lal narrates a memorable incident from his childhood when he used to live in Chachro in Tharparkar. "I was on my way home with powder colours when I was spotted by the deputy counsellor of the area. He called me over but I was afraid of him so I ran. That was when he sent someone to track me down and find out what I was going to do with the colours," he says, adding that when the counsellor was informed about the Holi festival he, too, got himself some powder colour, which he mixed in two bottles of water before drenching himself in colour with them. Chaman Lal laughs at the memory.
All around him, too, there is laughter and joy as the people dodge and attack each other with colour. The empty plastic packets that held the powder colour are also put to good use by filling them with water before hitting someone with water bombs. No one gets mad at being surprised by an attack.
More ammunition is readily available as soon as you walk into the compound through the main gate tunnel. A packet of colour, any colour, costs 10 rupees only. The water pistols are also on sale along with water guns, cannons and pumps. Most of the colour is washable, though the oil-based slightly expensive variety can be troublesome. But it is said that it too can be washed off by rubbing a bit of mustard seed oil over the skin. Of course, washing it off clothes is not that simple.
When the ladies in pretty saris were asked what would happen if their sari got ruined, they just smiled and shrugged, saying that it was all right since they didn't want to spoil the cheer by worrying about their clothes. "The occasion only arrives once a year, so it is better to enjoy it. What if I am not even around next year?" says one wise devi throwing all caution to the wind as she chases after her sisters with fists full of yellow and green colour powder.
According to Hindu mythology, 'Holi' is more about fire and burning than colour. It is said that this is a festival to celebrate the power of truth. It is said that the demon king Hiranyakashyap who claimed to be God wanted everyone to worship him but his own son, who was just six or seven years of age, rejected the command. That's when Hiranyakashyap ordered his sister Holika, who claimed to have powers that wouldn't let her burn, to enter a blazing bonfire with the child. But she, despite her claims, was burnt to death though the child remained miraculously unhurt. The festival celebrates good overcoming evil.
The writer is a member of staff
She tweets @HasanShazia
Published in Dawn, EOS, March 19th, 2017