February 19, 2017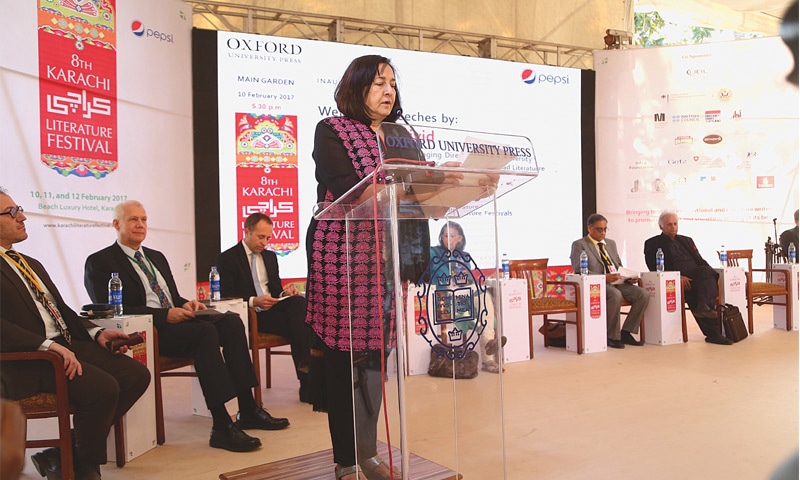 Harris Khalique verbalised my thoughts at the eighth edition of the Karachi Literature Festival (KLF) exactly when, during the launch of his book Crimson Papers, he mused, "Why do I write? And what difference will it make?" He revealed this as the question he struggles with endlessly, and it occurred to me how this is what literature festivals ought to examine today. As borders become impermeable, as walls go up between people, and as bans become common, a conversation about the limits of literature and language to bridge divides — or the new ways in which writing must be appropriated to effect change — becomes essential.
This year's KLF felt smaller and more subdued than its predecessor. The festival clearly suffered from the tensions between India and Pakistan as only a handful of Indian authors made it across the border. Last year's KLF boasted prominent Indian journalist and author Barkha Dutt; this year no one of similar stature was present. Having the Indian high commissioner, Gautam Bambawale, speak at the opening ceremony was a nice touch. But his speech was grave and when he said, "India wishes to see a Pakistan which doesn't distinguish between good and bad terrorists," the main garden was stonily silent. Ayesha Jalal's keynote speech was similarly ominous as she bluntly proclaimed that most Pakistanis lack a capacity for critical thought. She rued how Pakistan hasn't yet developed a coherent or robust political consciousness, and spoke of how, in the absence of a national culture of political engagement or dissent, it was left to individuals of means to carve out spaces for change wherever they could. I assume she was referencing the festival, so it seems apt to ask the question: was the KLF 2017 a space for change? And if not, how can we ensure it becomes one?
We may need to look across the border to examine how a literature festival may become more relevant in a time of political and social tumult. This year's Jaipur Literature Festival (JLF) in India, which now holds the distinction of being the largest free literary festival in Asia, was criticised for its choice of sponsor and also for inviting two political leaders from the right-wing party Rashtriya Swayamsevak Sangh to speak. I'm not convinced the JLF was the correct platform for two ideologues with little connection to literature, but the spirit in which this invitation was extended deserves a second look. The JLF's organisers insisted that, "for dialogue to be meaningful, we must have representation from all points of view." As an idea, this point is hard to counter. And though this development at the JLF was unsettling, it's also hard to argue that disruption can never lead to positive outcomes.
---
The Karachi Literature Festival would do well to incorporate new ideas and fresh approaches
---
Here at home, what the KLF lacked was a similar focus on disrupting current narratives to frame new modes of conversation.
Much of what emerged as being politically and culturally relevant to Pakistan in 2016 was absent from this year's panel discussions. I was surprised that no session was organised to examine the increasing importance of online activism — its role in creating counter-narratives, its idiom, and letters. Given our booming TV industry and burgeoning film industry, it was odd that screenwriting received barely a nod. There was no substantive mention of Qandeel Baloch, a disrupter if there ever were one, and her fascinating subversion of language and female sexuality. The literary value of long-form journalism and commentary, a vibrant and exciting space in Pakistan, was never discussed. Instead of looking forward we seemed to be looking back, endlessly circling the past. I counted four panel discussions that hinged on Partition, and I wondered if we're guilty of fetishising history and installing the past as a scapegoat for present problems.
Another way the KLF could have kick-started conversation was by celebrating youth culture and engaging younger creatives and thinkers. But this didn't happen. Some book launches did serve as jumping-off points for engaging exchanges, but they weren't presented as such at the outset, and so failed to attract those who would have benefited from them most: young people whose frustration and curiosity needs to be channelled into constructive debate.
It came as no surprise, then, that the young people flocked to the food stalls rather than the lecture halls. I didn't blame them. While the KLF's panel discussions could boast of reasonable gender diversity, they failed to bridge our generational divide. Including the younger generation in festival management — in key decisions about subject matter and invited guests — is one way to move beyond this problem.
The fact is, in a country which produces not enough original literature (in English, at least) we must find new ways to impress upon the public just how relevant the written word remains. This is the challenge of the modern desi literature festival. It must take a stand against the lexical instability of the post-truth era. It must call out alternative facts for the lies they are. And it must do so while accommodating both the entrenched elite and the disenfranchised, the young as well as the old, the left and also the right.
This is not to say the festival was a wash-out. Though I missed the sessions on art that Art Now's collaboration with the KLF yielded in 2016, it's true that fewer sessions meant better moderation and a higher quality of conversation. Unlike last year, most moderators appeared on stage well-briefed.
Impassioned debate marked the launch of a book on 1971 by Maj Gen (R) Rao Farman Ali titled How Pakistan Got Divided. Ayesha Jalal drew a massive following to whichever session she was part of, including the all-women panel discussing 'The dawn of freedom, the pain of Partition,' where a lively exchange on the relative importance of historical fact versus memory charged the crowd.
It was also heartening to see how writers and academics continued to carve out niches for their musings and research despite little governmental or public support — just how paltry this support is was evidenced by the conspicuous absence of public representatives. That Oxford University Press (OUP) provides academics with a safe haven for their endeavours is also comforting, though I can't say many of the books OUP 'launched' at the KLF 2017 will be bestsellers or even cult classics — they're invaluable for what they add to a badly needed body of reference and context.
In successive years I hope new voices are injected into the KLF's management so that writing and books become an inalienable mode of awakening our political, social, and aesthetic consciousness. After all, if we go by what the KLF's keynote speaker Jalal said, "Pakistan's battle for its soul will play out in the arts," we need to be armed and ready when the good fight arrives at our door. And in closing, if we need a further push, something journalist-turned-academic-turned-politician Nafisa Shah said during the launch of her book Honour Unmasked on gender violence struck me. Explaining her evolution as a political activist, she said, "I thought becoming a politician would mean the end of my intellectual life. But it wasn't. It simply gave me a new platform."
Inverting this construction and offering it up to new writers may convince them to take heart in the power of what they've chosen as their vocation: leading a creative life doesn't close you from the prospect of political engagement or relevance. It simply opens up new channels to communicate inherently political ideas. And doesn't that warrant a celebration?
The writer is a member of staff.
Published in Dawn, Books & Authors, February 19th, 2017