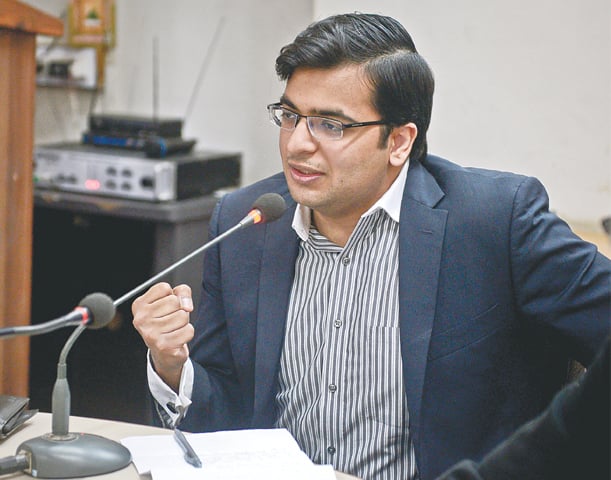 KARACHI: "At a time when Russian President Vlamdir Putin seems to have a soft corner for US President-elect Donald Trump and vice versa, Pakistan has an opportunity to improve its relations with Russia without agitating the US," said Abdullah Khurram, a South Asia and Middle East Fellow at Johns Hopkins University, Washington, while delivering a lecture at Karachi University on Monday.
Unfortunately, there's a dearth of discourse in Pakistan on Arctic Council, which has both the US and Russia as its members besides six other Arctic states, he said, while highlighting the significance of the melting of Arctic sea that has prompted many nations to reassess their trade and strategic interests in the region.
Mr Khurram, a strategic adviser at Gulf State Analytics, was sharing his views on international order in the post-US elections scenario, with particular focus on implications for Pakistan. To explore its effects on us, first we need to identify and understand the implications, both challenges and opportunities, on international order, regional blocs and trade groups, he said.
A time of crisis was a perception issue, as crisis for one side might not be the crisis for the other, he explained, adding that the post-US elections opportunities would decide the future direction of partnerships. As US President-elect Donald Trump had promised to abandon the Trans-Pacific Partnership (TPP) trade deal as soon as he would take office, the TPP could be considered dead. "But this is going to create a trade vacuum that some country has to fill and China being the emerging economy may not miss this opportunity," he said.
There should be a national debate on Arctic Council and TPP, as these issues should be seen in a global perspective, he said. In reply to a question, he pointed out that non-Arctic States, too, were investing in this trade route. India joined the Arctic Council as an observing member. However, despite the fact that the Pakistanis comprised the largest population of immigrants in Norway and a sizeable population of Pakistanis lived in Sweden, Pakistan was yet to join it as an observing member, the scholar added.
But efforts on diplomatic front must be accompanied by practical measures on the ground. A bad example in this regard was Pakistan's inability to fully utilize the free trade opportunity due to the A-Plus status granted to it by the EU. Pakistan failed to fulfill the new demand and only diverted its trade with the US to the EU, he added.
Referring to the recent developments surrounding the South China Sea and tense relations between the US and China over the island issue, the scholar said that Pakistan instead of getting adversely affected due to these developments could explore how it could again play the crucial role that it had played in arranging the 1972 Nixon visit to China that had led to normalisation of their ties. "There is no sum zero in diplomacy as there are levels of agreements and disagreements. We should know how to change the perception about the 200 million population to that of the market of 200 million people. For the first time, a Chinese president is going to address the World Economic Forum in Davos where corruption and terrorism among other issues will be discussed. For the first time, former Pakistan army chief Raheel Sharif, too, has been invited to talk at the WEF."
This way we should make a list of potential areas where problems can be prevented, challenges can be turned into opportunities instead of getting into problems and then managing to resolve them at a later stage, he said.
Pakistan should be clear about its core interests so that people should have unity as far as state interests were concerned, he said. Narendra Modi usually got a warm welcome by the Indian diaspora whenever he arrived at any international forum no matter how much they disliked him because they kept state interest above their liking or disliking for the government.
After the UK withdrawal from the European Union, Pakistan could have bilateral deals with the European countries. For instance, when the Modi government decided to close down German language centres in India, Pakistan should have allowed Germany to set up its language and cultural centres here in this country.
Another opening for Pakistan is that of South-South Cooperation. Besides, the country can benefit by identifying the emerging middle powers such as Australia and Turkey and strengthening people-to-people relationships.
In reply to a question, he said Trump's slogan about Muslims was nothing more than rhetoric as the US would get a global backlash if it pursued all the election slogans.
About US policies towards Pakistan, Mr Khurram said: "The Trump administration may not be as hard on Pakistan as it will be on Iran. However, US-Iran ties may deteriorate in the post-US elections scenario."
Referring to the theme of the lecture titled 'International Order in the post-US elections scenario: Implications for Pakistan', Prof Dr Moonis Ahmer, Dean Faculty of Social Sciences, Karachi University, said: "We are living in a world where there's a great leadership vacuum. In this situation, we can see an emerging troika of the US, India and Russia as Vlamdir Putin seems to have a soft corner for US President-elect Donal Trump and vice versa."
Dr Ahmer said a lot of misperception existed about Trump though we must not forget that the US still is the superpower. However, he added, there were five tests for the Trump administration in the first 100 days. "The first challenge will be Jerusalem. Will the US shift its embassy from Tel Aviv to Jerusalem as promised by Trump?" The second test would be the issue of immigrants as time would tell if his statements about immigrants had any real implications on the immigrants or it was just rhetoric, he said.
According to him, the third test for the Trump administration would be his promise to take Shakeel Afridi out of Pakistan within the 24 hours of his government. Fourth test would be Russia and its growing influence in Crimea and support to nationalists in East Ukraine. There are already negative feelings against Russia in Poland as the Baltic states, too, feel threatened by the Russian posture for reclaiming the areas. The fifth test case will be China and the South China Sea and island dispute.
Published in Dawn, January 17th, 2017