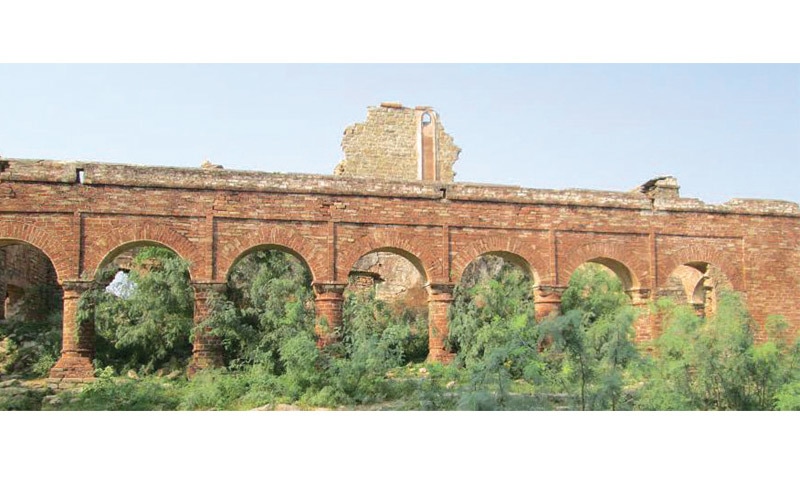 Back when there were no motor vehicles and British colonisers travelled around India on horseback, dak bungalows and rest houses were built at a specific distance, typically 18 to 20 miles apart, where British officers could stop to take a break while travelling.
The rest houses were looked after by the public works department, but with time and modernity the dak bungalows and rest houses began to lose their importance. The partition of India delivered a major blow to the historic buildings, after the British left and handed them over the governments of India and Pakistan.
The Chakwal district is dotted with the ruins of these buildings. One decrepit dak bungalow stands in the Sardhi village, some 30 kilometres east of Chakwal city, its crumbling walls covered in weeds and grass.
A rest house in the Kussak village presents a similar picture, as does the rest house in Aara village, some 40 kilometres from Chakwal city, and a dak bungalow in Dohman village, 32 kilometres east of Chakwal where military dictator Ayub Khan stayed during his hunting trips.
The word dak is derived from the Urdu word for 'post' – dak bungalows began to appear in 1840, and were built primarily for the postal department, as the postal service was one of the most vital services of the British. Rest houses built for officials from the postal department were called dak bungalows, while rest houses built for the irrigation and forest departments were known as the canal and forest rest houses, respectively.
Lt Col J.K. Stanford, who served on various key posts during the British rule, said government officials had first use of dak bungalows and other rest houses, and others could only use them if they paid a fee.
In his essays, he wrote that since nearly all travellers were accompanied by their own servants, stores and bedding, "the bungalow usually provided tables, chairs, beds, crockery, lamps, etc. A register was kept in which the traveller had to record the date and time of his coming and going, and any payments made for breakages".
According to Stanford, a touring official often spent three weeks in a month "on tour", living in these bungalows, with 7 rupees and 8 annas as a nightly travelling allowance that paid for the horse's feed, firewood, eggs, chickens and so on.
There were two kinds: a dak bungalow and a circuit house – a larger and more lavish building that would house touring sessions judges and contained a large courtroom on the ground floor – at most district headquarters.
In 'India', Rudyard Kipling also talks of dak bungalows and rest houses, described as single storey thatched buildings with a large central dining room and veranda and two to three bedrooms, a kitchen and an adjoining servants go-down.
Published in Dawn, December 11th, 2016