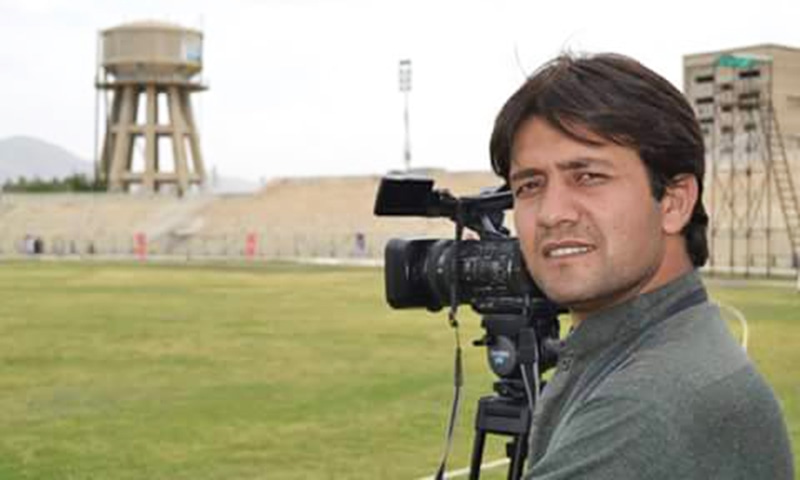 This article was originally published on August 10, 2016.
---
Quetta is no stranger to gloom and doom; but when death visits your workplace and snatches away a young, energetic mind full of dreams, the sense of loss is deep and profound.
As Quetta's DawnNews Bureau Chief, I worked closely with cameraman Mehmood Khan, who was killed in the Civil Hospital suicide bombing.
Mehmood was killed alongside 70 people — most of them lawyers — in a deadly suicide bombing in Quetta on August 8. He had run to the emergency ward to get footage of the hospital where the slain lawyer Bilal Anwar Kasi's body was being kept. As the crowd thickened, the bomber struck, ending his life selfishly with so many others; among them, our dear Mehmood.
Today, three long days after his death — on what would have been his 26th birthday — I try to make sense of what his family and friends have lost.
He is survived by his wife, seven children and a mother.
I recall our fondest memories as I meet with his family at their modest mud-walled house in Quetta's Killi Shaboo area for his fateha. It is unimaginable that his young wife and little children will have to live without Mehmood. A chill goes down my spine when I think of his smiling face, constantly haunting me. How will this family go on?
His brother Rozi Muhammad tells me that Mehmood's six-year-old daughter Bibi Malaika can barely sleep at night. Blissfully unaware of his death, she insists that she will only sleep with Papa once he comes home.
"She sobs all night, pining for him to come home."
At the age of 15, Mehmood married the widowed wife of his brother, who had died a natural death. She had three children of her own, and he adopted all of them.
I stand next to his eleven-year-old son Muhammad Ibrahim, who anxiously watches crowds of people flocking in for the fateha of his beloved father.
He notices my presence and tells me endearingly: "I know you are Shah sahib." His smile is exactly like his father's.
Mehmood would often tell me that Ibrahim was his favourite. "I want to make something out of him."
Hailing from a deeply conservative background, Mehmood, nonetheless, managed to get Ibrahim admitted in a private English-medium school. He wanted all his children to receive a good education. It is my dream, he would say.
He even told me how his family members would object over Ibrahim's "Western" school uniform. He had to request the school authorities to let Ibrahim change his pants and shirt in school for something more conservative before coming home.
Seven years ago, Mehmood joined DawnNews as a security guard. While guarding the building, he would fervently read the newspaper. In a short span of time, he proved himself as a responsible and dedicated employee.
Senior journalist Ayub Tareen, working with Radio Free Europe, says that despite his humble beginnings, Mehmood made massive strides in life.
After a brief stint as security guard, he was appointed Non-Linear Editor for DawnNews. He proved his mettle as an outstanding package editor, following which he was given the role of cameraman.
Mehmood shared with me one day how he wished to be a reporter. Highly ambitious and determined, he was in the midst of applying for admission at the Mass Communication Department in Balochistan University when the incident took place.
Whenever a tragedy occurred in Quetta, he would come to me, asking to make a video package on the most humanistic aspect of the incident.
"We have to give a voice to those who have been rendered voiceless," he would say. And so, we worked together to tell many stories about victims of terror and natural calamities in Quetta and other parts of Balochistan.
When the government took notice of the news stories and rewarded families of the victims, his happiness knew no bounds.
"This is what we are working towards, not political press conferences."
This is just one illustration of how passionate and ambitious he was. It amazes me when I think about it; how did this young boy from a conservative family have such bold and big dreams for himself and his children? Where did he find the courage to fight pressure to send his children to madrassahs and instead enroll them at schools?
Unlike his other birthdays, today there will be no cake at the office. I cannot bear to confront that there will be no more celebrations of his life.
Farewell, my dear Mehmood. I can only hope that I may be lucky enough to find another friend and colleague like you.