Farewell for Canadian high commissioner
The dean of the diplomatic corps, Kazakh Ambassador Bakhibek Shabarbayev, bid farewell to the outgoing Canadian High Commissioner Heather Cruden. Ms Cruden is leaving after less than two years in Pakistan.
Mr Shabarbayev said broad cooperation in trade, education, aid and other fields were expanded during Ms Cruden's term.
The high commissioner said farewell was bittersweet. Prior to serving in Pakistan, Ms Cruden served as the Canadian envoy to Bangladesh. She is a development aid specialist, having worked for the Canadian International Development Agency (CIDA), mainly in North Africa and the Middle East. She will return to Ottawa to await her new assignment at home or abroad.
Denmark announces assistance to media
The charge d'affairès of the Danish embassy, Helle Nielsen, held a dinner reception for the media, media-related NGOs and other guests at the ambassador's residence in Islamabad to celebrate World Press Freedom Day.
During the reception, she announced that Denmark will provide Pakistani media organisations assistance through selected NGOs, coordinated by the International Media Support (IMS) organisation. The assistance amounts to $4 million over a period of two years.
Key aspects of the programme are safety measures and freedom, so journalists may carry out their work without fearing for their life or their health. Matters such as access to information and the development of democracy are also essential.
Dinner hosted for South Korean envoy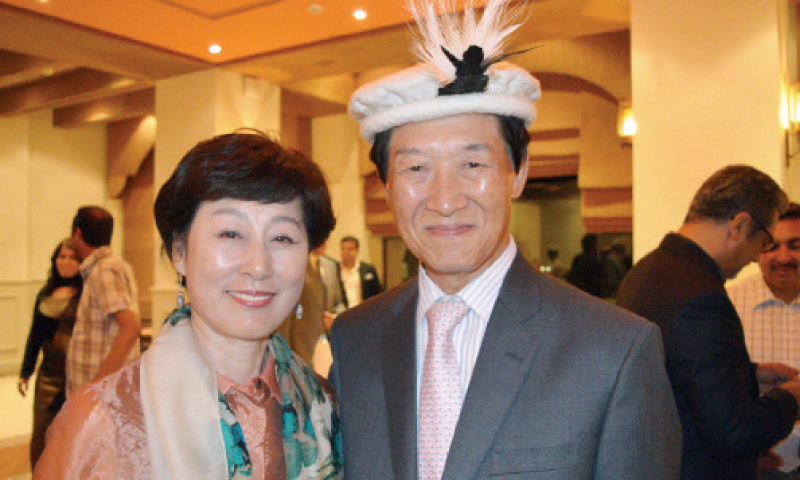 Ambassador of the Republic of Korea Dr Song Jong-hwan was hosted at a dinner at the Serena Hotel, held by the Gandhara Art and Culture Association.
Esther Park, the coordinator of the association, hosted the evening alongside Imran Masood, the chairman of the association. Musicians from Gilgit and Hunza from the Sadoi-Pomir group performed at the dinner.
He spoke about how much he and his wife had enjoyed their three-and-a-half years in Pakistan, and said they travelled throughout the country – and visited Lahore in particular several times.
During the ambassador's term in Pakistan, expansive cultural and commercial cooperation programmes between South Korea and Pakistan were established.
He said there is great potential for more Koreans to visit Pakistan's Buddhist sites, since the religion's history in Gandhara (southern Khyber Pakhtunkhwa) dates back some 2,300 years.
— Text and photo by Atle Hetland and Shahbaz Chaudary
Published in Dawn, May 8th, 2016