KARACHI: Seven police officials guarding polio workers were killed in two separate attacks in Orangi Town Wednesday afternoon, officials said.
DIG West Feroz Shah told DawnNews that eight gunmen riding four motorcycles carried out the killings in two separate attacks in the neighbourhood.
"The gunmen first opened fire on three policemen in the streets of Orangi Town, killing them all," he said, adding: "Later they shot dead four policemen, who were sitting in a police mobile van" a few streets away.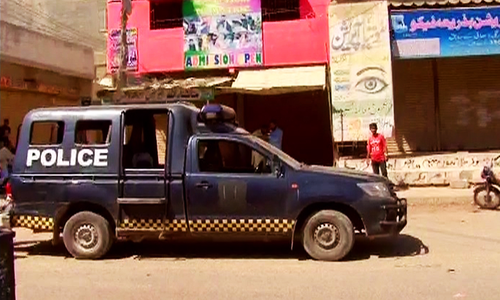 "The first incident happened while the police was escorting the polio team," Shah said.
"A policeman intervened when eight men on four motorcycles came and asked a polio worker for his name. In response, the men opened fire. Although the police fired in response, they were overpowered," he said.
"The same men killed four members of another police team."
Abdul Kareem, an official at the Abbasi Shaheed Hospital, where the bodies were taken, also confirmed the casualties.
There are no reports of injuries or deaths of polio workers.
The anti-polio campaign in the area was suspended immediately and heavy contingents of law enforcement agencies, including paramilitary Rangers, cordoned off the area.
'Polio campaign to continue despite all odds'
Talking to media personnel on a visit to the crime scene, Sindh Police Inspector General AD Khawaja said "polio drops will be administered to our children at all costs", adding that security for polio teams will be beefed up even more.
He said police was "ready to render more sacrifices if need be" and announced compensation of Rs2 million for the families of each slain official.
The Sindh IG also announced reward money of Rs5 million for anyone who helps police nab those behind the attacks.
Sindh Rangers DG Maj Gen Bilal Akbar said a joint investigation into the attacks will be launched by police and Rangers. He said the policemen had laid down their lives to protect polio workers – "a sacrifice that will not go to waste".
The Rangers chief said it was too soon to say who the attackers were affiliated with and where they came from. However, he urged the public to come forward with any information they had on the attackers.
Prime Minister Nawaz Sharif, in a statement from his office, condemned the attack and appreciated the policemen's valour. "They laid down their lives to secure the country's future," he said.
The campaign to eliminate polio in Pakistan has been fraught with risk, with militants attacking health teams they accused of being spies.
A polio worker was shot and wounded in February and in January a suicide bomber killed 15 people outside a polio eradication centre in Quetta.
Pakistan and Afghanistan are the only countries in the world which have been transferring the polio virus to each other.