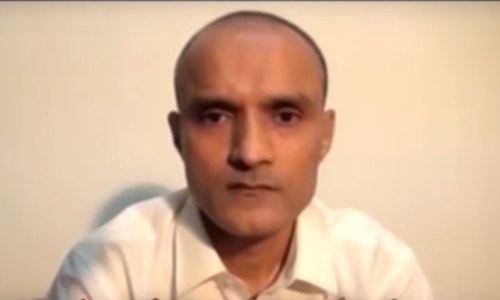 ISLAMABAD: The Indian Foreign Office on Friday, while admitting the alleged RAW agent arrested by Pakistani security forces to be its citizen, claimed that the suspect had already taken early retirement from the Indian Navy, DawnNews reported.
A statement issued by New Delhi denied having any links with the arrested individual and said "he was no longer a serving official of the Indian armed forces".
"The arrested man is a former Indian Navy officer," the Indian Foreign Office was quoted as saying.
Security forces in Balochistan had on Thursday claimed the arrest of a man who was 'a serving officer in the Indian Navy and deputed to the Indian intelligence agency Research and Analysis Wing (RAW).'
The Pakistan government, on the other hand, claim to have recovered the travel documents and multiple fake identities of the arrested 'spy', establishing him as an Indian spy who entered into Balochistan through Iran — having a valid Iranian visa.
Pakistan lodges protest with India
Pakistan summoned Indian High Commissioner Gautam Bambawale to lodge a strong protest over 'India's spying activities' in Balochistan and Karachi, the Foreign Office (FO) sources said.
The spy was linked to separatist elements in Balochistan, as well as involved in acts of sectarian terrorism and terror attacks in Karachi, a security official had said.
The RAW officer had been shifted to Islamabad for interrogation, as he was suspected of involvement in various acts of terrorism and other subversive activities in the province, the official said.
FO spokesperson Nafees Zakaria said Bambawale was summoned by Foreign Secretary Aizaz Chaudhry, who shared details of the man's arrest with the Indian High Commissioner.
Chaudhry lodged a strong protest over the RAW officer's spying activities in Balochistan and Karachi, making it clear that this was unacceptable, FO sources said.