The arrest of Indian student Kanhaiya Kumar, president of the Jawaharlal Nehru University (JNU) student union, on sedition charges earlier this month has sparked a fierce national debate over freedom of expression in the world's largest democracy.
Simply put, the discourse revolves around whether the Bharatiya Janata Party-led nationalist government is using the British-era sedition law to clamp down on what it deems 'dissent.'
Kumar denies being among those chanting 'anti-India' slogans at the event which purportedly marked the 2013 hanging of Kashmiri activist Afzal Guru for involvement in a deadly 2001 attack on the Indian parliament.
Also read: Why Pakistani students need to stand in solidarity with JNU
'Anti-nationals need to be punished'
The ensuing debate has created diametrically opposed groups leading to a standoff that is reflected in the mainstream Indian media's take on freedom of expression versus 'national interest'.
Times Now India — defenders of 'Mother India'
Echoing the BJP government's view, this media group has presented the JNU saga as an attack on 'Mother India,' a view mirrored by Human Resource Development Minister Smriti Irani who had warned that "the nation can never tolerate any insult to Mother India."
In its commentary of the JNU incident, Times Now repeatedly reminds its viewers: "Freedom of speech can't be used as a disguise for anti-national activists."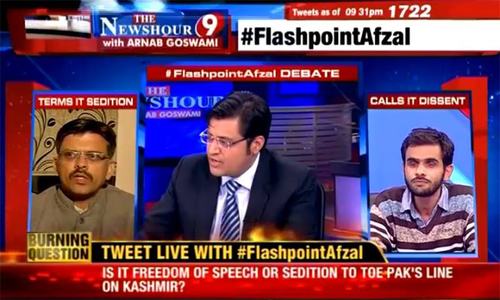 "How can you glorify a terrorist?" one Times Now anchor asked the audience after showing scenes of the Afzal Guru film screening, where Kumar purportedly yelled anti-national slogans.
"Why use the garb of freedom of expression to defend an anti-national act?" Arnab Goswani, the notorious and sensational Editor-in-Chief asked viewers during his daily debate show, The Newshour. The show is popular for its heated blame games and theatrics where Goswani invites guests representing all sides of the high-decibel argument.
In one episode, student activists from JNU (including Umar Khalid) presented their argument when Goswani went on a verbal rampage, labeling the students 'secessionists' and muting out their responses.
Zee News — 'No insults to India'
Zee News' footage of the Afzal Guru event at JNU shows some students shouting 'Pakistan Zindabad' and chanting pro-Kashmir slogans. The same footage appeared elsewhere and on social media, garnering supporters against Kumar's release.
The channel had from the onset chosen its stance on the event. "We won't tolerate any insults towards India; traitors will not be spared," declared Editor Zee News, Sudhir Chaudhary, on his popular debate show DNA.
Controversy struck the media outlet when Vishwa Deepak, an output producer at Zee News, quit his job after alleging that the footage he shot did not contain such slogans. "We heard inaudible slogans from the grainy video. Editors at Zee News felt this sounded like 'Pakistan Zindabad' and that's the caption we went with," he told The Indian Express after resigning.
'No democracy without freedom of expression'
The Indian Express takes a liberal view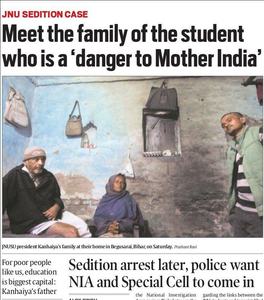 A widely circulated English daily in India, The Indian Express came out with a hard hitting editorial titled 'Do not disagree' the day after Kumar's detention on sedition charges.
Also read: Campus rumpus
Taking a liberal view, the newspaper lambasted the Modi-led government for being "threatened by young men and women democratically disagreeing with it."
"The protesting students questioned the legitimacy of the Indian state over Kashmir. But the Indian state has endured far more powerful storms. Individuals have a right to protest as long as they do not threaten or resort to violence — in this case, many student groups in JNU, while criticising police highhandedness, have dissociated with the strident slogans raised at the protest."
The Telegraph India — 'JNU students are not terrorists'
Telegraph India views the JNU incident as heralding an 'important moment in India's history.'
"Something extraordinary is going on in the country," the paper's headline read on the morning of Feb 19, with a half-page photo of JNU students protesting against the arrests, holding banners that read "JNU students are not terrorists" and "Where is the mind without fear?"
On Feb 25, their front page story featured an image of Smriti Irani with the headline: 'Aunty National' – a sexist pun on the term 'anti-national' after Irani's elaborate defence against the arrests in parliament, which she said was a result of "children being mobilised against the state."
While this justification of the arrests was pushed by some media outlets (Times Now India, Zee News among others) the Telegraph made no efforts to disguise its annoyance.
The publication has also refrained from using language that terms Kumar and others as 'anti-national', or which describes their activities as 'seditious'.
The Hindu – 'No case for state action'
In an editorial published on Feb 15, The Hindu, a respected left leaning English daily, said "unless there was actual incitement to violence, there really was no case for the police to swoop down on the campus, arrest students, and slap charges of sedition and criminal conspiracy on them".
The newspaper described Kumar's arrest as "inexplicable", and said that Section 124-A, which is casually invoked to press sedition charges, should be thrown away altogether.
The paper views the JNU incident as an act of oppression by the government on students who have a right to express dissent. It has also highlighted the importance of preserving intellectual discourse at spaces like JNU, which it has termed "a haven for legitimate dissent and a locus of inevitable differences."
In an interview with Al Jazeera, Caravan magazine editor Hartosh Singh Bal sums it up appropriately: "This national, anti-national [rhetoric] is basically reduced to the kind of phrase George Bush would use: 'if you're not with us you're against us."