BEIJING: Pakistan was the tenth largest arms importer in the world in 2015, down one spot from number nine the previous year, a military think tank database reveals, while Saudi Arabia was the leading arms importer in the world, followed closely by India.
The Stockholm International Peace Research Institute (SIPRI) database shows India was the top arms importer in 2014.
Pakistan spent $735 million on arms imports in 2015. In comparison, India imported arms worth $3,078m.
Read: India should not be concerned over F-16 sale to Pakistan, says Pentagon
The largest exporter of arms to Pakistan in 2015 was China, with arms transfers worth $565 million, followed by the United States (US) with $66m in arms transfers.
Pakistan is also China's largest buyer for arms, accounting for 35 per cent of total arms sales in the country, followed by Bangladesh and Myanmar.
Close military ties between Pakistan and China have sometimes stoked tensions with India, which is seeking to boost its own homegrown weapons industry and has long objected to other countries forging defence deals with Pakistan.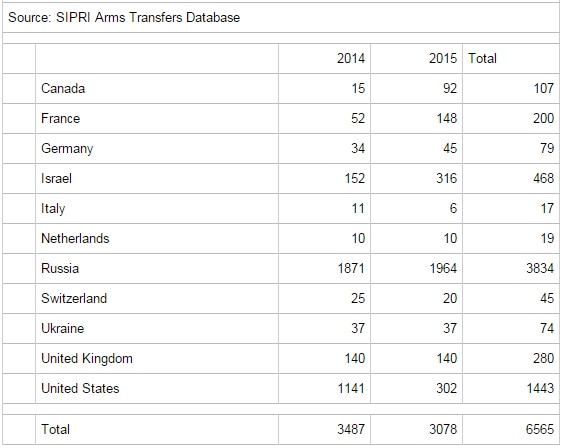 Earlier this month, India raised concerns regarding the sale of eight F-16 fighter jets from the US to Pakistan, saying, "We disagree with their rationale that such arms transfers help to combat terrorism".
The US rejected India's concerns, claiming the transfer was made in the interest of regional stability and counter-terrorism efforts.
The largest exporter of arms to India is Russia with arms transfers worth $1,964m, followed by Israel and the United States (US) with $316m and $302m in transfers respectively.
Know more: 'Disappointed' India summons US ambassador over sale of F-16s to Pakistan
Chinese arms exports surge
A SIPRI report on global arms transfers shows China has almost doubled its weapons exports in the past five years as the world's third-largest weapons exporter poured capital into developing an advanced arms manufacturing industry.
Chinese exports of major arms, which excludes most light weaponry, grew by 88pc in 2011-2015 compared to the earlier five-year timeframe, SIPRI said.
The country still accounted for only 5.9pc of global arms exports from 2011-2015, well behind the US and Russia, by far the world's two largest arms exporters. The US exported $10,484m in arms in 2015, while Russia exported $5,483m during the same time period.
The US and Russia saw weapons exports grow by 27pc and 28pc respectively, while exports of major arms by France and Germany, the fourth and fifth largest weapons exporters, fell over the same period.
"The Chinese until ten years ago were only able to offer low-tech equipment. That has changed," said Siemon Wezeman, Senior Researcher with the SIPRI Arms and Military Expenditure Programme. "The equipment that they produce is much more highly advanced than ten years ago, and attracts interest from some of the bigger markets."
China has invested billions developing its homegrown weapons industry to support its growing maritime ambitions in the South China Sea and the Indian Ocean, and also with an eye toward foreign markets for its comparatively low cost technology.
Its total military budget in 2015 was 886.9 billion yuan ($141.45 billion), up 10pc from a year earlier.
In 2011 to 2015, China's arms imports fell 25pc compared with the previous five year period, signalling a growing confidence in the country's homegrown weaponry despite key areas of weakness, the report said.
China still needs to import weapons including large transport aircraft, helicopters as well as engines for aircraft, vehicles and ships, according to the report.
China, the world's second largest economy, signed deals in 2015 to buy air defence systems and two dozen combat jets from Russia, its largest arms supplier.