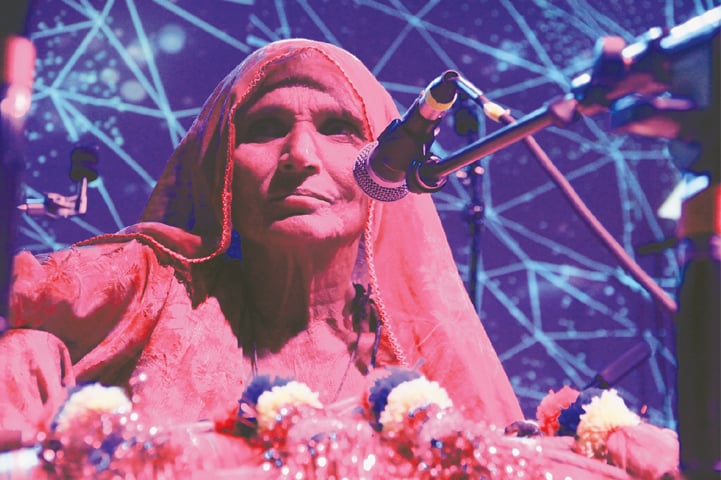 As we step inside a mud-walled house in a slum in Umerkot, we hear a Thari song being sung especially to welcome guests. Beating the decorated dhol herself while singing was Mai Dhai — a symbol of interfaith harmony — the septuagenarian folk singer of Thar who made waves through her two mesmerising melodies in Coke Studio Season-8 last year.
Born in Barmer district of the Indian state of Rajasthan, Mai Dhai is arguably the best extension of the musical legacy of her mother, Khand Bai, a prominent folksinger of the Indian desert. Khand Bai bequeathed a treasure of Marwari music, comprising rain melodies to songs of separation, and mourning rhymes to wedding songs, which her daughter has dutifully preserved and modernised after migrating to Pakistan.
Like most elderly Thari people, she has no clear idea when her family moved to Pakistan as the displacement which started in 1947 continued till 1965. "During my childhood, I would accompany my mother to local weddings where she would perform in our Thar, hence all the lyrics and tunes are indelibly stored in my mind," she said describing how she manages everything when she doesn't even know how to write her own name. For a simple soul like her it's just 'our Thar' whether on this side or the other side of the border.
In fact, it is the weird topography of the desert that has made our eastern border culturally porous and one can still find many similarities on both sides of the border regardless of Partition couldn't divide. The Muslim singer community Manganhar — to which Mai Dhai belongs — is one such community that is spread in nearly equal proportion on both sides keeping this cultural connection intact through shared heritage. Barmer Boys, a prominent band of Rajasthani Manganhars, recently released a folk song video in which a lady weeps on a deserted railway station after the train carrying her husband leaves; it goes: Chhooti ray Amrany ree rail, begee waran ree karya (the train to Umerkot has just departed, O' my beloved! please come back soon). Whereas Umerkot-based Mai Dhai has immortalised all the songs that Thar's patriotic heroine Marvi sang, while imprisoned by King Umer Soomro in a fort in this historical city.
---
Trained by her mother, Mai's singing takes you to the scorching Tharparkar landscape
---
Manganhars are widely known as repositories of folk music of the desert in both India and Pakistan. Interestingly, the community and its art have survived under very peculiar patronage. Across the border they are divided — and subsequently identified — on the basis of the clans that financially support them. They would go to their weddings or any happy occasion and sing folk songs especially composed for the event. Their reward would be in two forms: one, cash or an animal; and second, a little quantity of bajra at the time of harvest. Even this meagre support has helped preserve hundreds of traditional folksongs.
Unfortunately, in Pakistan that patronage has almost vanished and members of this community are left with no option but to move to urban areas and take up other jobs to make both ends meet.
But Mai Dhai is lucky: Umerkot's poet-turned- politician Sardar Shah has been kind enough to promote her art. "There are many such artists — or flowers, metaphorically speaking — like Mai Dhai in Thar. Thankfully, despite having blossomed in the desert, its fragrance has not gone to waste," Shah says. In fact, it was the late Sindhi poet and TV producer Hassan Dars who heard her sing at the shrine of Shah's ancestors and brought her to Hyderabad. According to Moharram Faqir, Mai Dhai's eldest son, it was Dars who had envisioned that one day Mai would perform and rock the show in New York. This long-cherished dream came true when she made it to the City University of New York last March.
"Although Marwari [the language spoken in Thar and Rajasthan] is not understood by many Pakistanis, Mai's English-speaking American audience deciphered it as the language of love. They equated Mai's melody and the rhythm of her dhol with American great singers like Tina Turner and Betty Lavette," says New York-based journalist Hassan Mujtaba.
Her eyes were brimming with tears as she described her feelings about becoming a singer of national stature. "The meaning of my name is 'the one who has eaten food' but, ironically, for a large part of my life I have not seen food in plenty. We Manganhars are considered 'uninvited people' here in Thar but now people first invite me then I go to them. For a Thari, it is a beautiful way to make a living," she says.
Sadly, Mai Dhai, 72, is the last woman associated with this genre of music. "There are many girls in our tribe who can sing well but cannot go out and make their art public owing to increasing social pressure," she says. Although she's been singing since the last four decades, like Mai Bhagi, the legendary singer of Thar, she too started performing publically quite late.
"Almost every person of my community resisted my public appearance. Had I been performing publicly earlier no one would have married my daughters. And that is also the reason that I sport ghoonghat [hiding the face with a dupatta especially by Hindu women] while performing in Thar," she added.
Despite the fact that both belonged to a community known for the performing arts since centuries, their traditions too, like many other segments of the society, fell victim to Ziaul Haq era's dominant narrative of giving less space to women. It is evident from the fact that after the death of Mai Bhagi almost three decades ago, Mai Dhai is the only female vocalist who has emerged from a largely pluralistic Tharparkar region.
On the return journey the sight of the peeling ramparts of the Umerkot Fort elicited a sombre thought: both the walls of the fort and the songs of the desert are on the verge of fading and, if not preserved, there would be no one to greet anyone in the near future.
The writer tweets @gobind_menghwar
Published in Dawn, Sunday Magazine, February 21st, 2016