ISLAMABAD: Pakistan and India have agreed to reinitiate the comprehensive dialogue process, Indian External Affairs Minister Sushma Swaraj said in a joint press conference on Wednesday along with the prime minister's adviser on foreign affairs, Sartaj Aziz.
"Instead of composite dialogues, now comprehensive dialogues will be held in which all outstanding issues will be discussed," Sushma Swaraj said.
Both Swaraj and Aziz condemned terrorism and resolved to cooperate in order to eliminate the menace.
They noted the successful talks on terrorism and security related issues in Bangkok by the two National Security Advisers and decided that the security advisers will continue to address all issues connected to terrorism.
Pakistan assured the Indian side that the government is taking steps being to expedite the early conclusion of the Mumbai trials.
The dialogue process, which will start as soon as foreign secretaries agree on a schedule, will include matters related to peace and security, Jammu and Kashmir, Siachen, Sir Creek, Wullar Barrage, Tulbul Navigation Project, economic and commercial cooperation, counter-terrorism, narcotics control and humanitarian issues, people to people exchanges and religious tourism.
Earlier on Wednesday, Swaraj met Prime Minister Nawaz Sharif on the sidelines of the 'Heart of Asia' conference to discuss bilateral issues.
The meeting is considered crucial as many long standing issues were discussed.
The prime minister's adviser Sartaj Aziz and premier's special assistant Tariq Fatemi were also in attendance.
Swaraj confirmed that Indian Prime Minister Narendra Modi will visit Pakistan for the South Asian Association of Regional Coopera­tion (Saarc) summit expected to be held in September 2016.
Earlier, the opening of the 'Heart of Asia' conference in the capital today was marked by a warm welcome from Pakistani authorities to visiting dignitaries from India, Afghanistan, China among other Asian countries.
In her speech, Swaraj focused on increased connectivity, regional trade and openness with Afghanistan, and also "extended India's hand towards Pakistan" in this regard.
"It is time we [Pakistan and India] display maturity and self confidence to do business with each other... the entire world is watching and we must not disappoint them," she had stated earlier in the day while addressing the 'Heart of Asia' conference.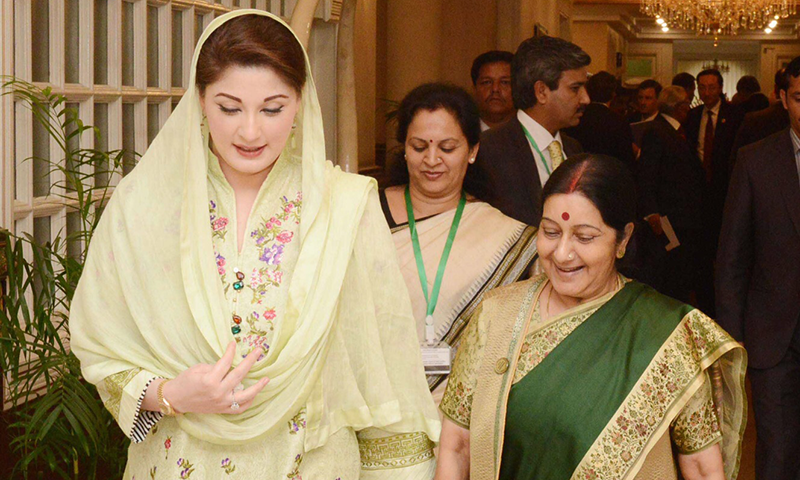 She added that India will extend its cooperation at a pace Pakistan is comfortable with.
Swaraj also stated that connectivity also lies at the heart of India's own efforts to push for regional economic cooperation. Nothing can benefit Afghanistan more immediately than full and direct access to India's markets to enable it to take advantage of the zero-duty regime
She also conveyed India's willingness to join the Afghanistan-Pakistan trade and transit agreement.
The Indian foreign minister singled out terrorism as the biggest deterrent to progress and peace in Afghanistan and said India was ready to help Afghanistan strengthen its defence.
The national security advisers of Pakistan and India met for a brief and unannounced meeting in Bangkok last week, which was followed up by an informal and short meeting between the prime ministers of Pakistan and India.