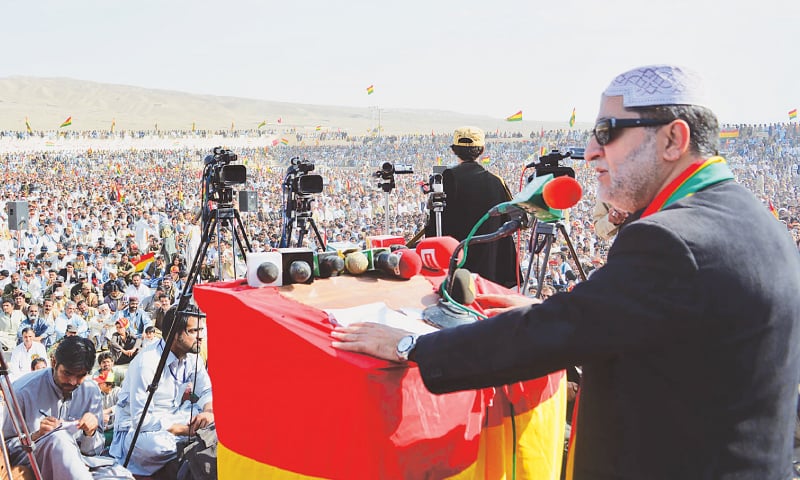 QUETTA: Balochistan Natio­nal Party-M chief Sardar Akhtar Jan Mengal has said that rights of Baloch people cannot be protected and the dream of a prosperous Balochistan cannot come true unless the control of Gwadar port is handed over to the province.
Addressing a public meeting at the Football Stadium in Nushki on Sunday, he said that the route of development, pre­sently leading to Lahore, should be diverted to Balochistan.
He said that earlier Afghan refugees had arrived in Balochistan in droves to convert Baloch people into a minority in their own province and now the Chinese were being imposed on the province.
Also read: Navy ready to protect Gwadar port, says chief
"The rulers are giving Baloch people gifts of bullet-riddled bodies and missing persons, which has created hatred against them," he said. The rulers would have to prove by their actions that they did not represent a particular province but the entire country, he added.
In an apparent reference to the possibility of talks between self-exiled Baloch leaders and the government, he said that no-one could join talks while targeted killings and alleged military operation continued in the province.
Mr Mengal claimed that thousands of people were joining his BNP-M at a time when it was not in power. "Six thousand people, including tribal elders, have joined the party in today's public meeting which is also being attended by a large number of women. Our women also want to play an active role in the struggle for protection of rights of Baloch people."
Mr Mengal said that BNP-M was a political reality, which was becoming more popular by the day.
He said that conspiracies had been hatched to weaken the BNP-M but today's public gathering had proved that people were still with the party. "The BNP-M cannot be weakened because it represents the feelings and aspirations of the people of Balochistan."
Mr Mengal said that he missed Habib Jalib Baloch, Nooruddin Mengal, Liaquat Mengal and other comrades in the public meeting, who had sacrificed their lives for the cause of Baloch rights.
He alleged that the 2013 general election had been rigged to ensure the defeat of BNP-M candidates and bring handpicked people to power.
BNP-M leaders Senator Dr Jahanzeb Jamaldini, Agha Hasan Baloch, Abdul Rauf Mengal, Malik Abdul Wali Kakar, Sajid Tareen, Agha Musa Jan and Rashida Bibi also spoke.
Published in Dawn, November 23rd, 2015