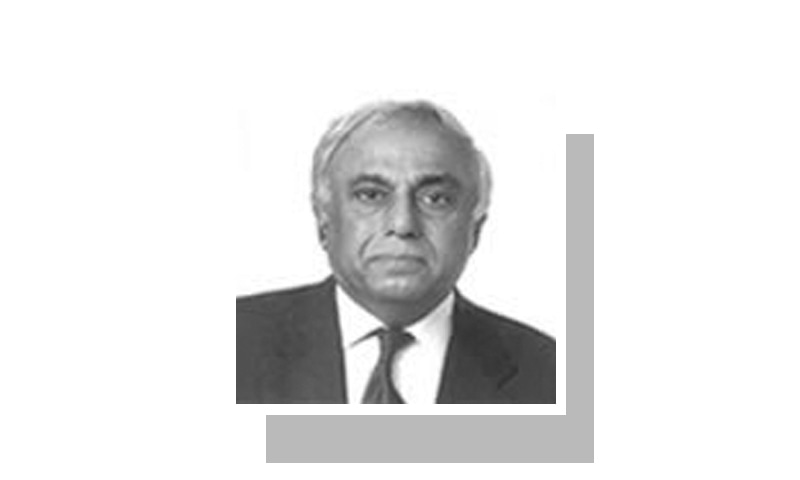 Economics is often described as a dismal science. So, when you read that the Pakistan economy — after eight years of miserably low economic growth — will, over the next five years, show at best a marginal improvement, then you are certainly right to think that this description captures not just the discipline of economics, but also unfortunately the state of Pakistan's economy.
The IMF forecasts that all we can look forward to till 2019/20 is a growth rate of just over 5pc. With our labour force growing at around 3pc, the economy must grow at over 7pc just to absorb eager and restless new entrants into the labour market. Indeed, we need to grow faster to reduce the high levels of existing unemployment, poverty and malnutrition. Faster growth will help us pay back our mounting debt and to increase our dismal low levels of investment in education and health. At our lower growth rate, the income gap with our faster-growing neighbours will increase, creating a security imbalance in the region. To put it bluntly, we need to push up our growth rate and sustain it at 7pc to 8pc to compete and survive.
The key question then is why things have gone so wrong. Those looking for easy answers put the blame on the IMF as the current downturn (that started in the 1990s) coincides with Pakistan's heavy reliance on IMF assistance and prescriptions. Between 1989 and 2015, the Pakistan economy has been run under IMF tutelage for most of this period.
---
The disappointing results of our long partnership with the IMF make a strong case of moving away from it.
---
So is the IMF to blame for our current predicament? Certainly not to the extent that its critics allege. Pakistan's economic problems are fundamentally structural and can be traced to recurring balance-of-payments crisis and unsustainable fiscal deficits leaving at times little option but to resort to the IMF to bail us out of an impending debt default situation. Why then, having followed IMF stabilisation policies and restoring macroeconomic stability, have we failed to break out of the current 'low-level growth trap'?
The IMF's answer to this question is that Pakistan has not been able to fully implement the set of agreed economic reforms under different IMF programmes. The measures are encapsulated in the mantra of a former finance minister and later prime minister: 'Deregulation, liberalisation and privatisation'. Even the current IMF programme signed in 2013 has survived only because of the many 'waivers' given on the mutually agreed reform package.
The IMF's reasoning though not completely untrue suffers from serious flaws. Many reform measures have been undertaken and completed over the last 25 years, but these have shown little result in moving the economy to higher and sustained growth. Indeed, some of the reform measures undertaken under IMF tutelage may have added to Pakistan's current woes. It was under IMF advice in the mid-1990s that Pakistan opened up its capital account. This has led to the massive flight of illegal capital to the Gulf and beyond and continues to do so.
The disappointing results of this long partnership with the IMF and its continuing mantra to 'do more' makes a strong case of moving away from the IMF. There are even more pressing reasons for doing so at this juncture. The current dramatic fall in oil prices, the promise of $48 billion over the next few years under the CPEC programme, the currently historical low inflation rate of 2pc and healthy foreign exchange reserves all provide a rare window of opportunity to break out of the current low-growth equilibrium trap. Under an IMF programme, this propitious circumstance will be difficult to take advantage of.
To decisively push the economy onto a higher growth path will need prudent flexibility in the fiscal deficit to accommodate expenditures to launch projects under the massive CPEC programme. In fact, the policy stance will need supportive monetary easing (lower interest rates and a rise in credit to the private sector) as well as other measures that low inflation makes possible. These measures will be very difficult to accommodate under an IMF programme.
That said, moving away from an IMF programme does not mean abandoning economic reforms. This is especially true for ensuring higher tax revenues, reducing government controls, removing the anti-export bias in our trade policy, following a realistic exchange rate policy to be competitive in export markets and ensuring better governance. But the reform programme should be 'home-grown' — free from the underlying market-driven orthodoxy ('market fundamentalism') that drives an IMF programme. This will provide the economy's managers enough flexibility to properly sequence its implementation (the IMF sets in most cases a rigid and unrealistic time frame).
Critical to this shift from stabilisation to high growth is some repositioning in the current roles of the key economic and sectoral ministries. The finance ministry will need to move from its centre-forward role (which it must play under an IMF programme) to the role as full-back to ensure timely and sufficient resources to finance the high-growth strategy while ensuring that the fiscal deficit remains within prudent limits. The centre-forward role would then fall to the two energy ministries (water and power, and petroleum and gas), which would need to be empowered to ease, and eventually overcome, the energy constraint by the end of 2017.
The Planning Commission (in close cooperation with the provincial governments) will need to play the pivotal role as centre-half, feeding and coordinating resources to the forward line. The National Action Plan will need to be implemented in letter and spirit so as to provide a security blanket to ensure that the gains made (especially in Karachi) are consolidated to instil confidence and draw in domestic and foreign investors. The prime minister must personally lead this team.
The IMF medicine has provided short-term relief, but after 25 long years it has failed to deliver. Let us not reinforce a failure and, if not wish them goodbye, then say 'au revoir' and hope we meet again in better times.
The writer is professor of economics, Lahore School of Economics, and former VC of the Pakistan Institute of Development Economics.
Published in Dawn, November 19th, 2015
Now you can follow Dawn Business on Twitter, LinkedIn, Instagram and Facebook for insights on business, finance and tech from Pakistan and across the world.