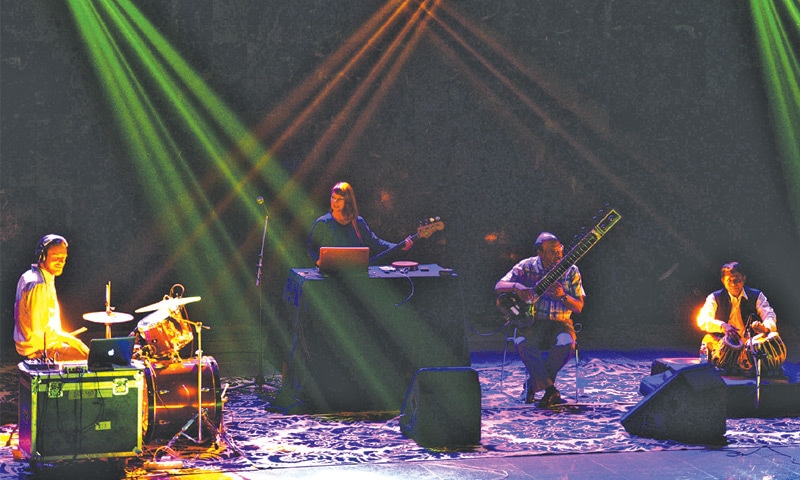 KARACHI: International music artists are adding on to the city's cultural vibrancy and the Friday evening performance of German artists blended with eastern classical music at Habib University was another step away from the usual sampling of music.
The performance of musicians Michaela Dippel aka ADA and drummer Jan Philip Janzen at the university's amphitheatre allowed the audience to broaden their horizon.
The collaboration between the Consulate General of the Federal Republic of Germany and HU's Centre for Media and Design resulted in a night of electronic and house music that took an exhilarating turn with the inclusion of sitar and tabla maestros Ustad Nafees Ahmad and Ustad Bashir Khan, respectively, from the National Academy of Performing Arts.
German Consul General Rainer Schmiedchen praised the efforts of the organisers and said: "The tradition of collaborations between Habib University and the German consulate general has already become a sort of tradition in the city of Karachi."
The performances were a delight for all the senses, as apart from ADA's vocals, Janzen's drumming skills, and the ustad's gradual crescendo, a live visualisation of ADA's music, created by Brain Hack, HU's Computer Club, and was displayed on the wall of the amphitheatre.
ADA is a producer, DJ, songwriter and singer and has been, for the longest time a solo artist. In recent years, she joined up with a German band, Von Spar, and her performance, alongside the band's drummer, Janzen, drew much appreciation from the crowd for the several covers as well as original tracks.Habib University tapped into its many resources to help set up the evening. The music system and laser show which amplified the experience of listening to house and electronic music was set up by the students and faculty of the School of Science and Engineering.
The performances by Ustad Bashir and Ustad Nafees were needless to say classic, and ADA and Janzen were equally comfortable with the eclectic collaboration.
After the concert, a special DJ set was organised where ADA played several of tracks and hundreds dancing away into the night.
Published in Dawn, November 1st, 2015
On a mobile phone? Get the Dawn Mobile App: Apple Store | Google Play