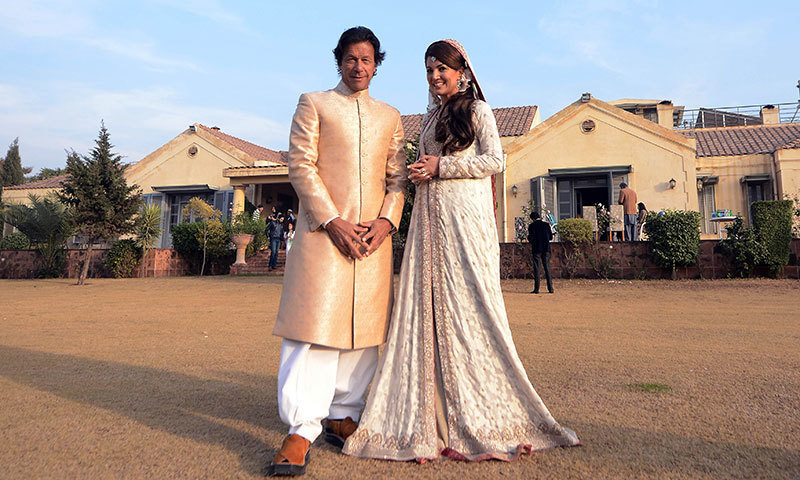 ISLAMABAD: Pakistan Tehreek-i-Insaf (PTI) Chairman Imran Khan and TV journalist Reham Khan have divorced with mutual consent after 10 months of marriage, PTI spokesperson Naeemul Haq said Friday.
'Divorce is painful'
In a series of tweets, Imran Khan wrote that the divorce is painful for him, Reham and their respective families and requested everyone to respect their privacy.
He categorically denied the rumours about any financial settlement between them adding that he has great respect for Reham's moral character and her passion to help and work for the underprivileged people of society.
Six months in, rumours that the marriage was falling apart began to circulate. While the couple was seen together on occasion, Imran last month tweeted an apparent refutation of the rumours: "I am shocked at a TV channel making slanderous statement about my marriage. I strongly urge the media to desist from such baseless statements."
Earlier, Haq had also told DawnNews that Imran Khan had requested the media to avoid speculation and respect the sensitivity of the situation.
'Just not getting along'
A source close to the PTI chairman, who asked not to be named, said the two were "just not getting along".
"She wanted to get involved with politics and that is not what Khan wanted at all. She just did not want to sit at home," he told Dawn.com.
"There were teething problems as well over other issues which were being resolved but this was a major issue — she wanted to get into politics and was not ready to back down."
Another confidante of Imran Khan told Dawn.com that there was "a lot of pressure on Khan" from his family to divorce Reham, an apparent reference to Imran's sister Aleema Khan who had made no secret of her displeasure over the marriage.
Despite several attempts, Reham could not be reached for a comment, but posted an announcement of the divorce on Twitter:
Sources said Reham has left Pakistan for London and is expected to address a conference there.
Meanwhile, Prime Minister Nawaz Sharif has also asked party leaders to refrain from commenting on Imran Khan's personal life.
The announcement today stirred a fiery debate on social media, with fans and naysayers of both Khan and Reham posting their two cents and taking sides.
Also read: Istakhara to Bani Gala: Reham spills the beans on Imran's unromantic proposal
In August this year the PTI chief had announced that Reham Khan, will not be playing an active role in party affairs, following "attacks" on his then wife in the aftermath of the party's defeat in the NA-19 (Haripur) by-polls.
Loved by millions across the cricket-obsessed nation for winning Pakistan its only World Cup in 1992, Khan's sporting prowess and rugged good looks brought him international celebrity.
He was considered his country's most eligible man until he suddenly announced his plans to marry shortly after calling off a movement to topple the government in December after a Taliban attack on a school that killed 150 people.
The PTI chairman and television journalist Reham Khan had tied the knot in a simple nikkah ceremony which took place in January this year at Khan's Bani Gala residence.
The nikkah, which was a low-key affair, was conducted by Mufti Saeed and was followed by a photo session. The wedding had captivated the entire country, with television channels going all out to cover the event and furnishing their audience with details of wedding sherwani and chappals.
In its early days, the marriage was marked by public appearances of the newlyweds who were seen smiling and happy at various events. Reham on several occasions had candidly expressed her feelings for Imran, saying he is "no longer alone". In an early interview, she had said: "I didn't know Mr Khan was Mr Right, you wait your whole life for Mr Right and then you find Mr Most Right."
Also read: Reham Khan dismisses Daily Mail over degree report
Reham had recently also sparked controversy after it emerged that she had not actually attended a college where she claimed to be a student on her website.
Born in 1952 in Lahore into a comfortable family with origins in the Pashtun northwest, Imran Khan was educated at Aitchison College and then Oxford University.
He became one of the world's greatest ever all-rounders — a fearsome fast bowler and dangerous batsman — whose finest hour came at the 1992 World Cup, where at the age of 39 he led an inexperienced team to the title.
Off the pitch, he had a string of socialite girlfriends and frequented exclusive nightclubs in London until he married Jemima Goldsmith, the daughter of the French-British tycoon James Goldsmith, in 1995.
His marriage with the Jemima lasted for nine years and ended amicably in 2004 with Goldsmith stating that she was unable to adapt to life in Pakistan.
Imran Khan has two sons from his previous marriage to Jemima.
Reham Khan was previously married to psychologist Ijaz Rehman, with whom she had three children.