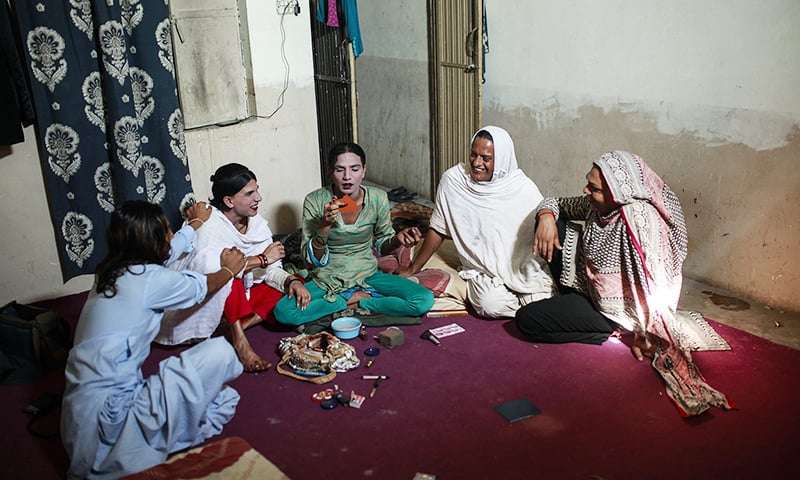 She flits from car to car, asking for alms and bestowing blessings when she receives a fiver. If you saw her in the bazaar, chances are that you'd ignore her or walk right past her.
Those who identify as members of the third gender aren't completely accepted by society. Despite winning a legal acceptance, social stigmas still hamper complete societal assimilation.
As birds of a feather flock together, so too do transgender individuals. Spurned by their families and shunned by society, most transgenders prefer to live communally under the protection of a guru, a mother superior of sorts.
"It was mostly the men in our families who cannot accept the way we were born," Nadia says as she puts on makeup before heading out to beg at the local market.
It's not a lavish lifestyle; when we meet in the early afternoon, one of the girls has just had yogurt for breakfast and another goes to the next house to borrow milk for tea. There is often no food in the house.
Some of the poorer ones have locked up their own kitchens and pitch into one communal kitchen at the guru's house.
They are simple people, their most prized possessions are the fancy clothes they wear to dance shows. These are carefully folded and stored away in closets. The walls are decorated with photographs of the girls in their best outfits; fully made up, they look no less than move stars.
Most of the houses are one-room affairs with the kitchen in the veranda and one bathroom shared among at least half a dozen occupants. While they are welcoming and hospitable to outsiders, they are generally not accepted in public spaces such as restaurants and hotels, even if they can afford to pay.
"It feels like we were born to be humiliated. Policemen harass us and say disrespectful things but I have hardened myself to be able to laugh off all the insults. Everyone wants us to disappear, but where should we go? We have no protection from anyone," says 25-year-old Kajal, voicing her angst.
The younger ones bring their problems to the gurus to seek their guidance. None of them are in close contact with their families. Their gurus are everything to them: parents, teachers, counsellors and confidants.
Nadia, 25, relates her own story. "I was 12 when my brother realized that I was not a regular boy. One day he saw me talking to a transgender and he got so mad, he dragged me home, shaved off my eyebrows and rubbed black shoe polish on my face. Then he chained me and locked me up. My sisters rescued me a month later and after that, I just ran away from home."
Published in Dawn October 4th, 2015
On a mobile phone? Get the Dawn Mobile App: Apple Store | Google Play