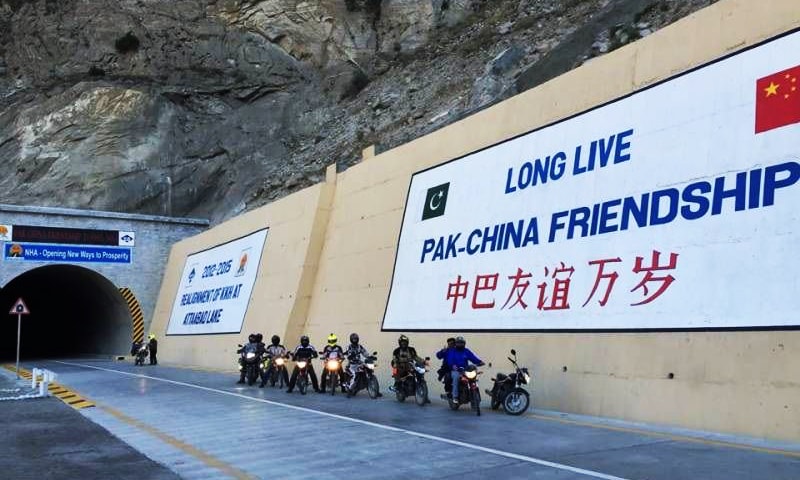 ISLAMABAD: Prime Minister Nawaz Sharif on Monday inaugurated the Pakistan-China Friendship Tunnels, which have been constructed by China over the Attabad Lake in Gilgit-Baltistan's Hunza valley.
Nawaz said Gilgit-Baltistan is a vital link in the China Pakistan Economic Corridor and would benefit most from this mega project which would particularly increase the tourist influx.
The seven kilometre long five tunnels are part of the 24km long portion of the Karakorum Highway (KKH) which was damaged in 2010 due to land sliding at Attabad.
Also read: Death toll of Hunza landslide rises to 13
Two bridges and 78 small bridges have also been constructed on the rebuilt section of the highway, Radio Pakistan reported.
The tunnels have been constructed by the National Highway Authority (NHA) in collaboration with the China Road and Bridge Corporation to restore part of the road which had submerged under the Attabad Lake.
The project has been completed in a span of three years and two months.
Know more: Three phases of Hunza disaster
NHA officials briefed the prime minister on the details of the project and status of upgradation of other parts of KKH.
Nawaz urged the Gilgit Baltistan government to maintain high level of transparency and integrity in the expenditure of public money. The premier also stressed to rectify the mistakes of the past and make corrections where necessary.
The GB chief minister informed the prime minister that this summer more than 600,000 tourists visited Gilgit-Baltistan which shows upward economic activity in the region.
Minister for Kashmir Affairs and Governor GB Barjees Tahir, Chief Minister GB Hafeezur Rehman and China's Ambassador to Pakistan Sun Weidong were also present on the occasion.
Earlier, the premier was received at Gilgit Airport by chief minister GB. The chief minister briefed the prime minister about progress of other developmental projects in the area and performance of GB government.