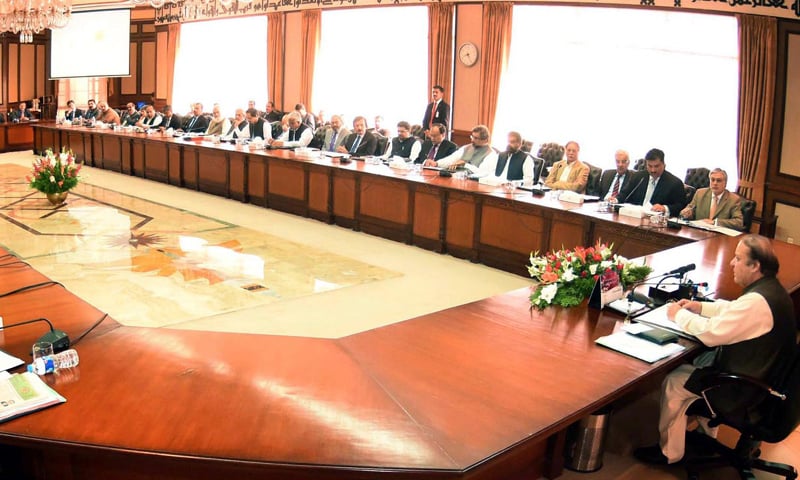 ISLAMABAD: Prime Minister Nawaz Sharif will soon announce a package to boost the country's exports, Commerce Minister Khurram Dastagir Khan told Dawn on Friday.
However, Dastagir did not disclose an exact date for the announcement as the prime minister doesn't make key decisions without consulting Finance Minister Ishaq Dar who is on a visit to the United States.
Chairing a meeting at the Prime Minister Office with the heads of chambers of commerce and industries and exporters, Sharif said a strategy would be chalked out in light of the recommendations of the businessmen and exporters.
Dastagir said the two-day meetings of exporters associations with economy ministers and later with the prime minister signalled a "paradigm shift in government's approach towards exports".
He said the five-hour-long meeting with the premier on Friday would form the basis of a "whole-of-government" exports promotion package as well as the Strategic Trade Policy Framework (STPF) 2015-18 due to be announced shortly by the Ministry of Commerce.
Exporters have asked the government to clear their refunds, devise a mechanism to avoid their delayed payments and allow the rupee to come to a realistic market value. Other countries in the region have considerably devalued currencies, they argued.
The textile sector, among other things, is seeking removal of extra taxes, competitive energy prices as compared to the region, electricity at nine US cents per unit and imposition of duties on semi-finished textile products, especially from India and China.
The light engineering segment and the agricultural sector asked the government to support them in seeking international certifications and subsidy for entering into new markets.
"A rise in exports will help the government boost its revenues and invest in the development of the country," the prime minister said. Pakistan's exports are stagnant whereas other regional countries have moved far ahead, he added.
The premier elaborated that the government was aware of a global economic slowdown and falling commodity prices. But even in this challenging environment, the government and business houses must adopt innovative strategies to increase exports, he added.
"Providing subsidy to different sectors of the economy needs resources, and resources are generated by robust economic activity," he said, adding that subsidy or relief packages, if opted as a policy measure, must produce economic returns to boost investment and business activity.
He advised the business community to conceive forward planning in view of the prospects arising out of the mega regional development initiatives like China-Pakistan Economic Corridor and Turk­men­istan-Afghanistan-Pakistan-India Pipeline.
These mega projects, coupled with development of infrastructure in the form of motorways and upgradation of Gwadar port, would open new avenues of economic activities which can be capitalised by Pakistan's business community, he added.
Speaking on behalf of the business community, Federation of Pakistan Chambers of Commerce and Industry President Mian Adrees assured the prime minister of full cooperation from the industrial and trade houses.
The business representatives gave suggestions and identified various factors which are hindering business ventures and proposed measures for raising investors' confidence, he added.
Published in Dawn, September 12th, 2015
On a mobile phone? Get the Dawn Mobile App: Apple Store | Google Play
Now you can follow Dawn Business on Twitter, LinkedIn, Instagram and Facebook for insights on business, finance and tech from Pakistan and across the world.