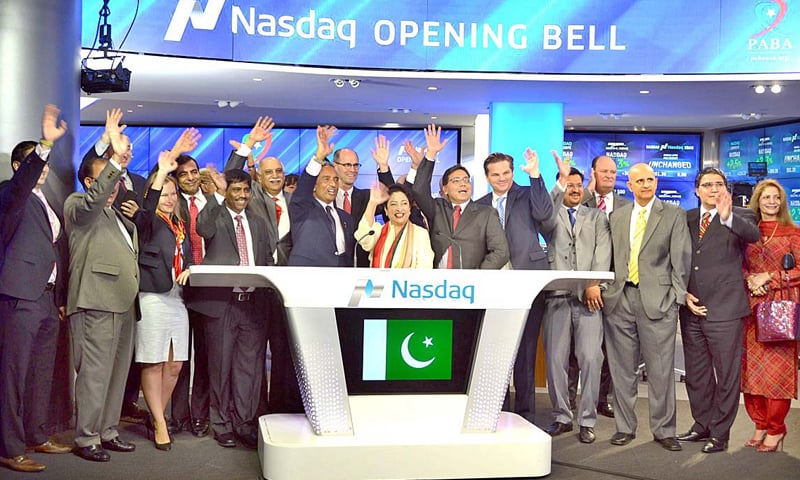 NEW YORK: Pakistan's Ambassador to the United Nations Maleeha Lodhi has invited the American business community to the country, which she said offers "the most investor-friendly policies in the [South Asia] region".
Speaking before the New York's Nasdaq bell ringing ceremony on Friday to mark Pakistan's 69th Independence Day, Ms Lodhi said, "Pakistan's strategic location gives it a pivotal role in promoting regional connectivity."
On China-Pakistan Economic Corridor (CPEC), she informed the business leaders that "plans are under way to make Pakistan a regional economic hub, providing trade, energy and communication corridors linking Central Asia to South and Southwest Asia and beyond".
"Pakistan today has a functioning democracy, an independent judiciary and a free and lively media," she understated.
The ambassador observed that the country's economy has "staged an impressive recovery while our security situation is improving by the day."
"Pakistanis are not only making a mark in their countries of adoption but sending back remittances which are at a record level today," she said.
Earlier, top officials of Nasdaq — Andew Hall and David Wicks — congratulated the government and people of Pakistan on the Independence, after Hall introduced Ms Lodhi, said a press release.
Pakistan Consul General Raja Ali Ejaz, Pakistan-American Business Asso­ciation (PABA) Chairman M. Siddique Sheikh and its President Keith Segerson also attended.
"This year's Indepen­dence Day coincides with a remarkable recovery in Pakistan's economy." Seger­son said in a statement. "This is a very exciting time for Pakistan to attract foreign investment and for US-based companies to benefit from lucrative incentives this country offers."
Published in Dawn, August 29th, 2015
On a mobile phone? Get the Dawn Mobile App: Apple Store | Google Play