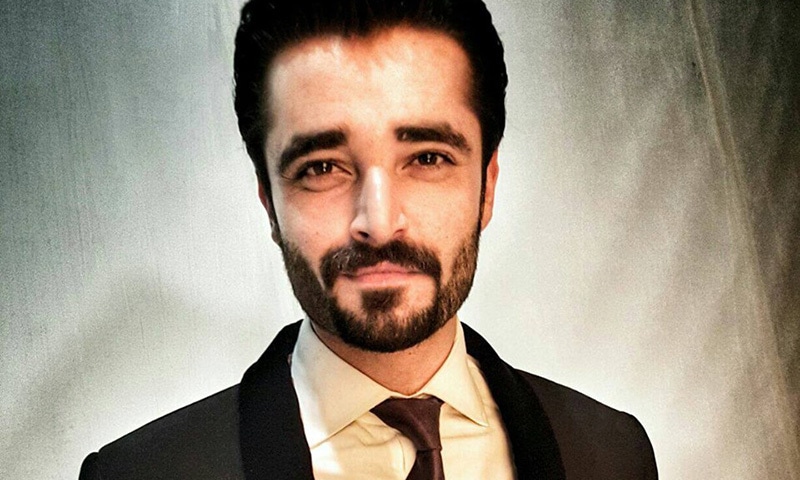 What makes Hamza Ali Abbasi tick?
One wonders it often when the actor delivers yet another tirade on Facebook. Or when he cavorts about in an item song and then proceeds to apologise incessantly for it. Or when he decides not to promote a movie that he is acting in because he doesn't agree with certain parts of it.
From censorship to Junaid Jamshed to politics, Hamza's a veritable firecracker, vociferously opinionated about everything.
Ever-willing to plunge into heated debates, social media backlash is the order of the day for him, coupled with the odd death threat from political parties, mafia overlords and riled acquaintances. It's prompted him to take extra precautions like carrying a weapon with him when he's out and given that he was once in the police force, haters should know that Hamza knows how to use a weapon very well.
But armed or not, what drives Hamza to constantly invite controversy in an environment where most people like to play it safe? A genuine desire to improve society ethics? A predilection for being a loud-mouth? Or is he, as his critics often declare, an attention-seeker vying for the limelight with bold statements?
"Even when I was young, I would constantly debate and argue upon issues that I felt strongly about," says Hamza. "Now that I am well-known, people assume that I am speaking my mind just to gain attention. Fame has its perks, but it also brings in a great deal of responsibility. It gives me the opportunity to get people talking on issues that are pertinent to my country and culture. People may slam me down and disagree with me, but I take satisfaction in having started off discussions."
Hamza Ali Abbasi in Pyaray Afzal, the TV series that made him a household name — Photo courtesy Pyaray Afzal's Facebook page
Given how controversy literally follows him, I tell Hamza that even this particular interview is bound to invite negative – and positive, for he also has a growing milieu of fans – feedback. "I don't mind," he declares. "I am used to it. So many of my peers come up to me privately and tell me that they agree with a certain stance of mine. And yet, nobody else is brave enough to state their opinions out loud."
Going where no actor has gone before
Even naysayers admit that Hamza has boldly – and perhaps, brashly – gone where no local actor has gone before.
While everybody else is endeavoring to be politically correct in order to get more work and latch onto that erstwhile Bollywood dream, Hamza opts to take the proverbial bull by the horns and swing precariously upon it.
In recent times, he's openly spoken against item numbers, although many of them feature actresses that he often works with. He's thwarted all his chances of going to Bollywood by effusively criticizing the Indian government. When Facebook teemed with rainbow-colored profile images, Hamza ranted against the celebration of the legalization of same-sex marriages in the U.S. And with his movie, Jawani Phir Nahin Ani (JPNA) releasing soon, Hamza has opted out of pre-release promotions and is refusing pay for his work in the film.
---
"I am personally very fond of every local actress who has done an item song but they don't seem to realize that we have a promising industry that doesn't need to sell its movies through lewd dances," says the actor
---
"I can't be a part of JPNA's promotions because that would make me a hypocrite," he explains. "It is an amazing movie without any crass humor and we have all worked very hard on it. But there are two songs in this movie that were, in my opinion, unnecessary and that do not emulate our cultural values."
Hamza plays a henpecked husband in Jawani Phir Nahi Aani
He is, of course, alluding to the item songs in the movie including one in which he is seen wearing swim-wear, dancing alongside bikini-clad women.
The song had Hamza lamenting repeatedly on social media and resigning from his post as cultural secretary of PTI. "I hadn't been aware that the song would be in the movie or else I wouldn't have signed onto it. I couldn't leave the producers in the lurch which is why I inevitably agreed to be part of the song. It is something I regret and I certainly won't be accepting pay for the movie. As part of the movie's cast, I should be promoting it prior to its release. Since I am opting out of promotions due to the inclusion of the item songs, I feel that it would be unethical to be paid for my work in the movie overall."
Also read: This 'Jawani Phir Nahi Aani' trailer made Hamza Ali Abbasi give up his PTI post
"Item songs are just not necessary," he continues. "I am personally very fond of every local actress who has done an item song but they don't seem to realize that we have a promising industry that doesn't need to sell its movies through lewd dances. It isn't true to our values and although our so-called progressive liberals refuse to accept this, it ends up alienating a large sector of our society. They cease to respect us and furthermore, we manage to confuse our youth regarding what is intrinsically Pakistani and what is an imitation of Hollywood and Bollywood; what is right and what is wrong."
"Do we want to turn into Thailand?!"
So what is right and what is wrong?
For the random observer, Hamza's statements often seem to run into contradictions but keen intelligent minds with the time to pore through his consistent Facebook updates are able to discern the many shades to the actor's ethics. Music is right within certain boundaries – but wrong when it all-too-often downslides to libidinous content. Filmmaking is right if it's artistic and well-conceived. It is horrendously wrong when it makes a beeline for crude crowd-pleasing comedy and dance.
Also, short skirts and other revealing clothes in film are wrong. Not just because they 'look' wrong but because they don't make sense, says Hamza. "They aren't part of our culture. Then why are we so intent on projecting them as part of our culture? Do we want to turn our country into a Thailand? I certainly don't!" he says.
---
"Cinema is at a stage where we can set new precedents rather than trundle down to new lows. What surprises me is that many of my friends agree with me personally but don't apply these principles to their work," he adds
---
"As it is, we live in a time when we judge people who can't speak English, when we think Western-wear is a sign of educated modernism and our youth lacks national spirit," he adds. We need to promote what is our's instead of building upon a wannabe culture. I am not even saying this from a religious standpoint, but I do feel that film has the power to set moral standards. Anything that you can wear or do in the most posh public area in Karachi defines our present cultural values."
In character as Main Hoon Shahid Afridi's Majeed Moulvi — Photo courtesy MHSS's Facebook page
Item songs and revealing clothes, though, have always been a part of local cinema. Why does Hamza feel the need to raise a furor now?
"Just because it has been done before doesn't make it right," he argues. "There are vulgar dances in Punjabi stage dramas but that doesn't mean that we condone them. Cinema is at a stage right now where we can set new precedents rather than trundle down to new lows. What surprises me is that so many of my friends agree with me personally but don't apply these principles to their work. They are either too scared of threats or don't want to lose out on work."
Hamza with Humayun Saeed at a PTI dharna last year — Photo courtesy Pyaray Afzal's Facebook page
While he may not say it out loud, Hamza is of course referring to 'best friend' Humayun Saeed's JPNA featuring the hitherto-mentioned long-suffering item numbers. Doesn't Humayun mind Hamza's lack of support at this critical time right before the movie's release?
"We are old friends and Humayun knows I am sincere. We have actually been joking that even my lack of involvement is generating publicity for the film. I don't want to hurt the film and of course I would want it to be successful. There is no personal grudge behind my refusal to take part in the promotions. Somehow, controversy and conjecture seems to follow me around."
'Mardon ki Meera'
It is this very knack for raising headlines that had Hamza's 'good friend' Saba Qamar proclaim him to be a 'Mardon ki Meera'. "I had spoken against item songs and she had just performed in one and thought I was attacking her," explains Hamza. "It's why she retaliated but she had misconstrued my words. I never pinpoint anyone by taking names."
Also read: I've never fallen in love: Hamza Ali Abbasi
Weren't Hamza and Saba having a full-blown affair? "I am human and yes, I may like somebody but just because I am photographed with an actress several times doesn't mean that I am dating her," he says. "Similarly, I have known Ayesha Khan for decades but that doesn't mean I am romantically involved with her. Things get blown out of proportion."
---
When he spoke against the celebration of homosexual marriages, Hamza was berated and 'un'friended by an old friend on Facebook (who must not be named!)
---
Sadly, misunderstandings like these happen often in Hamza's life – probably because he often dives right into them!
When he spoke against the celebration of homosexual marriages, he was berated and 'un'friended by an old friend on Facebook (who must not be named). "I reached out to him and told him that in all the years that I had known him, I had always been aware of his personal preferences and never judged him by them. Why was he taking offence now? I was only deriding the celebration of something that had taken place somewhere else which was not normal for us."
But even if he is sincere in his opinions, Hamza's unabashed statements makes one wonder if he has a career death-wish. How much longer will he continue to have friends and get work in the industry? "If I am losing out on work that I don't agree with, then I don't mind. Despite everything, I am still getting work that excites and inspires me."
All in a day's work
As JPNA gears for release, Hamza has begun work on a TV drama for the HUM Network, following which he will play the villain in Bilal Lashari's next, Maula Jutt. He has also been nominated in the upcoming LSA's as 'Best Actor' in Pyraray Afzal and his own directorial venture Kambakht is ready to release.
"We made Kambakht a while back when local cinema was still in its very initial stages of progress. Suddenly, everyone who was part of the movie like Sheheryar Munawar, Saba Qamar, Sohai Ali Abro and myself got more well-known and now there are far too many expectations attached to an essentially small-scale project. I want to wait for a time when I can release Kambakht in a low-profile way since it can't possibly contend with the high-budget, technically advanced movies that are now releasing in Pakistan."
Hamza in Kambakth, his first feature film as director — Photo courteys Kambakth's Facebook page
And unlike the rest of the local acting fraternity, Hamza has no aspirations for making it in Bollywood – he can't afford to, either, considering his vocal antagonism against India.
"I would rather work on fostering my own industry," he professes. "I respect actors like Fawad Khan and Mahira Khan who are working in India while staying true to their roots but personally, I want to develop professionalism and better pay here rather than go in search of it across the border."
Given his likeness for – to quote the incensed Saba Qamar – being a 'Mardon ki Meera', will people still want to work with Hamza even this side of the border? "People may hate me and yet, I had been offered every single movie that has released this year. Life, death and income are in Allah's hands."
And how much longer before he causes yet another Facebook stir?
"I don't know. I just say what I want to say and I say it genuinely. Many agree with me and some take offence. I actually find their retaliation funny. They call me an extremist when they themselves are intolerant of someone who is bold enough to speak the truth," he laughs.
He may as well laugh. It's the best way to deal with the tirades and hate that are inevitably directed towards him. Hamza Ali Abbasi is a live wire and he can't possibly change. Love him or hate him, call him mixed-up or a do-gooder patriot, he's metamorphosed beyond being an eye-candy hero into a social media sensation.
And he's not afraid of controversy. At all.
The future holds many more Facebook statuses on that oft-visited, much-talked about Hamza Ali Abbasi Facebook page.
---
Maliha Rehman is a fashion and lifestyle journalist with a penchant for writing, all the time! Log on to Twitter for more updates @maliharehman