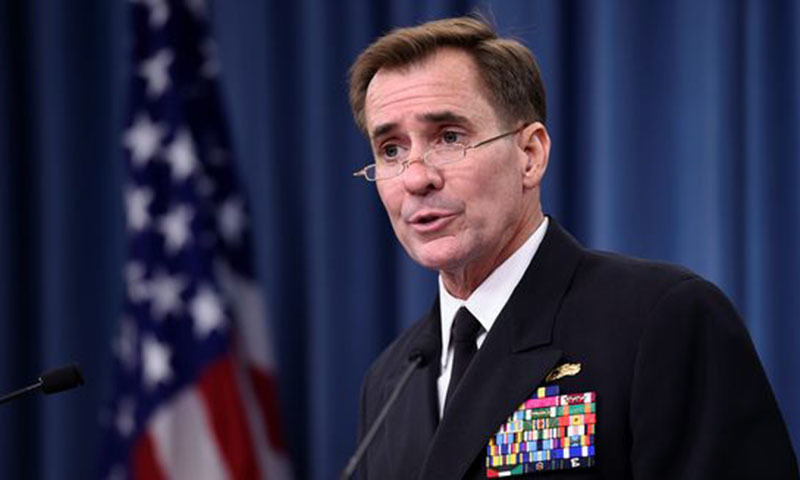 WASHINGTON: The United States, which seems determined not to allow further deterioration of relations between Afghanistan and Pakistan, has once again urged the two neighbouring states to work jointly to defeat terrorism.
"We continue to think it's important for the two sides to look for ways to cooperate and to communicate and to work towards a better solution here, which, again, we believe is through the reconciliation process," State Department spokesman John Kirby said.
Relations between Pakistan and Afghanistan improved rapidly after the election of a new government in Kabul last year and both sides pledged not to allow their territories to be used for launching terrorist attacks against the other.
But last week's terrorist attacks in Kabul, that left more than 50 people dead, disturbed the process of normalisation.
The situation worried policymakers in Washington who want to promote better relations between Pakistan and Afghanistan, as they believe that there could be no peace in Afghanistan until relations between Kabul and Islamabad improved.
At a news briefing in Washington, Mr Kirby reminded the two states that tensions between neighbours was not unique but they must continue to fight terrorists who had killed so many Pakistanis and Afghans.
"There have been and there will continue to be tensions across that border because it's such a safe haven for extremists," the US official said.
"Pakistan has suffered deeply from Taliban attacks inside their country, and their soldiers have bled just like Afghan soldiers have bled."
The State Department official also urged Afghanistan and Pakistan to continue to take forward the process of reconciliation with the Afghan Taliban, with the aim of ending violence in the region.
"The United States welcomes the dialogue and the cooperation that has taken place between the two countries," Mr Kirby said.
He said he did not know when would the next round of reconciliation talks be held but it's important to continue this process.
The State Department official also offered to help Pakistan investigate the terrorist attack that killed Punjab Home Minister Colonel Shuja Khanzada on Sunday.
"Such blatant disregard for human life is unacceptable and contrary to the aspirations of the Pakistani people for a secure, stable, and prosperous nation," Mr Kirby said.
Published in Dawn, August 19th, 2015
On a mobile phone? Get the Dawn Mobile App: Apple Store | Google Play