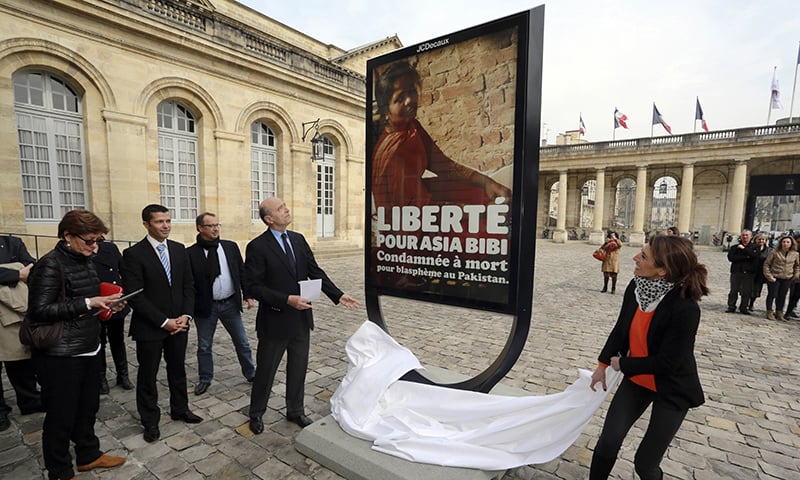 LAHORE: Staying the execution of a Christian woman, Asia Bibi, the Supreme Court of Pakistan on Wednesday admitted for hearing a petition filed by the death-row prisoner who was convicted on blasphemy charges.
A three-member bench at the Supreme Court's Lahore registry admitted the petition for full hearing and also ordered for all records pertaining to the case to be presented before it.
Read: On death row for blasphemy, Asia Bibi makes final appeal to SC
In her petition, the 50-year-old woman has claimed that she had not made any blasphemous remarks, and rather residents of her neighbourhood had leveled the blasphemy allegations against her based on a personal feud.
She asked the court to strike down her death sentence.
Mother of five children, Asia Bibi has been on death row since November 2010 after being convicted of committing blasphemy during an argument with a Muslim woman over a bowl of water in 2009.
She had filed an appeal in the Supreme Court in November 2014 as her final legal recourse, one month after the Lahore High Court upheld the death sentence of Asia Bibi, dashing hopes the conviction might be overturned or commuted to a jail term.
Blasphemy is an extremely sensitive issue in Pakistan where 97 per cent of the population is Muslim and unproven claims regularly lead to mob violence.
Also read: Asia Bibi losing hope on death row: family
Two high-profile politicians – then Punjab governor Salmaan Taseer and minorities minister Shahbaz Bhatti – were murdered in 2011 after calling for reforms to the blasphemy law and describing Bibi's trial as flawed.
Pakistan's tough blasphemy laws have attracted criticism from rights groups, who say they are frequently misused to settle personal scores.
Lawyers who defend people accused of blasphemy — and judges seen as lenient — also risk being accused of the crime themselves and regularly face intimidation.