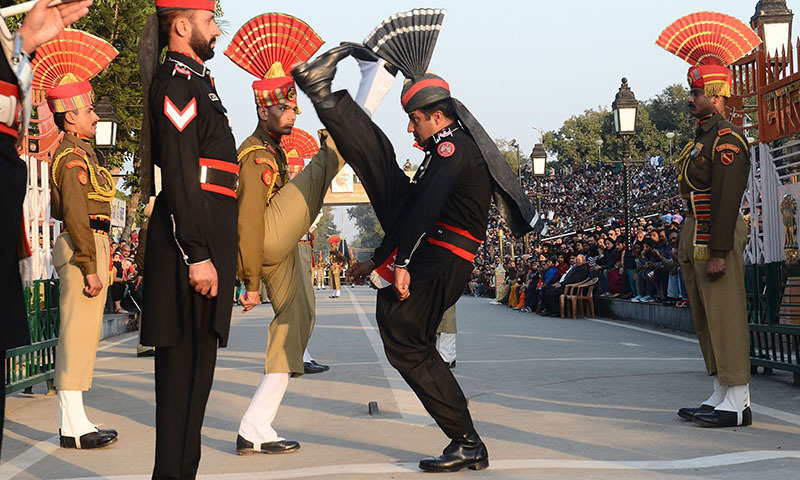 Pakistan and India border guards will not exchange customary greetings and sweets on the occasion of Eidul Fitr, said a report published on Hindustan Times.
Indian Border Security Force (BSF) Deputy Inspector General MF Farooqui confirmed that "there will be no Eid greetings exchanged with Pakistani Rangers on Saturday", the day Pakistan celebrated the first day of Eidul Fitr.
No specific reason was cited for not exchanging greetings and sweets which is a routine feature between the two countries.
Although the report says the tradition resumed in March after a year of bitterness, an exchange did take place in January on India's Republic Day.
In another report, NDTV quotes the same official as saying that a message to the Pakistan Rangers for the annual exchange of Eid greetings did not meet with a response.
"We give sweets on Eid every time. The Rangers have not accepted it today. We always want to maintain peace and tranquillity on the border," the paper quotes MF Farooqui as saying.
Earlier this week, both Pakistan and India had accused each other of ceasefire violations.
Pakistan claimed that three people were killed and five others injured in Sialkot's Chaprar sector, whereas another person was killed in firing across the Line of Control (LoC) in Rawalakot's Neza Pir sector in separate instances of unprovoked firing by Indian BSF personnel.
Also read: Four killed in Indian BSF firing: ISPR
On Wednesday, India's BSF said that Pakistani troops fired heavy mortar shells, adding that one woman was killed and three civilians injured when one of the shells exploded near a border village.
Despite ceasefire violations and violence in the disputed Himalayan region, the exchange of sweets between Indian and Pakistan army personnel along the LoC on their respective days of national importance and festive occasions has been a recurring feature.
Earlier in January, Pakistani and Indian border troops along the LoC had exchanged sweets at three places in Jammu and Kashmir on the occasion of India's Republic Day.
Read more: Pakistani, Indian troops exchange sweets at LoC on Republic Day
On August 14 last year, Pakistani Rangers had exchanged sweets with personnel from the Indian Border Security Force to celebrate Pakistan's 68th Independence Day at the India-Pakistan Wagah border post.
Examine: August 14: Pakistani Rangers, Indian BSF exchange sweets at Wagah