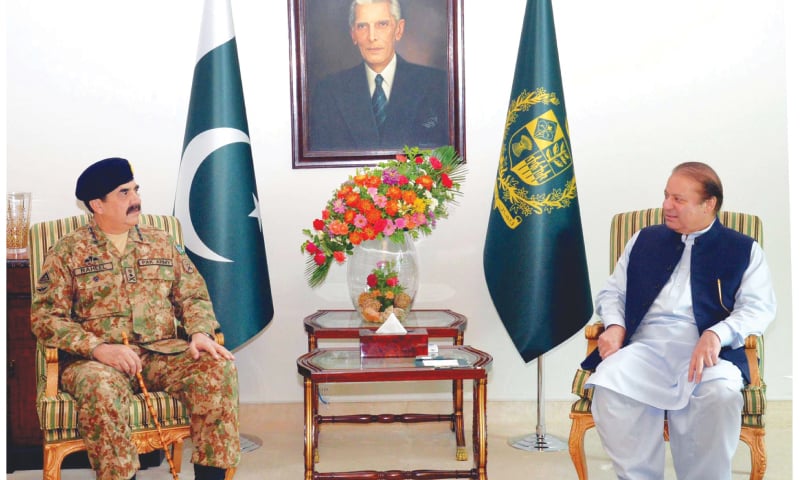 ISLAMABAD: Before leaving for Karachi on Wednesday, Prime Minister Nawaz Sharif met Army Chief General Raheel Sharif at the PM office on Tuesday.
According to a PM media office statement, they discussed the Zarb-i-Azb Operation and the safe return of temporarily displaced persons to their homes and their rehabilitation and resettlement following the operation.
But with the Muttahida Qaumi Movement facing allegations of receiving funds from the Indian intelligence agency, RAW, and reports that the government was mulling over the option of taking up the issue of increasing interference by India in Pakistan to the United Nations, the meeting is closely watched.
The ambassador to the UN, Dr Maleeha Lodhi, held consultations at the Foreign Office on Tuesday. The FO spokesman wasn't available for comment.
An official of the prime minister's office told Dawn that a meeting between the prime minister and the army chief always carried importance, but following the BBC report which accused the MQM of working hand in glove with RAW for creating unrest in Karachi, it surely had gained an added significance.
A PML-N insider said the meeting was also being viewed against the backdrop of recent outbursts by PPP Co-chairman Asif Zardari against the military establishment and increasing tension between the MQM and PPP on one side and Sindh Rangers on the other in running the affairs of Karachi.
He said with the ongoing political undercurrents in Sindh, the federal government had been virtually caught in the crosshairs and the prime minister was walking a tightrope.
The PM office official presumed that the prime minister and the army chief must have discussed future course of action to control the ongoing law and order operation in Karachi.
The prime minister reiterated his resolve at the groundbreaking ceremony for widening of Islamabad Expressway that he was determined to bring peace to the city.
"I am going to Karachi on Wednesday where the federal government wished to carry out similar development as we are undertaking elsewhere" in the country, he said.
Talking to Dawn, a PML-N lawmaker said after the PPP crossed swords with the Rangers in Sindh, the prime minister was under immense pressure to keep a balance between the two sides.
"Since the prime minister wants to carry on his working relationship with the PPP," he must have taken up the issue of strained ties between the Sindh government and the Rangers with the army chief to get their differences resolved, the PML leader said.
In a recent TV interview, PPP leader Syed Khursheed Shah had asked the prime minister to help remove differences between the Sindh government and the Rangers.
The PML-N leader said since the BBC had broken the story and the British government had launched money-laundering cases against Altaf Hussain, the government could always defend its position. "The MQM is an ongoing issue," he added.
Published in Dawn, July 1st, 2015
On a mobile phone? Get the Dawn Mobile App: Apple Store | Google Play