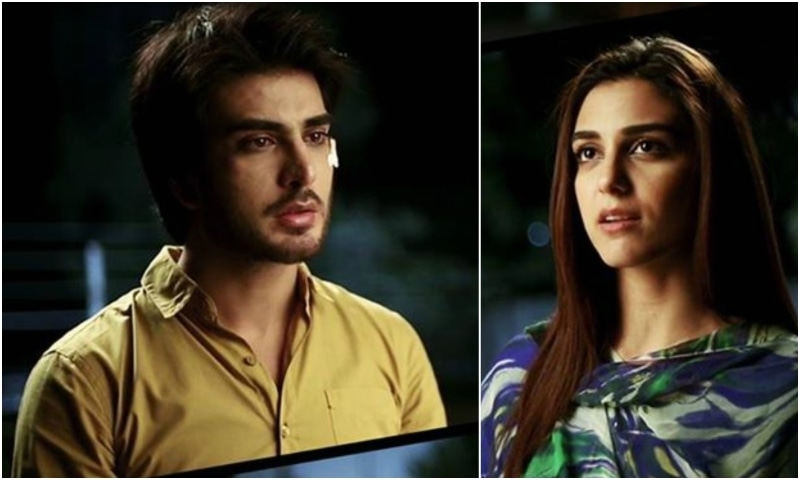 If Mera Naam Yousuf Hai could be summed up in one word, it would be filmi.
It isn't merely filmi in the sense that it features over-the-top melodrama; there are also a fair number of larger-than-life events to contend with. These events aren't just plot points pushing the story forward, they're like cogs in a vast machine that represent the characters' interconnected, messy lives.
It is a real pity that this drama isn't a film because it deserves to be, though for the audience, this weekly fix is proving to be quite addictive too.
Mera Naam Yousuf Hai is about the Yousuf's Imran Abbas) endless love for Zulaikha (Maya Ali), whom he falls for the moment he see her. But Zulaikha has problems at home as her parents insist on arranging a marital partner for her. And they succeed (to some extent — she is meant to marry Imran Mugeez, played by Taqi Ahmed) but fortunately Zulaikha is spared this forced marriage when, on her wedding day, Zulaikha's groom in a no-show.
What had happened was this: Yousuf kidnapped the groom.
An ancient love affair revealed
When we left off, the kidnapping was presented as a humourous farce. In episode 11 through 16, however, it's taken on a sinister edge. Taji (Mizna Waqas) and Yousuf's kidnapping of Zulaikha's would-be groom Imran lands Yousuf in jail while Taji is on the run. Despite the false accusations leveled against Yousuf for demanding a ransom, the corrupt and violent ways of the police fail to break his spirit but do lead to heartbreak all around.
Though Yousuf's parents stoically visit Zulaikha's house with every intention of asking for her hand in marriage, they're thwarted by yet another twist: Afia Begum (Hina Bayat), Zulaikha's mother, was once in love with Yousuf's father, Waji Ahmed (Behroze Sabzwari)! Their relationship is revealed over the last few episodes and it is to scriptwriter Khalil sahib's credit and his pithy dialogues that none of it feels contrived. (Hello, Sadqay Tumhare much?!)
Drama-mama!
You have to hand it to him for imbuing even the supporting cast with a life other than the stock mother/father/ stepmother cardboard characters we see in other dramas. To conjure up a world where parents were once young and in love makes you see them in a different light. They know one another's histories which creates a layer of meaning and motivations for each of their actions. That the more seasoned actors Hina Bayat, Behroze Sabzwari and Seema Seher are able to bring nuance to their roles and get into the skin of their characters is a treat to behold.
Each characters is predictable, but at least they're believable (for the most part!)
Spurned by their past, Afia Begum no longer wants her daughter to make the same mistakes she has, while Waji Ahmed is left questioning his weak-willed ways. His wife, however, has the objectivity to see things coming full circle and an opportunity for mistakes to be mended.
Even Madiha (Mansha Pasha) suffering her own heartbreak is a rather realistic portrayal of a young conflicted girl in love. While she pines for Yousuf, she is not beyond begging for his release. She goads Zulaikha into proving that she too loves Yousuf. Mansha Pashsa brings out Madiha's contradictions and confusion with helplessness and indignation in equal measure.
What will Madiha's fate be?
Zulaikha is brought out of her inertia giving in to the only modicum of control she has — to submit to her father's demand and agree to marry Imram Mugeez in exchange for Yousuf's freedom. I might sound like a stuck record but why is it that Khalil sahib refuses to give his heroines any agency other than being mothers, daughters and sisters? He allows for a veneer of strength through colourful language and posturing which just reinforces the systems they are trying to break away from.
Why is Afia Begum only moved to make sure her daughter marries a man of her choosing? Why no such grit and determination to make sure her daughters have some educational and financial hold and control over their lives? Is a love marriage all that she can hope for them?
---
Khalil sahib's script brings into question society's hypocrisies and double standards, as well as the different roles, expectations and allowances for men and women.
---
Khalil sahib's script brings into question society's hypocrisies and double standards, as well as the different roles, expectations and allowances for men and women. However, by narrowing his focus on marriage as escape, he further encloses and tightens the conservative hold of tradition never really charting another path for his female characters.
Zulaikha barters her life to secure Yousuf's freedom, beautifully encapsulated in the dialogue, 'Zulaikha hi toh lag rahi hoon, dekhiye toh sahi qaid mein pade Yousuf ko kharid kar reha kar diya. Appne aap ko beych diya meine.' It also turns the historical underpinnings of the story on its head. Maya Ali may have surprised us all with her maturing performance. I do wish Khalil sahib would have let her growth shine instead of the pretense of strength behind the façade of bright clothes and smart talk.
Zulaikha does finally show independent action once she becomes privy to her mother's past and father's intentions of marrying Bushra in exchange of her consent. Learning the truth of her barter, Zulaikha now seeks to obtain a khula to dissolve her paper marriage.
Our much bruised Yousuf too is dealing with the heartbreak of Zukekha's nikkah though now he remains wide-eyed at her reaching his home in search of a safe haven. While there were some sweet romantic scenes between the leads the filmi undercurrent of most Bollywood films of the 1970s and 80s with goons threatening the couple and their dramatic getaway couldn't be ignored. Also I am willing to wager that there is a clause for all of Khalil sahib's heroes to endure multiple beatings!
Filmi and we like it
Usually, Khalil sahib's male characters aren't so black and white but Noor Mohammed's (Waseem Abbas) portrayal of a hardened religious man twisting scriptures to speak only to his advantage borders on caricature. Again, a very filmi troupe of clearly defining the villain, and given his penchant for using force above all else, he seals his stamp as villain.
---
It is quite commendable that despite all these filmi touches and a tendency to go over the top, Mehreen Jabbar's directorial hand is very much in control.
---
It is quite commendable that despite all these filmi touches and a tendency to go over the top, Mehreen Jabbar's directorial hand is very much in control. She underplays a lot of the melodramatic flourishes which actually frees it from seeming too forced or artificial. The judicious use of the OST also heightens the drama. There also is a lot of harmony with the visual touches and the stellar production values so kudos to the whole team for creating a pitch perfect atmosphere to match the engaging writing and direction.
While the three older protagonists' lives mirror the younger ones' caught in the turmoil of choosing love or tradition, unfortunately, nothing it seems has changed despite the years between them. Zulaikha still continues to calibrate her life in terms of acceptance and permissions and the nagging suspicion that their fates, linked to their parents' histories, will never allow them to be together.
Suspicions that as the latest episode shows, come true with her father and brother storming in with goons to drag Zulaikha from Madiha's home. Seen through the prism of his last few dramas, we know that Khalil sahib has a bias towards unrequited love and tragic endings, so the trajectory of the characters is easy to guess.
But who knows if he will surprise us? Picture abhi baki hai.
---
Sadaf Siddique is freelance writer, film and drama enthusiast and sometime drama queen not necessarily in that order.