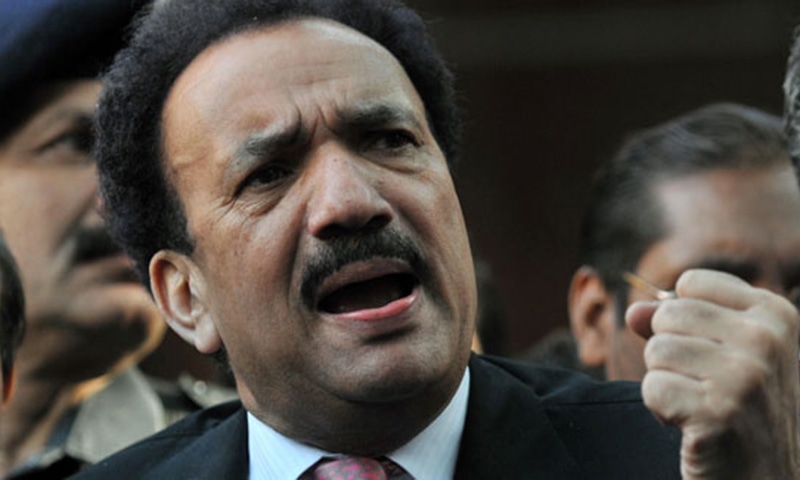 ISLAMABAD: Warning that conspiracies were being hatched to create an East Pakistan-like situation, the newly elected chairman of the Senate's standing committee on interior, Rehman Malik, said on Thursday that India, Afghanistan and some international powers were behind attempts to destabilise the country.
Presiding over the maiden meeting of the committee, Mr Malik who served as interior minister during the last PPP government, rejected the notion of friendly relations with Afghanistan and asked why Kabul was averse to handing over Mullah Fazlullah to Pakistan.
The status of implementation of the National Action Plan (NAP) to counter terrorism was one of the key agenda items of the meeting. The committee will soon be given an in-camera briefing on the National Counter-Terrorism Aut­hority.
Mr Malik said the self-styled Islamic State (IS) group posed a challenge to the entire Muslim world and stressed the need for an all-out action against it.
Rejecting the claims that the IS had no presence in Pakistan, he asked who was painting walls with pro-IS slogans if the claims were true. The IS had become a `franchise', he said and asked: "Who are Salim Salfi, Khurasani and Abdul Aziz."
Mr Malik said Brahamdagh Bugti possessed an Indian passport.
Noting that public execution of convicts in Saudi Arabia served as a deterrent, he sought a briefing from the Ministry of Interior on convictions in terrorism cases and lists of terrorists killed so far with photographs.
He said the 20-point NAP was not a law but just a roadmap to get rid of the menace of terrorism, agreed upon by the political and military hierarchy.
He called for awarding death penalty to those issuing decrees in favour of suicide attacks and meaningful action against banned groups operating under new names.
He said the committee wanted an in-camera briefing on the Safoora Goth carnage and reports on the Dera Ismail Khan and Bannu jailbreaks. He said the names of those involved in terrorist financing should be made public.
Referring to the Axact episode, he said it had brought bad name to the country. He said he wondered over affiliation of as many as 470 universities with an individual and called for action against those who supported the illegal activity.
Interior Secretary Shahid Khan admitted that NAP was not being implemented with the required pace, but said he would not go into reasons.
About action against seminaries involved in terrorism, he said any action against them would be based on evidence and not on suspicion.
The meeting was informed that since the lifting of moratorium on death penalty, 61 condemned prisoners had been hanged — 47 in Punjab, 11 in Sindh, one in Khyber Pakhtunkhwa and two in Azad Kashmir.
Published in Dawn, May 29th, 2015
On a mobile phone? Get the Dawn Mobile App: Apple Store | Google Play