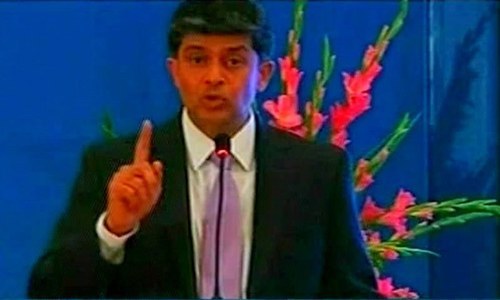 KARACHI: Speaking at length about problems being faced by violence-hit Karachi, challenges of the militancy it had been going through and solution to come out of the woods, Corps Commander Karachi Lt Gen Naveed Mukhtar said on Saturday the 'authorities' failed to deliver 'necessary infrastructure and services' which gave birth to criminal and vested groups whether 'political, ethnic or sectarian.'
Addressing a workshop on national security in collaboration with the National Defence University, Gen Mukhtar shared his thoughts about problems being faced by the business capital for the past three decades, the recent approach of the security administration to restore peace in the city and recent success of the ongoing operation in Karachi.
He blamed 'vested interest' and 'political expediencies' for shortcomings.
"The ongoing operation is well-coordinated, sustained and across the board," he said.
"However due to vested interests, political expediencies, sponsored militancy, patronage of vested groups, ethnic, sectarian and political disharmony the effect is fluctuating."
---
Vested interest and political expediencies affect Karachi operation
---
The corps commander highlighted the future course of action which suggested it was not going to end anytime. He was of the view that operation for restoring peace in Karachi would lead to fix all other ills as well.
He said the operation was apolitical and across the board. He also underlined the need for curbing white collar crime.
"It's important to note that the operation in Karachi should not be seen as an end in itself. It is the beginning of an end and thus the first stage for eventual elimination of ills in political, administrative and law and order spheres in the city," he said.
Menace of terrorism
Highlighting the core reasons behind decades-old menace of terrorism and violence in the city, he referred to failure of institutions and governance that led to creation of a vacuum, which were ultimately filled by criminals and vested interest groups.
"Unfortunately the authorities responsible for governance and administration have failed to provide necessary infrastructure and services to most of the areas. Furthermore the institutional vacuum created was filled by criminals and special interest groups whether political, ethnic or sectarian," he said.
"Faced with lack of basic services, people turn to these syndicates for assistance and protection. Resultantly, this has given rise to the booming land-grabbing business and lucrative but illegal delivery of essential services. Competition for control of these resources and areas triggers turf wars between rival mafias and interest groups."
General Mukhtar said 'blurred' boundaries between political activism and criminal activities further decayed the Karachi peace over the years which gradually transformed into terrorism and militancy.
"Unfortunately boundaries between political activism, terrorism, assassination, land mafia, extortion and drug dealing criminality have become blurred and at times intersect. Resultantly crime has transformed into terrorism and militancy," he said.
Like recent messages from the army leadership through different forums about the Karachi operation and the war on terror, General Mukhtar showed the resolve for 'logical end' of the entire exercise.
"We are living through the defining times and failure is not an option," he said.
"Together we must decisively and whole-heartedly translate our policies into meaningful and coordinated measures that can lead to a stable environment, secure from fear, extremism and militancy with firmly established writ of the state and rule of law."
Published in Dawn, May 17th, 2015
On a mobile phone? Get the Dawn Mobile App: Apple Store | Google Play