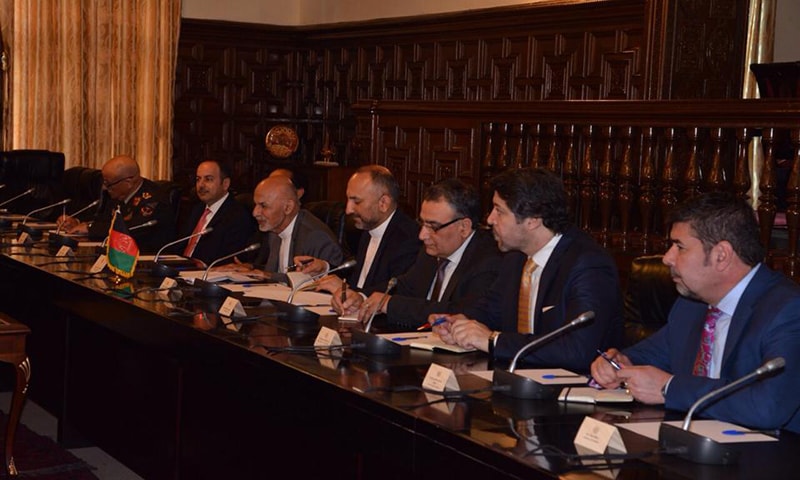 ISLAMABAD: Prime Minister Nawaz Sharif during a press conference in Kabul on Tuesday strongly condemned the surge in attacks by the Afghan Taliban under their Operation Azm offensive, which Pakistan termed as acts of terrorism.
"All sanctuaries, when found, will be eliminated by direct action, and will be monitored by the existing mechanism," Nawaz said, adding "Any effort by any militant or group to destabilise Afghanistan will be dealt with severely and such elements will be outlawed and hunted down."
"In case of terrorist activity, both Pakistan and Afghanistan retain the right of counter actions in conjunction ... We agreed that peace and stability in the region will remain elusive until the menace of terrorism afflicting the region is comprehensively addressed," he added.
The prime minister expressed confidence that Pakistan and Afghanistan would succeed in rooting out the menace of terrorism through their firm determination and by adopting a comprehensive and coordinated strategy.
He said that Pakistan had the highest stake in a peaceful and stable Afghanistan.
Prime Minister Nawaz Sharif and Afghanistan President Ashraf Ghani inspecting the guard of honour at Presidential Palace. — APP
"We stand in strong solidarity with Afghanistan. I assure you that the enemies of Afghanistan cannot be friends of Pakistan ... We both recognise that an enduring peace in Afghanistan will be a distant dream without an inclusive intra-Afghan reconciliation."
Nawaz reaffirmed Pakistan's full support for an Afghan-owned and Afghan-led peace and reconciliation process, and assured President Ashraf Ghani of making all possible efforts in this regard.
The prime minister, who was on a day-long visit to Afghanistan, reiterated an offer for the capacity building of the Afghan police, including training.
Nawaz Sharif said both sides had discussed ways to realise the full potential of their "well endowed reservoir of human and material resources" and said these measures included expanding trade, increasing investments, improving infrastructure, building road and rail links, and enhancing energy collaboration.
He also stressed the need for fast-track progress on trans-regional energy projects to advance the goal of greater regional integration.
"I underlined Pakistan's resolve to further deepen our defence and security partnership with Afghanistan, including through enhanced cooperation along the border and human resource development."
He also assured the Afghan President of Pakistan's continued engagement with regional and international processes in support of his country.
The prime minister said that as co-chair of the Heart of Asia-Istanbul Process in 2015, Pakistan would steer the process in line with the Afghan priorities and aspirations.
Nawaz Sharif said that Afghanistan had a special place in the hearts of Pakistanis.
"There are no other two countries that have so much in common. We are friends. We are brothers. We have stood shoulder to shoulder through every trial and tribulation.
"It is always a pleasure to be in Afghanistan and among my Afghan brethren. Coming to Afghanistan is like coming to my second home."
The prime minister also reaffirmed his commitment to continue working with "my brother President Ashraf Ghani, for prosperity and development of our two peoples and in advancing our shared objectives of peace and stability in the region."
He concluded by raising the slogan of "Pak-Afghan Dosti Painda baad."
Afghan President Ashraf Ghani, while stressing further closer cooperation between the two brotherly countries, said both had suffered due to terrorism ─ a common threat.
The spectre of terrorism had targeted children in Peshawar as well as Afghanistan, and both countries had to confront it jointly, he added.
President Ghani said the enemies of Pakistan were the enemies of Afghanistan.
Won't allow Pak, Afghan territories to be used against each other: COAS
Chief of Army Staff (COAS) General Raheel Sharif during his visit to Kabul on Tuesday, said that the territories of Pakistan and Afghanistan will be not be used against each other. He added that Pak-Afghan relations will be guided by three principles, Director General Director General Inter-Services Public Relations (ISPR) Asim Bajwa said in a series of tweets.
The COAS also extended full support for Afghan led peace efforts and added that Pak-Afghan relations will strictly adhere to a policy of non-interference.
General Raheel further said that Afghanistan's enemy will be treated as Pakistan's enemy and vice versa.
The army chief also directed the Frontier Works Organisation to commence constructions of the Torkham-Jalalabad carriageway. Construction of this project will commence within a week, DG ISPR tweeted.
Earlier today, Prime Minister Nawaz Sharif along with Army Chief General Raheel arrived in Kabul on a day-long official visit to Afghanistan on the invitation of Afghan President Ashraf Ghani.
Delegation level talks were held between Prime Minister Nawaz Sharif and Afghan President Ashraf Ghani at the presidential palace "Gul Khana", said a statement from the Prime Minister House.
The prime minister and his accompanying delegation were received at the airport by Afghan Foreign Minister Salahuddin Rabbani and Minister of Finance Eklil Ahmad Hakimi.
A guard of honour was presented by a contingent of the Afghan army to the premier upon arrival.
The prime minister and his accompanying delegation was received at the airport by Afghan Foreign Minister and Minister of Finance. —Photo Courtesy: PM House
The prime minister is accompanied on this visit by the Advisor to the Prime Minister on Foreign Affairs Sartaj Aziz, Chief of Army Staff Gen Raheel Sharif, Special Assistant to Prime Minister on Foreign Affairs Syed Tariq Fatemi, Foreign Secretary Aizaz Ahmad Chaudhry, Director General (DG) Inter Services Public Relations (ISPR) Major Gen Asim Bajwa and other senior officials.
This is the prime minister's second visit to Afghanistan and the first after the installation of the National Unity Government in Kabul. Earlier, the premier visited Afghanistan on November 30, 2013.
The Afghan president also hosted a lunch for the Prime Minister Nawaz Sharif and his delegation.
The prime minister met with other leaders of the Afghan government during his visit, including chief executive Abdullah Abdullah.
The premier will seek to stop the goodwill, generated between the two countries after the installation of President Ashraf Ghani's government, from fading away.
Take a look: PM, COAS attend high-level meeting prior to Kabul visit tomorrow
The spike in violence in Afghanistan after the Taliban started their spring offensive has already begun straining the relationship.
On Monday, the PM consulted his senior foreign policy and defence aides on the Kabul visit.
"It was reiterated to consolidate and further improve bilateral relations between the two neighbouring brotherly countries," said a statement issued by the PM Office after the meeting.
ISI chief Lt Gen Riwzan Akhtar last week paid a visit to Kabul to do the groundwork for the trip by the prime minister and the army chief.
The improvements in bilateral relations after the change of government in Kabul were centred on enhanced counter-terrorism cooperation. Unprecedented cooperation was witnessed after a militant attack on the Army Public School in Peshawar and the two sides for the first time conducted coordinated military operations against militants on their respective sides of the border.
The Afghan government, which was hoping for a negotiated settlement with the militants, was taken aback by the Taliban offensive.
Signals from Qatar, where Taliban and Afghan officials met for informal talks, haven't been very encouraging either.
The creeping frustration got public, though in a different context, when President Ghani during his visit to Delhi said in an interview that Afghanistan could stop Pakistan's access to Central Asian States through its territory if Islamabad continued to disallow direct trade with India via the Wagah border.