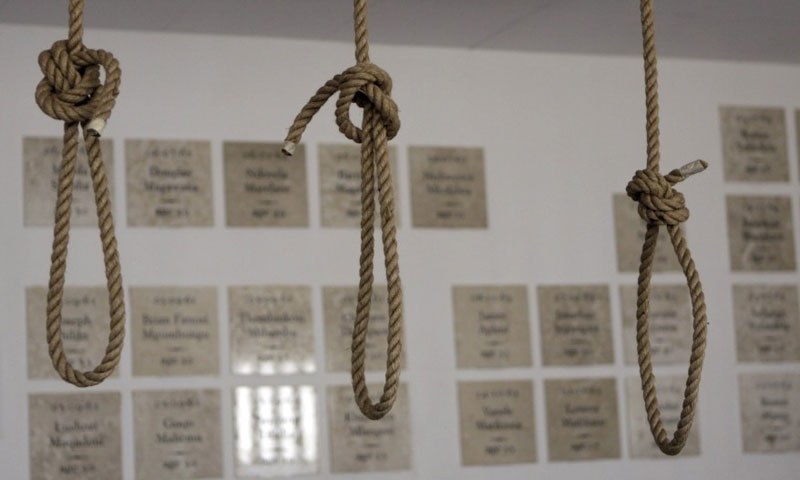 LAHORE/SAHIWAL/BAHAWALPUR: Four condemned prisoners were sent to the gallows on Wednesday morning in various cities across Pakistan.
Two convicts — Rizwan and Moazzam Khan — were hanged in Lahore's Kot Lakhpat Jail.
Rizwan, who was a security guard for a manufacturer named Seth Abid, was convicted for the murder of six people in 2006 including Abid's son. Whereas, Moazzam Khan was convicted for killing a man named Nasir Iqbal in 1995.
The bodies have been handed over to their families.
Separately, a convict named Zahid Hussain Chohan was hanged in Sahiwal Central Jail on charges of committing murder.
Chohan was convicted for shooting dead a police constable in 2001 in the Fateh Sher Police Station jurisdiction.
Two other Sahiwal Jail convicts Shafqat and Hanif, who were scheduled to be hanged today, will be executed on April 28.
Death row convict Mohammad Nazeer was hanged in Bahawalpur Central Jail for committing murder. In 2001, Nazeer had killed his friend over a petty argument during a game of cricket.
Pakistan lifted its moratorium on the death penalty in all capital cases on March 10. Initially executions were resumed for terrorism offences only in the wake of a Taliban massacre at an army-run school in Peshawar which had claimed the lives of more than 150 persons, mostly schoolchildren, on December 16, 2014.
The United Nations, the European Union, Amnesty International and Human Rights Watch have called on Pakistan to re-impose its moratorium on the death penalty.